1970s
Barry T. Katzen, M.D. '70, founder and medical director of Baptist Cardiac and Vascular Institute, is the first American to receive the Gold Medal Award from the Cardiovascular and Interventional Radiological Society of Europe.
Myles B. Abbott, M.D. '72, has a private pediatric practice in Berkeley and Orinda, California. He was recently elected as the chair of District IX (California) of the American Academy of Pediatrics (AAP), where he will lead the efforts of some 5,000 pediatricians in California. He is also a member of the Board of Directors of the American Board of Pediatrics.
Gary Steinman, M.D., Ph.D. '73, assistant clinical professor of obstetrics at Yeshiva University's Albert Einstein College of Medicine in Bronx, New York, is performing research on the connection between a mother's dairy consumption and the likelihood she will give birth to fraternal twins.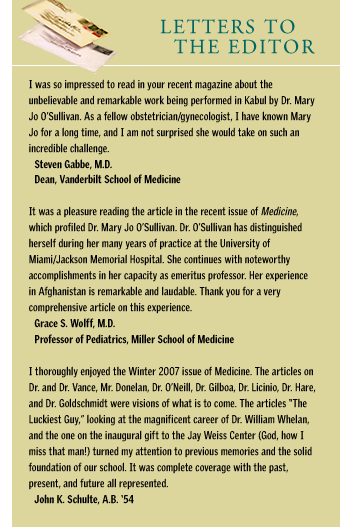 1980s
Mark Multach, M.D. '82, chief of the Division of General Medicine at the Miller School, won the Internist of the Year award for "outstanding dedication to the practice of internal medicine" at the annual state meeting of the Florida chapter of the American College of Physicians.
Gregg Friedman, M.D. '85, has a private psychiatry practice in Aventura, Florida. He and wife Julie Friedman, M.D. '92, recently celebrated their 14th anniversary.
1990s
Peter A. Cole, M.D. '90, has been promoted to professor of orthopaedic surgery at the University of Minnesota. He and wife Nancy founded Scalpel at the Cross, a medical mission in the Amazon.
Ryan Madanick, M.D. '98, was the "doctor in the house" at the World Series of Poker in Las Vegas.
George A. Ralls, M.D. '98, is medical director of the Orange County Emergency Medical Services (EMS) System and faculty member of the Orlando Regional Medical Center Emergency Medicine residency program
In Memorium
George L. Baum, M.D., died on July 28, 2006. He became a member of the faculty of the University of Miami School of Medicine when it opened in The Biltmore Hotel. Later he became a full professor and retired as professor emeritus.
Harold B. Heiss, M.D. '57, passed away on October 1, 2006. Living in South Florida since 1936, he obtained his undergraduate and medical degrees from the University of Miami and practiced in Fort Lauderdale until he retired in 2003.
Vernon P. Zeigler, M.D. '67, a Jacksonville physician for more than 30 years, died October 13, 2006. He earned his medical degree from the University of Miami. He was president of the medical staff at St. Luke's Hospital and was