1950s
A. L. (Art) Eberly, M.D. '56, has been appointed by the AMA Board of Trustees to the Senior Physicians Group Governing Board. The Senior Physicians Group is composed of physicians over age 65 who may or may not be retired.
1970s
Larry Antonucci, M.D. '79, is the new chief administrative officer for Cape Coral Hospital in Cape Coral, Florida. It is the hospital's top post. Originally from New York City, Antonucci has practiced obstetrics/gynecology in Lee County since 1983. He is also a cofounder of Physicians Primary Care of Southwest Florida. He received the Saks and Lee Cancer Care Key to the Cure Humanitarian Award in 2006 for his expertise and dedication in women's cancer care.
Efrain Arroyave, M.D. '79, is the CEO of STAT Health Screens, LLC, a Miami company that works with major national clinical labs to offer uninsured consumers 40 to 60 percent discounts on their lab work. 970s
1980s
Lawrence Berman, M.D. '84, recently joined the Department of Anesthesiology at Hutcheson Medical Center in Fort Oglethorpe, Georgia.
Tamberly Ford McCarus, M.D. '87,
is the newly elected president of the Florida Obstetrical and Gynecological Society. A physician with a practice in Winter Park, she co-authored an article in the June 2007 issue of OBG Management titled, "Laparoscopic Hysterectomy: Learn it—or get left behind."
1990s
Melissa S. Singer, M.D. '96, opened Palm Beach Pediatric Hematology Oncology at Palms West Hospital in June 2006. Board certified in pediatrics and pediatric hematology, Singer was nominated by The Leukemia & Lymphoma Society of Palm Beach County as Woman of the Year in 2007. She recently took on the role of secretary and treasurer of the Florida Association of Pediatric Tumor Programs.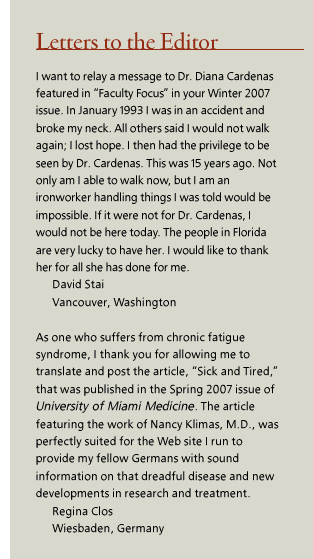 2000s
Jonathan Acey Albert, M.D. '01, was recently promoted to chief of primary care at the Kaiser Permanente Arapahoe Medical Office in Denver, Colorado. He also served on the medical team of the Ironman Triathlon World Championship in Hawaii in October 2007.
In Memoriam
George T. Venis, M.D. '61, a highly respected and beloved longtime Coral Gables and Miami physician, passed away in September. He was 82. Venis was a family practice physician for more than 40 years. He was an instructor in the medical school's Department of Family Medicine and was on the medical staffs of South Miami Hospital and Doctors Hospital, where he served as chief of family medicine for many years.
Stephan D. Plager, M.D. '64, died in September of leukemia at Stanford Medical Center. He was 68. Plager had been in private practice as an ophthalmologist in Santa Cruz, California. He was the medical director of Plager Vision Center and was assistant clinical professor in the Department of Ophthalmology at Stanford University.
JAlvin E. Smith, M.D. '64, died in Daytona Beach last September. Born in Talladega, Alabama, Smith moved to the Daytona Beach area at a young age. He was one of the founding members of the Florida Society of Clinical Oncology and was on the Council of the Florida Society of Internal Medicine.