1970s
Jeffrey P. Phelan, M.D. '73, is chairman and director of quality assurance and the perinatal safety program for the Department of Obstetrics and Gynecology at Citrus Valley Medical Center in West Covina, California. Last year Phelan traveled to London at the request of the Royal College of Obstetricians and Gynecologists to lecture in their risk management program on "Measures to Protect the Fetal Brain from Damage During Pregnancy" and "Perinatal Brain Damage." Phelan also has an office located in West Covina, where he is a member of the San Gabriel Valley Perinatal Medical Group, Inc.
Douglas C. Miller, M.D. '78, Ph.D. '80, clinical professor of pathology and anatomical sciences, University of Missouri School of Medicine, has written a book on surgical neuropathology. Published by Cambridge University Press, Modern Surgical Neuropathology has 44 chapters, 536 pages, and more than 1,200 color illustrations.
1980s
Alan M. Miller, M.D. '83, is chief of oncology at Baylor University Medical Center at Dallas and medical director of the Baylor Charles A. Sammons Cancer Center. An experienced cancer researcher and clinician with a strong administrative background, Miller had been associate senior vice president at the Tulane University Health Sciences Center in New Orleans. At Tulane he founded the hospital's bone marrow transplant program and served in a variety of teaching and leadership roles.
1990s
Sherri Orezzoli-DeHaas, M.D. '99, was an associate faculty member at the Altoona Family Physicians Residency Program in Altoona, Pennsylvania until 2007. She is now in private practice in upstate New York and lives in Vermont with her husband, Keith DeHaas.
2000s
Claire Urbina Plautz, M.D. '01, is an assistant professor of emergency medicine at University of Virginia Health System. Her husband,
Michael Plautz, M.D. '00, is staff physician in otolaryngology at Augusta Medical Center in Fishersville, Virginia. They have three children: 4-year-old Cassidy and twins Logan and Lucas, 3.
Rachel Dawkins, M.D. '04, has joined the faculty of Louisiana State University (LSU) as an assistant professor of pediatrics. Dawkins, who runs one of the pediatrics department's resident continuity clinics, also serves as an associate program director for the pediatric residency program at LSU New Orleans.
In Memoriam
Robert Clifton Howard, M.D. '58, of Tulsa, Oklahoma, passed away July 30, 2009, following aortic valve replacement surgery two days earlier. Howard, who was 75, served as a Navy flight surgeon based in Jacksonville for four years before moving to Orlando for a residency in general surgery, followed by one in plastic surgery. From 1968 until 2001, Howard performed plastic and reconstructive surgeries in Orlando. In 2005 Howard, his wife, Betty, and a daughter, Marcia, moved to Tulsa, where he served as an assistant adjunct professor of anatomy at the University of Oklahoma. Howard is survived by his spouse, three daughters, and 12 grandchildren.
Norman Carl Ellermann, M.D. '61, of Palm Springs, California, passed away on August 14, 2009, at the age of 75. An ophthalmologist for 28 years, Ellermann received his pilot's license in 1972 and was a member of the Palm Springs International Airport Commission. Ellermann is survived by his wife, Brita Ellermann; daughters Arleen Bryant and Abbie Harris; his mother, Neola Ellermann; and six grandchildren.
Rex Olsen Crofton, M.D. '62, died in Titusville, Florida, on August 8, 2009, at the age of 74. A graduate of Titusville High School, and Emory University in Atlanta, Crofton was a Navy veteran who was a family practice physician for 47 years. Crofton and his wife, Ulla, traveled the world and lived in California, Germany, and Brazil before settling in Titusville. Crofton is survived by his wife; a daughter, Heidi Crofton; a son, Mark Crofton; and a brother, Lemuel Crofton.
Albert R. Marsico, M.D. '63, a dermatologist, died on June 12, 2009. Born November 12, 1945, in Pittsburgh, Pennsylvania, Marsico was a lieutenant commander in the U.S. Navy and served Miami Shores as a dermatologist for the past 32 years. Marsico is survived by his daughter, Katherine Schaeffer; son, Paul Marsico; and grandchildren Christopher and Sophia.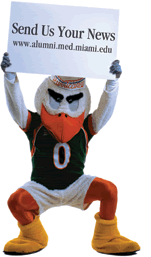 Send Us Your News and Letters
Send letters to to the editor to magazineletters@med.miami.edu. Enjoy reading about your classmates in Class Notes? Take a moment to share some news about yourself in a future issue of Medicine magazine. Submit your news online to: www.alumni.med.miami.edu. We will print your news in the first available issue.