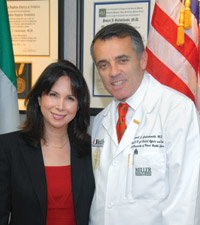 Miller School vascular surgeon Omaida Velazquez, M.D., an expert in minimally invasive vascular procedures, studies the role of stem cells in repair of damaged arteries.
It was a long and winding road, but she was determined and nothing would clip her wings. Young Omaida spent the first 14 years of her life in the small Cuban village of Pinar del Rio, under the Castro regime. Walking back and forth on the wooden bridges that took her to school, she had plenty of time to plan a career as a doctor. Yet her wildest dreams never even came close to her extraordinary accomplishments.
Of a combined family of 20, including parents, aunts, and uncles, Omaida Velazquez and her sister Adorys were the only children who, along with their parents, could not emigrate to Union City, New Jersey. Eventually, though, her family escaped in the Mariel exodus of 1980, regrouping with the extended family in Union City, the second-largest bastion of Cuban refugees in the United States.
Omaida chose her mentors carefully, with a pristine sense of right and wrong. From elementary school to college at Stevens Institute of Technology in Hoboken and medical school at the University of Medicine and Dentistry of New Jersey, there was no one in her class who would surpass her performance. The human brain is known for its quality in analyzing and decision-making. Omaida has perfected her decision-making process and changed her mind only once, when she decided to move her focus from cancer surgery to vascular surgery. Vascular surgery is the discipline in which surgeons intervene in one of the most dreadful conditions known to doctors—the collapse of the arterial tree that results from atherosclerosis, a chronic inflammation that degrades the wall of feeding arteries of the human body.
Her mind was also attracted to a new research field that seeks to understand why some cells seem to have an infinite capacity for self-renewal, either cancer cells or stem cells. Cancer cells destroy organs and tissues as they proliferate seemingly to infinity, or until the tumor-bearing organism succumbs. Stem cells, on the other hand, while also able to self-replicate indefinitely, come with a very different purpose. First, they are the bricks required for the growth of an organism; next, during adulthood, they are responsible for the repair of injured tissues and organs that are exposed to noxious stimuli of everyday life. Omaida's research passion vacillates between the good (the stem cells) and the ugly (the cancer cells). She mastered the study of the role of stem cells in the repair of damaged arteries and rapidly acquired an international reputation in this novel and exciting field.
No matter how esoteric such research may sound, the work of Omaida Velazquez is all about helping patients. She can figure out what is going on inside the arteries of her patients better than anybody I know, and intervenes surgically with laser-sharp procedures. Omaida is also a wonderful mom—she had her second child, Julia, while she was a young faculty surgeon at the University of Pennsylvania. To perform her surgeries she needed to use fluoroscopy, an imaging technology that requires the use of X-rays. Most people barely tolerate wearing one lead apron around their waist; to make sure that her baby would be 100-percent protected, Omaida wore three lead apron layers for several-hour surgeries.
When it's time to care for family or patients, nothing is too difficult for Omaida Velazquez—or for Andreas Tzakis.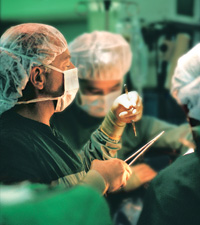 Transplant surgeon Andreas Tzakis, M.D., Ph.D., left, has pioneered innovative techniques that have dramatically improved patient outcomes and garnered international acclaim.
Far away in Greece, young Andy Tzakis was at the top of his game. The Hellenic world appeared to be his when he was driving toward Athens in his Triumph coupe, the sports car he received for his admission to medical school. Andy didn't care so much for Europe, but loved the United States. With two fingers on the keys of an old typewriter, he wrote a residency application to every top U.S. academic center he had heard of. He matched at Mount Sinai in New York.
America was home instantly. He planned to become a plastic surgeon, and fell in love with Patty the very first time he met his future wife at the city hospital at Elmhurst. Patty was raised in Queens and told Andy everything he needed to know about the Big Apple. After a year of chief residency at Montefiore, Patty moved to Boston to the Joslin Clinic for a diabetes fellowship. Andy went to the University of Pittsburgh. Later, Patty went to the NIH for two and a half years to work with Jesse Roth, followed by a faculty position at Pitt. Their daughter Mariela was born in 1993.
This was also 10 years after another critical encounter in the career of Andy Tzakis—his meeting with Thomas Starzl, a master of liver surgery. Andy had gone to Peoria to recover a liver for a transplant; in the summer of 1983, liver transplantation was no longer experimental but an established treatment for end-stage liver failure. He was at the right place at the right time and he was feeling great, the way he did back in the days when he was driving his Triumph. Starzl was the only one at the time doing liver transplants, but the floodgates suddenly opened and the phenomenal contribution liver transplants made to the success of the University of Pittsburgh Medical Center is now history.
Andy's first liver transplant, with the liver he recovered from Peoria, was on Michael, a physicist who had Wilson's disease and had already rejected two liver grafts, destroying them. Michael's brain functions were extraordinarily improved after his transplant. That success led Michael's wife Meg to medical school, and the couple became friends with Patty and Andy. Now it's almost automatic that Andy becomes good friends with his patients.
While he was chief of pediatric transplantation at the University of Pittsburgh Medical Center, Andy met with another University of Miami hero, Camillo Ricordi, in 1990. Andy felt that, instead of transplanting whole pancreases, which often complicated multi-organ transplants, transplanting beta islets of Langerhans would be simpler and more effective. That is how Camillo Ricordi, who had a successful career in St. Louis and then returned to Milan, came back to the United States to join the Starzl team in Pittsburgh. The first-ever islet transplant was performed in 1990 and its success led to an article in The Lancet. Andy was also instrumental in developing the drug Prograf, which was initially indicated for patients who failed cyclosporine. The use of Prograf was instrumental in the success of multivisceral transplants, another first for Andy who had become an extraordinary surgeon.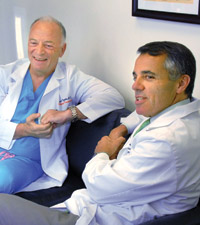 Andreas Tzakis, M.D., Ph.D., left, shares a rare relaxed moment with Dean Pascal J. Goldschmidt, M.D.
Andy was fascinated by the immune system, in particular with those individuals whose immune system perfectly tolerated the grafted organ, such as a two-year-old girl who, after being taken off all immunosuppression, thrived and is now a medical student at Florida International University. Camillo Ricordi left Pittsburgh for Miami where Dr. Gene Schiff was the world-renowned liver expert. Andy and Patty decided to relocate to Miami.
In 2006 the Miami Transplant Institute was created with Andy Tzakis as founding director. Andy's reputation went on to grow internationally for his extraordinary accomplishments, saving patients who had been turned down by other centers. "He would die to save his patients" is Andy's reputation, and once he almost did. While doing surgery (and after swallowing a bottle of Mylanta because of indigestion and chest pressure), Andy had a mild heart attack, which he took care of only after the operation was over.
From time to time, Andy returns to Greece to plunge back into the culture of his childhood. The man he's become has saved hundreds of lives, has contributed much to the science that makes transplantation procedures a success, and has mentored so many outstanding surgeons. Andy is not done yet. He will always be the greatest advocate any patient can have. He will always look for ways to improve transplant tolerance and make the body recognize a new organ as its own. He will always try creating new organs with stem cells and transplanting the newly created organs to patients whose lives depend on it.
As the dean of the University of Miami Miller School of Medicine, I think about these individuals, Omaida Velazquez and Andreas Tzakis, and I realize how lucky I am. They are examples of the outstanding quality of individuals who are part of the Miller School family: from a young girl who was walking to school with a big bag full of books and determined to be the best to the young man driving his Triumph coupe somewhere in Athens, not knowing that one day he would be resolving issues of immune rejection, the Achilles heel of transplantation. These are the fearless people of our medical school; they are the pillars who have been here for a while, or have joined us recently to be the patients' advocate. They have the courage it takes to make the world a better place.