BATCHELOR CHILDREN'S RESEARCH IINSTITUTE OPENS DOORS
Improving the Lives of Children


hen Falcon Batchelor was 14 years old, he and his family weren't ready to accept the three-year timeline doctors gave him for survival of cystic fibrosis. Looking for answers and better care, George Batchelor took his son to the University of Miami School of Medicine and Robert McKey, Jr., M.D., founder and then-director of the University's Cystic Fibrosis Center. Under Dr. McKey's care, Falcon lived 20 more years.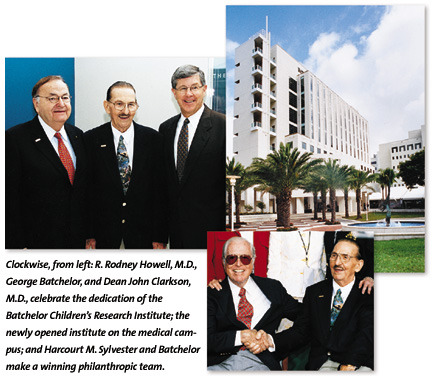 With a leadership gift of $10 million to create the Batchelor Children's Research Institute at the School of Medicine, George Batchelor, an aviation pioneer and philanthropist, has more than expressed his gratitude. And at the building's May 3 dedication, Batchelor expressed his appreciation even further, stunning the audience with the announcement of an additional $5 million gift to the School of Medicine. But it's not just the funding that makes Batchelor's gift so significant—it's the promise of dedication to healing thousands of children that comes with the institute's establishment. It brings to fruition his quest to create a world-class research facility to improve the health and welfare of children. As in Batchelor's experience with his son, research at the Batchelor Children's Research Institute will help bring peace of mind and hope to families with children suffering from a variety of pediatric diseases.
"The 20 quality years we had with Falcon after his first visit to the Department of Pediatrics was a gift from the University of Miami that we will never be able to repay," says Batchelor. "One of the reasons I took on this venture is because I want to see cystic fibrosis cured, but the idea that this institute can help all children is truly exciting and gratifying for me. I wish Falcon could be here to see this wonderful new facility. He would be so proud."
One of the largest centers in the world devoted exclusively to research in children's health, the Batchelor Children's Research Institute includes 147,500 square feet of specially designed space dedicated to basic and clinical research. The numerous research initiatives of the school's respected Department of Pediatrics will be housed in the state-of-the-art facility.
"We are very grateful to George Batchelor for his magnificent gift. His generosity and conviction helped make this research center a reality," says John G. Clarkson, M.D. '68, senior vice president for medical affairs and dean of the School of Medicine. "The University has emerged as a leader in pediatric research, and we are now able to bring together under one roof the scientists, clinicians, and doctoral fellows who are working to find treatments and cures that will one day help millions of children live a better life."
Augmenting the Batchelor Foundation's leadership gift is a $5 million contribution from the Harcourt M. and Virginia W. Sylvester Foundation to establish the Sylvester Family Children's Cancer and Neonatology Research Center within the Batchelor Children's Research Institute. The Sylvester Foundation is a leader in the fight against cancer and a longtime supporter of the University of Miami, generously supporting the creation and continued development of the School of Medicine's Sylvester Comprehensive Cancer Center.



WALTER G. ROSS FOUNDATION PROMOTES BASIC SCIENCE RESEARCH
Ending Human Suffering


rom service as a soldier in the Philippines during the Spanish-American War and his work as an engineer on the Panama Canal to his experiences during the Spanish Civil War and World War II, Walter G. Ross has gained a unique and profound understanding of human suffering. As a result of those experiences, Ross established a foundation to promote improvements in medical research and health care. The Walter G. Ross Foundation recently made a major impact at the School of Medicine, instituting a $6 million interdisciplinary medical research program.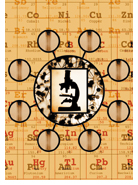 The foundation established the Walter G. Ross Medical Research Program to foster excellence in research at the forefront of scientific advances in medicine. Ross Foundation Trustee Eugene Bernard collaborated with John Clarkson, M.D. '68, senior vice president for medical affairs and dean of the School of Medicine, to design a program that would provide an innovative environment for interdisciplinary basic science research. Three endowed chairs have been established and will be held by eminent scientists in areas consistent with the medical school's basic science research priorities: vascular biology, the neurosciences, and ophthalmology.
Dean Clarkson has appointed Gary Striker, M.D., research professor and director of the Vascular Biology Institute, to the first of the three Ross Chairs. Dr. Striker has defined the direction for research in vascular biology, forged a collaborative team of clinician scientists and investigators from among several clinical and basic science departments, and recruited competitive young investigators to the School of Medicine.
"I am very honored to be appointed the first holder of the Walter G. Ross Chair of Vascular Biology," says Dr. Striker. "The Ross Foundation is to be congratulated for its commitment to support basic science and its early application to important clinical problems."
The Ross Foundation has taken a leading role in supporting the Bascom Palmer Eye Institute for many years. Under the guidance of Eugene Bernard, the foundation has expanded its support to the School of Medicine.
Bernard has extensive national and international experience in the fields of intellectual capital management, intellectual property and antitrust law, investment and portfolio management, and philanthropy.
Through its significant investment in the basic science research programs of the School of Medicine, the foundation has ensured that Walter G. Ross' goal of helping alleviate human suffering will be met.



Medical School 101 Is Popular Elective Course


aculty from the School of Medicine gave more than 50 Northern Trust Bank clients a crash course in medicine at an intensive six-session program presented over two months last fall. Medical School 101 was designed to give a taste of medical school to participants, in addition to helping them become more informed health care consumers.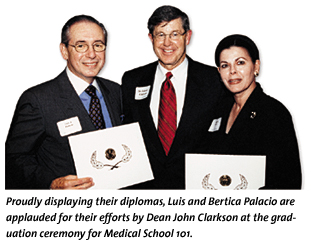 "We tried to replicate the medical school experience by having our best teachers conduct the program in an informative, intellectual manner," says John G. Clarkson, M.D. '68, senior vice president for medical affairs and dean of the School of Medicine. "We recognize we have a responsibility to educate the public, and this was one way for us to build a bridge to the community."
Each Medical School 101 session covered a health topic of universal interest, including genetics, women's health, heart disease, cancer, neurology, ophthalmology, and otolaryngology. During one session, students armed with a stethoscope connected to a computer software program were guided in distinguishing a normal heart rhythm from a heart murmur. In another, they heard a firsthand account of the progress experienced by a hearing-deficient patient.



STARR FOUNDATION SHINES BRIGHT FOR DEAF CHILDREN
Funding a Miracle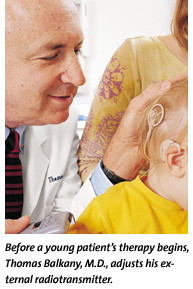 efore the Starr Foundation stepped in, a medical miracle ran the risk of being cut short for indigent children suffering from deafness. Though Medicaid would cover the costs of cochlear implants for those children, many of their families were unable to afford the comprehensive therapy necessary to develop normal language skills. But thanks to a gift from the Starr Foundation, the University of Miami Ear Institute has established the C. V. Starr Children's Deafness Fund. During the next five years the fund will help provide therapy to more than 125 pediatric cochlear implant patients.
Unlike traditional hearing aids, which simply amplify sound, a cochlear implant allows profoundly deaf patients to actually perceive sound, resulting in improved hearing and communication abilities. Children who receive the implant are able to develop speech and language skills at a rate equal to their normal-hearing peers. The key to their success, however, is the critically important auditory-verbal therapy that follows.
"The microsurgery to implant a cochlear prosthesis is just a first step in restoring hearing to deaf children," says Thomas Balkany, M.D. '72, professor and chairman of the Department of Otolaryngology and a pioneer in cochlear research and implantation. "The intensive therapy that allows a child to effectively utilize the device, develop language, learn to read, and communicate at grade level continues for years. We are very grateful to the Starr Foundation for their support of indigent children who are deaf."
The Starr Foundation was established in 1955 through a donation from Cornelius Vander Starr, founder of AIG Insurance Agency. The Diabetes Research Institute and The Miami Project to Cure Paralysis are among the University programs that have benefited from the Starr Foundation's generosity, and this was its first gift to the Ear Institute.



NEW RESEARCH QUADRANGLE NAMED FOR SCHONINGER FAMILY
Biomedical Research Gets a Boost


or many years, life in South Florida has brought its share of joy to Bernard Schoninger and his family. And when he began to search for a way to return the favor, the avid Hurricanes fan turned his thoughts to the University of Miami School of Medicine. Last spring the Schoningers generously gave back to their community. The family's gift of more than $5 million to the School of Medicine will support biomedical research that will touch the lives of patients not only in South Florida, but around the world. The donation is one of the largest gifts for biomedical research in the University's history.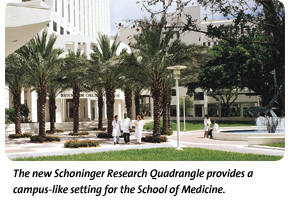 In recognition of the Schoningers' generosity, the University has named the new research quadrangle at the School of Medicine in their honor. The Schoninger Research Quadrangle is bordered by the recently opened Lois Pope LIFE Center, the nucleus for neurosciences research and the home of The Miami Project to Cure Paralysis; the Batchelor Children's Research Institute, which consolidates research activities of the Department of Pediatrics; the Rowland and Sylvia Schaefer Building, housing the Diabetes Research Institute; the R. Bunn Gautier Biochemistry Building; and the Papanicolaou Cancer Research Building.
"This extraordinary gift to the School of Medicine creates a central focus for biomedical research at our growing medical center," says John G. Clarkson, M.D. '68, senior vice president for medical affairs and dean of the School of Medicine. "While our outstanding faculty members continue to compete successfully for federal research funds, it always is heartening when philanthropically minded individuals invest in our research enterprise. We are very thankful for the Schoningers' generous gift."
In addition to supporting biomedical research, the gift also provides for the creation of the Schoninger Pain Center at the University of Miami Hospital and Clinics. This new center will focus on pain management for patients suffering from acute pain associated with disease or injury.
Schoninger, his wife Alexandria, and their children, Jane Marcus, Samuel Schoninger, and Howard Schoninger, have lived in South Florida for many years. "We decided to make this gift because we want to give something back to the community, something that will share the Schoninger name forever," he says.



Jeffrey Rothstein Recognized for ALS Research


hile researchers at the School of Medicine make leaps and bounds each year toward effective treatments and potential cures for today's most debilitating diseases, some breakthroughs would not be possible without the dedicated work of those who have paved the way. Jeffrey Rothstein, M.D., Ph.D., vice chairman of neurology at Johns Hopkins University School of Medicine, is one of those pioneers.
Having researched Lou Gehrig's disease throughout his career, Dr. Rothstein has provided the tools that one day may lead to a cure. The School of Medicine and the Lois Pope LIFE Foundation recently honored him with the Lois Pope LIFE International Research Award, recognizing his contributions.
Amyotrophic lateral sclerosis (ALS), or Lou Gehrig's disease, affects more than 30,000 Americans. It is a progressive, degenerative disease that destroys motor neurons controlling voluntary movement, and can lead to muscle weakness and wasting. Dr. Rothstein discovered the cause of the condition—excess glutamate, a neurotransmitter, in the brain.






UM MEDICINE HOME | UM MEDICINE ARCHIVE
SCHOOL OF MEDICINE HOME | UNIVERSITY OF MIAMI HOME