IMPLANTABLE HEARING AIDS SOUND GREAT TO FRUSTRATED PATIENTS
Good Vibrations


ackground noise, a bulky fit, sound distortion—at least one in five people who own hearing aids will tell you that the devices provide more frustration than the aid their name promises. So much so, some refuse to wear them at all.

More than 28 million Americans suffer from hearing loss, but a solution for many is near. The University of Miami Ear Institute is now capable of implanting middle ear hearing devices.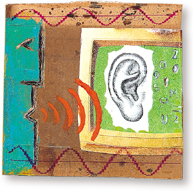 Physicians at the institute have turned to the Vibrant Soundbridge, the first FDA-approved device of its kind, as an alternative to conventional acoustic hearing aids. Treatment with the Vibrant Soundbridge is intended for adults suffering from moderate to severe sensorineural hearing loss, the most common type, caused by a lack of sensitivity in the inner ear.
Mary Corenblum jumped at the chance to receive an implant in 1998, when the Ear Institute was one of ten centers in the country conducting clinical trials on the device. After wearing hearing aids for 15 years, she was fed up with the feedback and discomfort and ready for a change. "I had nothing to lose and everything to gain," Corenblum says.
After a successful surgery and recovery, she returned to the School of Medicine to activate the device. The change was startling. "I was ready to jump out of my chair," she says. "From the first minute, I was happy." At 82 years old, Corenblum says her hearing is better now than even before she used hearing aids.
While hearing aids amplify sounds and send them through the ear canal, causing indirect vibrations in the middle ear, the implant works more directly. A small external audio processor worn behind the ear catches sound and transmits it to an implanted receiver. A tiny device directly vibrates the bones in the middle ear and stimulates hair cells in the inner ear, or cochlea. These hair cells, in turn, jump-start the auditory nerve, enabling the brain to interpret the sound without disruptive feedback or background noise.
"Some people who wear conventional hearing aids are troubled with feedback, echo, and irritation of the external ear canal," says Fred Telischi, M.D., associate professor in the Department of Otolaryngology and director of the Ear Institute. "The middle ear implant can eliminate those problems."
Each device is programmable and can be customized to meet a patient's particular needs. And as technology advances, the existing implanted device can be upgraded. Patients who have received the device are overwhelmingly pleased, boasting clearer, higher-quality sound, as well as a better fit than hearing aids.
So what is Mary Corenblum's final word on her switch to the implant from the conventional hearing aid? "Sounds good to me," she says.



Motor Development Test Scales New Heights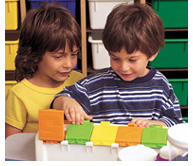 en years of research and analysis have taught an old dog new tricks. A refreshed and improved second edition of the Peabody Developmental Motor Scales, highly regarded tests measuring child motor development, has been published. Rebecca Fewell, Ph.D., professor and director of the Debbie Institute in the Department of Pediatrics, coauthored the original scales, first compiled in 1974 and commercially published in 1983, as well as the new revision. Rhonda Folio, Ph.D., of Tennessee Technical University is the coauthor.
The scales are given to any child, from birth to six years old, to determine motor development status. The most common use is to assess possible motor delays so that therapies and interventions may be implemented as soon as possible. This suspicion may arise, for instance, if a child is late in walking or is slow in grasping and releasing. "These skills are important not only in development, but they also impact success in school," says Dr. Fewell.



NEW TECHNOLOGY AIDS CANCER DIAGNOSIS AND TREATMENT

Pinpointing Cancer


ungry cancer cells on the hunt for glucose to fuel their rapid growth can be quickly sought out by new imaging technology at the University of Miami Sylvester Comprehensive Cancer Center. Positron Emission Topography (PET) is a powerful diagnostic tool that allows physicians to detect cancerous cells throughout the body with one scan. A PET scan also can tell a physician how far and where cancer has spread.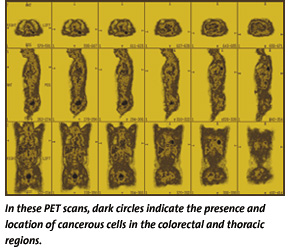 "PET is an exceptional complement to our existing diagnostic tools," says George Sfakianakis, M.D., Ph.D., professor and chief of the nuclear medicine program at UM/Sylvester. "This technology can effectively pinpoint the source of cancer, eliminating the need for redundant diagnostic tests and potentially ineffective surgical procedures."
For a PET scan, physicians inject the patient with a small amount of glucose containing a radioactive atom. The cancerous cells absorb large amounts of the glucose and, therefore, the radioactive material. The radioactive atoms then emit signals that are picked up by the PET technology during the scan. A full-body scan can be completed in about an hour and is completely painless.
PET technology also helps physicians monitor the effects of chemotherapy or radiation treatments, allowing a quick change in the course of treatment, if needed. It also is effective in differentiating recurrent cancers from scar tissue left from radiation therapy.
Dr. Sfakianakis and his team of board-certified nuclear medicine physicians have conducted more than 3,000 PET studies and serve as interpretive experts for physicians in other PET centers in the region. "Our team is like a group of pilots who have logged more than 50,000 hours of flying," Dr. Sfakianakis says. "It is an incredibly complex technology, so patients can really benefit from a team with so much experience and skill."



School of Medicine Seniors Make Their Best Matches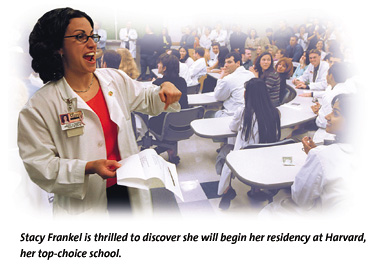 uchi Garg is going to need a new winter coat. A childhood in India and adolescence in Miami have little prepared her for the harsh northern winters she'll endure when residency training takes her to Johns Hopkins Hospital. Along with the rest of the nation's medical school seniors, she first learned of her fate on an emotional Match Day last spring.
"You just never know," Garg says of a hopeful suspicion that she had indeed matched at her number-one choice. "But this was the dream."
School of Medicine seniors are out to make their marks in the medical world, fresh off a Match Day that found 100 percent of them accepted into residency training programs. This puts the University of Miami at the head of the pack—national numbers show a 94 percent match rate among medical school seniors.
Even with 23,981 individuals vying for 20,642 positions nationally, the match process is a relatively smooth one. Applicants travel around the country for campus visits and interviews. Back home, they send a rank-ordered list of the programs they hope to enter to the National Residency Matching Program. Each program then decides if the attraction is mutual. In the case of the School of Medicine's seniors, 60 percent found that was just the case and matched to their first choice. A remarkable 85 percent hit the target with one of their first three choices.



LUNG CANCER VACCINE OFFERS NEW HOPE
Positive Responses


ung cancer is among the most aggressive and relentless of killers. Frustrated by the rising tide of patients desperate for more effective therapies, Kasi Sridhar, M.D., professor in the Department of Medicine and head of the lung cancer program at the University of Miami Sylvester Comprehensive Cancer Center, is testing a novel approach that already is showing great promise.

This innovative therapy uses a cancer vaccine developed at the School of Medicine by Eckard Podack, M.D., Ph.D., professor and chairman of the Department of Microbiology and Immunology. Tumor cells from previous lung cancer patients are treated to make sure they can no longer grow and spread. The purified cells are infused with potent genes known to stimulate the body's T cells, powerful warriors of the immune system. This genetic mix is injected into the cancer patient and stimulates the killer T cells to recognize antigens found on the cancer cell surface. The antigens send up red flags, causing the T cells to seek out and destroy lung cancer cells located elsewhere in the patient.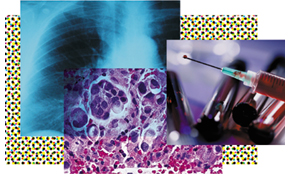 While the concept may sound simple, cancer vaccines are difficult to develop because there are dozens of forms of cancer, each with diverse characteristics. Vaccine materials must provoke a very specific immune response to prevent the body from attacking normal, healthy cells, too. The lung cancer vaccine currently being tested at UM/Sylvester differs from preventive vaccines like those for polio or flu in that it is used to combat existing disease rather than prevent cancer.
Dr. Sridhar has administered the vaccine to six different patients. They received three doses, two weeks apart, with only mild side effects. "So far, the vaccine appears to have provoked an immune response in each of these patients," Dr. Sridhar says.
UM/Sylvester physicians don't expect a definitive answer on the vaccine's effectiveness for several months. But for patients who face the vicious onslaught of lung cancer, the attempt to develop new treatments brings a ray of hope.
"It's not the magic bullet yet," says Kelvin Lee, M.D., associate professor in the Department of Microbiology and Immunology and an immunotherapy researcher, "but we are encouraged that a totally new approach to treating cancer is showing some promise."



Nurturing Clinical Skills Through Art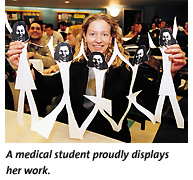 erving as both artistic guide and patient to a group of curious medical students, Jamie Williams was a renaissance guest at Arts in Medicine. The program is a teaching exercise that challenges medical students to think beyond diagnosis and try to better understand their patients through artistic expression. A talented ceramicist, Williams was diagnosed HIV-positive ten years ago.
"AIDS is not going to get me," he told the students, who used construction paper and crayons to translate his medical experiences into images of strength and courage. And he is putting up a good fight. His viral load is too low for his doctors to count.
Arts in Medicine was created to jump-start medical students' creativity, increase observational skills, and give them the chance to express the personal side of medicine, listening to how a patient feels rather than simply what a patient feels. First-year medical students take three sessions of the program as part of their clinical skills course, under Ann Flipse, M.D., adjunct associate professor and director of the first-year clinical skills program. Local artists participate to guide students' efforts, and real patients volunteer to share their stories. Very Special Arts of Florida provides art supplies, a video record of the day, and audio capabilities.



ENSURING HEALTHY ENVIRONMENTS FOR THE ELDERlY
Impacting Community


n a world where technology changes by the minute and urban areas are overwhelmed by growth, many elderly people run the risk of being left behind. A simple reassurance can be the security and comfort they feel in their own neighborhoods. A study in the works at the School of Medicine's Center for Family Studies may help to maintain their health and well-being.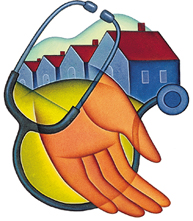 As part of $24.5 million in funding from the National Institutes of Health (NIH), Jose Szapocznik, Ph.D., professor in the Department of Psychiatry and Behavioral Sciences and director of the center, and his colleagues will study how "built environments" impact the well-being of the elderly. Residents in Miami's Little Havana neighborhoods will canvas their communities, collecting data on how well seniors can move through their environment.
"We will evaluate the social connectedness of elders to their immediate environment and how this is related to factors such as walkability," Dr. Szapocznik says. "Depending on an individual's circumstances, such as support from family, friends, and neighbors, these varying 'built environments' may indeed play a role in the state-of-mind and health of the elderly. We also will look at the structure of that environment, evaluating the neighborhood's layout and specific destinations for which the elderly set out."
The National Institute of Environmental Health Sciences and the National Institute of Mental Health will provide the funds, and Florida International University and Pennsylvania's Lehigh University also will take part in the research.
A second program is funded by the National Institute of Drug Abuse to study clinical treatments in Florida's drug abuse rehabilitation system. Through the National Clinical Trials Network, several School of Medicine programs, the state's top drug abuse treatment agencies, and the State of Florida will conduct clinical trials on rehabilitation. "Bench to bedside" will be the key to this study, since the majority of the trials will take place at established treatment centers. Once the study is completed, these providers can initiate treatments more quickly and directly to patients.
"This partnership establishes Florida as a national leader in the fight against drug abuse," says Dr. Szapocznik.
Further studies to be funded by the NIH award include treatment of adolescent drug use in the Hispanic culture, prevention intervention, and how parent-adolescent communication in Hispanic families can prevent risky sexual behavior and drug abuse.



On the Move


Carmen Puliafito, M.D., M.B.A., a renowned medical retinal specialist, has joined the School of Medicine as chairman of the Department of Ophthalmology. Dr. Puliafito also will serve as director of the Bascom Palmer Eye Institute and medical director of its patient care facility, the Anne Bates Leach Eye Hospital. As founding director of the New England Eye Center at Tufts University, he helped the institution grow into an international center for excellence.

Fred Telischi, M.D. '85, associate professor in the Department of Otolaryngology, has been named director of the University of Miami Ear Institute. In this position, Dr. Telischi administers the institute's clinical and academic activities related to disorders of hearing and balance. In addition, he runs the Microsurgical Training Center and oversees student, resident, fellow, and physician training.
Gary Striker, M.D., research professor and director of the Vascular Biology Institute, has been named to the new Walter G. Ross Chair of Vascular Biology. Since joining the School of Medicine in 1999, Dr. Striker has streamlined research efforts in vascular biology, fostering collaboration between several clinical and basic science departments.






UM MEDICINE HOME | UM MEDICINE ARCHIVE
SCHOOL OF MEDICINE HOME | UNIVERSITY OF MIAMI HOME