n the summer of 1999, Geraldine Campbell's left eye began to droop. As a polio survivor, she thought the symptom was another aspect of post-polio syndrome and arranged for an appointment with a neurologist at the University of Miami/Jackson Memorial Medical Center. What followed made medical history.

A magnetic resonance (MR) scan revealed a bulging aneurysm the size of a golf ball on Campbell's left carotid artery behind her eye. Further examination uncovered a smaller, more dangerous, symptomless aneurysm on the right carotid artery in her brain. Conventional neurosurgery was scheduled to clip the aneurysm on Campbell's right carotid artery, to be followed by a second surgery for an arterial graft to bypass the aneurysm. Both surgeries would be invasive and involved opening the skull and exposing the brain. As soon as her skull was opened, however, the operation came to a halt: polio had malformed the blood vessels, making surgery too risky to proceed.

Campbell was fortunate to be at UM/Jackson, which is on the forefront of interventional radiology. Ten days after her operation was aborted, Ajay K. Wakhloo, M.D., Ph.D., chief of neuroendovascular surgery and interventional neuroradiology at UM/Jackson, took Campbell into the interventional neuroradiology suite, placed a catheter in her groin, and threaded it through her arteries to the right carotid aneurysm. Twelve tiny wire coils were delivered through the catheter into the aneurysm, filling it and eliminating any danger of rupture.

As a result of polio as an infant, Campbell had no reflexes on her left side, as well as a condition wherein one pupil is larger than the other. Following the occlusion of the right carotid artery aneurysm, the condition in her eye disappeared, and she regained the reflexes she had lost 56 years earlier.
The giant bulge behind Campbell's left eye was left untouched whileshe rested and recovered from the first procedure. In October 1999, Dr. Wakhloo attempted to treat it in a similar manner. He planned to place a small metal porous tube called a stent inside the artery, covering the entire length of the bulge and filling the aneurysm with coils. However, the stent was too rigid to pass through the hairpin curves in the patient's arteries, and she was sent home.
By March 2000, her symptoms worsened, and the aneurysm had grown to the size of an egg and was in danger of rupture. Just in time, research had produced a flexible stent. She returned to UM/Jackson, where Dr. Wakhloo placed a flexible stent in the carotid artery and 28 coils in the giant aneurysm, successfully occluding it and preventing it from further growth and rupture.
The procedure saved her life. It was a giant non-ruptured aneurysm repair, and a groundbreaking case for minimally invasive endovascular treatment (performed from the inside of a blood vessel).
Campbell's experience reflects a growing trend away from conventional open surgery and toward minimally invasive treatments at UM/Jackson and other progressive medical centers.
"The face of radiology has changed dramatically in the past ten years and continues to evolve. It has, in part, turned into a surgical subspecialty," says Robert M. Quencer, M.D., chairman of the Department of Radiology and holder of the Robert Shapiro, M.D., Professor of Radiology endowed chair at the School of Medicine. "Many vascular diseases formerly treated by general surgeons, vascular surgeons, and neurosurgeons are now being treated in the radiology suite by interventional radiologists."


etter patient care is the motivation behind the movement away from traditional surgery. Endovascular and other types of minimally invasive procedures performed by interventional radiologists are much easier to tolerate. Patients suffer far less posttreat-ment pain and usually are able to return home and to normal activities in a few days. The procedures carry less risk than open surgery and cost less.
Angioplasty, the first and best-known endovascular procedure, has been performed in the heart since the 1980s. The use of stents, metal scaffolds that hold the arteries open after the procedure, has secured a place for angioplasty in the treatment of vascular disease throughout the body. Outside the coronary (heart), carotid (neck), and brain arteries, angioplasty is performed in most major and many minor vessels at UM/Jackson by Jose M. Yrizarry, M.D., chief of the Division of Vascular Interventional Radiology, and his colleagues."Instead of removing part of a blocked or damaged artery, or bypassing it, we treat it through the inside," he explains.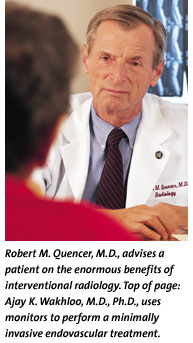 The problem may be located in the leg arteries, small arteries around the ankles, or those that supply the kidneys. An aneurysm in the aorta, the body's major blood-carrying trunk, can be deadly. Surgery to repair the aorta itself is risky. Patching weakened aortas from the inside is a far-less-risky lifesaving procedure.
These procedures also are valuable in the Emergency Department, where the radiologists often are called on to patch torn vessels in trauma victims with plastic-covered stents. They occasionally plug small torn vessels by injecting Gelfoam or metal coils, which form a clot and stop the bleeding. "It is sometimes easier to control bleeding this way, permitting the surgeons to concentrate on repairing damaged organs," says Dr. Yrizarry.
Radiologists also have taken over the treatment of selected liver tumors. Instead of removing the tumors or treating them with chemosurgery or radiation therapy, they are now "zapped" by interventional radiologists. The procedure is called radiofrequency ablation. A small incision is made in the abdomen, and a wand-type probe inserted into the tumor. High-frequency radio energy is used to heat the tip, killing the cancer cells on contact. The dead cells are simply absorbed and digested in the body's natural housecleaning process.
Likewise, open surgery is no longer necessary for many types of biopsies, which now are performed by interventional radiologists under CT guidance.
Nevertheless, the fastest-growing applications of endovascular radiology are to prevent and treat stroke to minimize its damage. "When I started in this field about 20 years ago, only 10 percent of neurovascular work was done minimally invasively. At UM/Jackson, we now do 50 percent of all neurovascular work endovascularly—for brain aneurysms, more than 50 percent," says Dr. Wakhloo. The nationally and internationally renowned neurointerventionalist was hired by Dr. Quencer two years ago to help make the University of Miami a world leader in this area, a challenge he is meeting with enthusiasm and creativity.
Having a university rich in brainpower and diverse talent, and a medical center staffed with gifted physicians and surgeons at his disposal, Dr. Wakhloo has been able to combine resources for the advancement of his subspecialty. In a pioneering move, he spearheaded the formation of the Center for Neuroendovascular Surgery and Stroke Research at UM/Jackson. The program combines the expertise of key radiologists, neurosurgeons, ophthalmologists, and vascular biologists from UM/Jackson with biomedical engineers, materials engineers, and electrical and computer engineers from UM's Coral Gables campus. The result is a concentrated effort to improve patient care through improved technique and technology.
One obvious advantage is the removal of politics from medicine. "The decision about whether a patient receives endovascular treatment or surgery for a condition such as an aneurysm should not be financially motivated. By adding neurosurgeons to our team, every patient is evaluated from all points of view to ensure that we offer the most appropriate treatment," says Dr. Wakhloo, who publishes prolifically to educate neurosurgeons about the safety and efficacy of neuroendovascular procedures.


he Center for Neuroendovascular Surgery and Stroke Research will be propelled by research performed in its recently opened facility. Here, the first three-dimensional angiographic research equipment in the world was installed in May. This technology enables clinicians and researchers to more readily identify weak points in a patient's vascular system and test the viability of treatments designed to eliminate them.
"Why are we doing this kind of research? There is increased understanding of what causes the artery wall to break down. Once the process begins, aneurysms, atherosclerotic plaques, and other problems may follow," Dr. Wakhloo explains. "With biological implants and micro devices, we will be able to deliver healing drugs in an efficient concentration directly to the arteries, such as through drug-coated stents, and monitor the effect. Eventually, we hope to have a stent that does not just keep a vessel open, but that also emits a drug that reduces inflammation, thereby progressively healing the lesion."

While experimental treatments are currently being developed, University researchers already are involved in clinical research of two types of devices designed to protect the brain against stroke-producing debris resulting from angioplasty and stenting of the carotid arteries. The first is a type of umbrella placed upstream to gather any debris floating in the blood vessel and draw it out. A second type is a balloon that diverts blood flow to a different artery.
"With protection, the risk of stroke will be lowered, and we will be able to perform carotid artery stenting in most of our patients," Dr. Wakhloo explains. "Right now, it is reserved for high-risk patients. Unlike in the coronary arteries, restenosis of stented carotid arteries is seen in less than 5 percent of the patients."
With the demand for interventional procedures on the upswing, there are too few radiologists to go around. More radiology training positions are needed: an issue Dr. Quencer is anxious for the American Board of Radiology to tackle. At UM/Jackson, however, all 54 radiology residents receive comprehensive training in interventional and diagnostic procedures in preparation for the demands of the real world.
"Radiology is a hugely busy service. We are on call 24 hours a day, seven days a week," says Dr. Quencer. "Years ago, it used to be that at night, the radiologists were at home and the surgeons were in the hospital; now both share emergency on-call procedural coverage."