he School of Medicine has been working diligently to address the rapidly changing trends in medical education. For the past four years, the Division of Medical Education has taken dramatic steps to reform the medical curriculum. This fall, incoming freshmen will be the first to experience these curriculum changes. This new approach to learning will integrate the teaching of basic and clinical sciences, introduce new knowledge and skills required for the practice of medicine, and promote lifelong learning behaviors in students. Mark O'Connell, M.D., senior associate dean for medical education, outlines some of the highlights of the new curriculum with Jerry Lewis, assistant vice president for communication for the School of Medicine.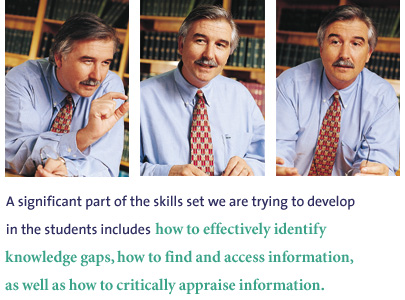 JL Why is the University of Miami changing its medical curriculum now?
MO Perhaps the question should be "Why didn't we do this a long time ago?" There is an amazing revolution going on in American medical education right now, and it's not quite clear why it suddenly caught fire. Currently, more than 80 percent of the 125 medical schools in this country have revised or are in the process of revising their curriculum. So what we are doing here is pretty much in concert with where most of the nation is going. But we are not alone in the United States. These methodologies have been readily adopted in Europe, especially England and Scotland, and there are a number of new schools in Southeast Asia that also are incorporating an integrated, adult-learning style of teaching. It's very exciting.
JL Historically, what events led up to this complete change in the way medicine is taught in this country?
MO There have been various studies and reports through the years that called for changes in medical education. One report in 1984 recommended that medical students be taught reasoning and self-directed learning skills, or what is called "adult learning styles," instead of having them memorize tons of facts. Another report in 1992 called for moving medical education into the community and an ambulatory setting. According to that study, if we truly want to prepare students to take care of patients, we should steer away from the tertiary academic medical centers and into the "real world" of health care in the community.
JL How will the curriculum change at the University of Miami? Are you incorporating new areas of study into the curriculum, such as women's health or geriatrics, to keep up with the changes in health care, cultural differences, and overall demographics?
MO What we are trying to do is to integrate the teaching of the basic and clinical sciences so that they run in parallel. We also want to introduce new knowledge and skills required for the practice of medicine in the 21st century. Much of the new content and experience will occur in various longitudinal themes that continue throughout the four years. In order to organize that content, we have created themes that include professionalism, humanism, community service, behavioral medicine, cultural diversity, and women's health, to name a few. A large part of the change in teaching methodology moves away from passive learning, and instead, is founded on active adult learning theory—learners can assimilate complicated concepts quicker if they are presented within a certain context, or if they have an obvious relevance to connect to them. A significant part of the skills set we are trying to develop in the students includes how to effectively identify knowledge gaps, how to find and access information, as well as how to critically appraise information. Geriatrics also is a big theme in our new curriculum. There is a national effort, organized by the Association of American Medical Colleges, to develop standardized medical school objectives and define what should be in the curriculum. However, since each medical school is unique, a standardized curriculum would work only up to a certain point, because each school has a mission, a unique identity, and specific areas of strengths and interests. Here at the University of Miami we have a special opportunity with the large and growing elderly population in South Florida. We also are focusing on our multicultural and multiethnic population and how cultural issues affect illness behavior and the success or failure of the health care delivery system. Also, international health opportunities, where we send students abroad to care for people and learn about medicine, have a much more powerful potential than we had appreciated before.
JL How will the new curriculum be implemented?
MO We are going to initiate it in a rolling fashion. The incoming freshmen class will be immersed in the new curriculum. The current sophomores, third-year, and fourth-year students will stay in the traditional curriculum. In other words, we will not need to have the entire curriculum up and running on August 13, 2001, when the next round of freshmen start. We have a year to fine-tune the second year of the curriculum. It will be an evolving process.
JL How will this new curriculum eventually enhance the doctor-patient relationship and ties to the community?
MO We always have been a school that prides itself on our linkages to the community and our focus on community service, not to mention the community-based clinical opportunities that we provide to students beginning as early as the first semester. We really try to put them with role models in the community early on. We've spent a fair amount of time in our existing curriculum on teaching interpersonal and interviewing skills, how to interpret nonverbal communication and patient education. But the new curriculum gives us the opportunity to do even more of this.
JL Are there any other areas of medicine covered in the new curriculum that might not have been addressed before?
MO There is the need to put the new and sexy stuff in, not just because it is politically correct, but because it needs to be there. Complementary and alternative medicine, for example, are part of the new curriculum, because you cannot send physicians into the world in the 21st century without being aware of these treatments. Studies show that more than 50 percent of patients are on some type of alternative treatment and that fewer than half of the patients will admit it to their doctors, even after direct questioning. So we have to make future physicians aware of these modalities in an evidence-based way.
JL Will the classroom structure change?
MO Many of our methodologies will be conducted in small groups. A faculty member will meet with six to eight students at a time, work through problems within the context of a case, and then discuss the case, using X-rays, EKGs, etc. To do this, we have built small group teaching facilities that are equipped with all of the latest high-tech capabilities. Some of these rooms are set up as mock clinical examination rooms, equipped with examination tables, sinks, blood pressure equipment, one-way glass, audio, video cameras, etc. Here, in these clinical skills learning labs, students will be taught basic exam skills, such as how to perform a physical examination on a patient, and will be evaluated on their interaction with the patient. This will allow us to teach clinical skills in a much more standardized way.
JL What kind of an impact could our curriculum changes have on a patient in Miami-Dade County?
MO Since we are introducing so much new content in the areas of communication skills, in understanding patients on a humanistic level, and in understanding the needs of the community, ethnic cultural groups, and women, this new way of teaching will help doctors be more caring, effective, and communicative with their patients.