Dr. John T. MACDONALD FOUNDATION TAKES HEALTH CARE TO SCHOOL
A Lesson in Caring

t North Miami Beach Senior High, the school nurse will be doing more than taking temperatures and bandaging scraped knees. Health care needs from vaccinations to blood work in the lab will be filled within the framework of a public school program set in place earlier this year.
A grant of $6.25 million from the Dr. John T. Macdonald Foundation has helped the School of Medicine establish a primary health care service at the high school, complete with wellness education and support services. Preventive medicine such as immunizations and vision and dental screenings, as well as mental health counseling and referrals for specialized treatment are provided.
Additional clinics have been set up at four area schools that feed students to North Miami Beach Senior High: John F. Kennedy Middle School, Fulford Elementary, Greynolds Park Elementary, and G.K. Edelman/Sabal Palm Elementary. Every student can access the program's nurses, social workers, and health service technicians. Support for parents and siblings of students is another goal.
"A sustainable, comprehensive, and cost-effective system of care for an especially needy population has been created," says Arthur Fournier, M.D., associate dean for community health affairs and project director of the school health program. "The Dr. John T. Macdonald Foundation has given us the resources to create an infrastructure to care for children in an entire feeder pattern from kindergarten through 12th grade. Improved outcomes in both physical and mental health already have been documented."
Coordinated efforts between the foundation, the School of Medicine, the Miami-Dade County Health Department, Miami-Dade County Public Schools, school principals, and health care practitioners are the key to success.
"We are empowered by a dream and enabled by a team," says George D. Mekras, M.D., chairman of the board of the Dr. John T. Macdonald Foundation. "We hope that this project becomes the model for providing health care and health education to our at-risk children throughout their public school education."
This latest grant brings the Dr. John T. Macdonald Foundation's total commitment to the school to $12.5 million. A previous grant created the Dr. John T. Macdonald Foundation Center for Medical Genetics.




Livingstone Chair Supports Cancer Research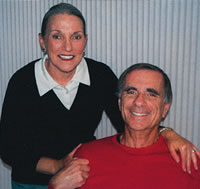 hen Susen and Herb Grossman set out to make an impact on cancer research and treatment, they did it with a little help from their friends. Looking to repay the School of Medicine for the unparalleled care Susen received at the Sylvester Comprehensive Cancer Center, the Grossmans corralled their friends for cocktail parties and parlor meetings, where they discussed the quality of care at the center. After two years, their ultimate thank-you was an endowed chair for research, which has grown from $1 million in 1999 to almost $2 million today.
"People don't necessarily give to causes, they give to people. It felt very good to have my friends rally around me and lend a hand," says Susen.
The chair is named in honor of Alan Livingstone, M.D., chairman of surgery at the School of Medicine and Susen's surgical oncologist.
A retired C.P.A. and former race car driver and pilot, Herb Grossman says the biggest thrill is helping to bring comfort and the latest medical advances to future patients. "We were lucky to have benefited from the philanthropy of someone before us whose gift allowed for the high quality of treatment my wife received. We wanted to return the favor and continue that cycle to benefit patients who would come after us."




LOIS POPE LIFE FOUNDATION HONORS TOP RESEARCHERS
Focused on Finding Cures


ewarding significant discoveries that will one day pave the way toward cures for debilitating neurological diseases, the Lois Pope LIFE Foundation granted two philanthropic research awards in succession earlier this year at the School of Medicine. Vanguards in their respective fields, Louis M. Kunkel, Ph.D., and James A. Thomson, V.M.D., Ph.D., shrugged off heavy coats last winter to head for sunny Miami and claim their prizes.
Immortalized by Time magazine as "The Man Who Brought You Stem Cells," Thomson, assistant professor of anatomy and chief pathologist of the Wisconsin Regional Primate Research Center at the University of Wisconsin-Madison School of Medicine, was honored for his pioneering research culling stem cells from embryos and ensuring their reproduction indefinitely. A presentation of his work prior to the award ceremony packed the auditorium of the Lois Pope LIFE Center to standing-room-only capacity. If successful, current studies could one day benefit patients with conditions ranging from diabetes to spinal cord injury.
"It is amazing to me that through this research we may one day find a cure for Parkinson's, Alzheimer's, and spinal cord injuries," says Lois Pope, who created the $100,000 award and whose philanthropy helped establish the Lois Pope LIFE Center at the School of Medicine.
Recognition of his groundbreaking research on muscular dystrophy is nothing new to Louis M. Kunkel, who in 1990, at only 40 years old, was elected to the National Academy of Sciences. As chief of the Division of Genetics at The Children's Hospital in Boston and professor of pediatrics and genetics at Harvard Medical School, Kunkel has dedicated his research efforts to investigating muscular dystrophy disorders. His identification of the absence or abnormality of the protein dystrophin as the cause of damage suffered by patients with muscular dystrophy has led to improved diagnosis and moved scientists ever closer to a cure.
Kunkel's current work explores the possibility of using muscle stem cells for transplant in mice unable to synthesize dystrophin; he speculates that these transplanted stem cells can relocate to diseased muscle, produce dystrophin, and restore normal muscular function.



Graduating Seniors Meet Their Match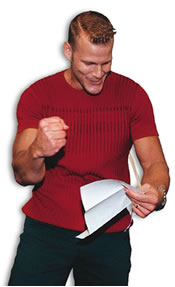 chool of Medicine seniors marked another banner year with a complete match to residency training programs across the country. Each of the fourth-year students found a spot, helping the Class of 2002 achieve a match of 100 percent and beat out the national percentage, which weighed in at 94 percent this year.
From the Pacific Coast to the Midwest, New England, and back again, their placement was as diverse as their interests. While more than half of the School of Medicine's seniors will pursue specialty training in the primary care disciplines—which include family practice, internal medicine, and pediatrics—the rest of their peers will train in disciplines ranging from anesthesiology to neurology, radiology to emergency medicine.
"With us, you've become a UM doc," said Mark T. O'Connell, M.D., senior associate dean for medical education, at the annual Match Day gathering. "But we've just laid the foundation. Residency training is where you become the physicians and clinicians that you are meant to be."
One-third of the School of Medicine's seniors will stick to their roots, receiving their postgraduate training at Jackson Memorial Hospital.



Regina LeVerrier Reaches Out to New York's Homeless


rom New Zealand to Hawaii and back again, Regina LeVerrier, M.D. '88, has traveled the globe to provide psychiatric care. Frequent flyer miles and stints in locales all across the world behind her, she now finds herself back in the trenches where she belongs.
"As long as I can remember, before I even knew there was a word for it, I knew what I wanted to do," LeVerrier says. "It was like a calling."
After graduating from the School of Medicine, she began to follow that calling with a residency in psychiatry at Columbia University affiliate St. Luke's-Roosevelt Hospital Center in Manhattan. She spent the next three years traveling as a "doc for hire," part of a program in which she would serve one to eight months in mostly rural, underserved cities around the United States and sometimes abroad. Coming full circle, a fellowship at Columbia University landed LeVerrier back where she started.
Today, she offers psychiatric services to the homeless in New York City, calling shelters, halfway houses, or even the streets of Manhattan her office. For a time, LeVerrier served as medical director of the Project for Psychiatric Outreach to the Homeless, but found the job's administrative duties unsatisfying. So, she went back into the community.
"There is something so rewarding about helping to change the lives of these people who have lost everything," she says of her patients, who range from individuals suffering from severe mental illness such as schizophrenia to developmentally disabled patients who welcome her into their homes.



UNION WORKERS BUILD FOR A DIABETES CURE
A Firm Foundation


ach year, labor union workers all over the country put down their sheet metal, set aside their hammers, and hold out their hard hats for a good cause. They spend a day building bridges of a different sort, spanning the gap between diabetes sufferers and the cure that scientists at the School of Medicine's Diabetes Research Institute (DRI) work tirelessly to discover.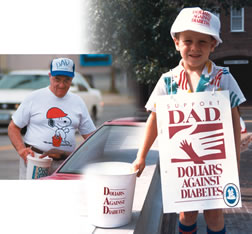 Father's Day weekend marks the annual campaign known as Dollars Against Diabetes, or DAD's Day. Men and women from building and trade unions around the United States gather at intersections and shopping malls to garner support for diabetes research and treatment efforts at the DRI. Last year's event raised more than $1.1 million, collected in more than 300 communities across the nation.
DAD's Day is just one of the initiatives supported by the 6,000-plus local, national, and international groups that make up the Building and Construction Trades Department (BCTD) of the American Federation of Labor-Congress of Industrial Organizations, commonly known as AFL-CIO. Along with an annual golf and gin rummy tournament called the Labor of Love, DAD's Day is a cornerstone of Blueprint for Cure, an umbrella program of annual events spearheaded by the nation's union groups to benefit the DRI.
The campaign began in 1984, when representatives from the building trades visited the DRI Foundation and learned from parents about the need for a comprehensive research and treatment facility to lead the way toward a cure for diabetes. Since then, union workers have raised more than $30 million to support the DRI and its research projects, including the seed money that built the DRI's facility and put the School of Medicine at the forefront of the search for a cure.
Earlier this year Ed Sullivan, BCTD president, accepted the organization's induction to the University's distinguished Merrick Donor Society, in recognition of its members' commitment. Their dedication stands immortalized at the DRI with a plaque mounted on the face of the facility that was, as the marker aptly states, "Built by the hearts and hands of our nation's building and construction union members whose generosity and craftsmanship know no bounds."



Fashion Makes a Statement for The Miami Project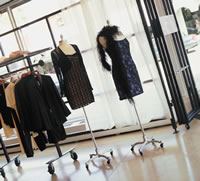 pinal cord injury research and haute couture may not seem to have much in common. But the two came together at the exclusive Bal Harbour Shops last February, as Yves Saint Laurent celebrated the opening of a new boutique with a gift to The Miami Project to Cure Paralysis at the University of Miami School of Medicine.
Caviar, lobster, and champagne with berries were some of the fare enjoyed by movers and shakers in South Florida society, as well as Miami Project leaders W. Dalton Dietrich, Ph.D., scientific director, and Barth Green, M.D., director of clinical research and chairman of the School of Medicine's Department of Neurological Surgery. Marc Buoniconti, A.B. '93, Miami Project ambassador, also attended.
"We are very fortunate to have Yves Saint Laurent, an international fashion house, as a strong supporter in our quest to fund the necessary research that will help us find a cure for paralysis," Buoniconti said.
Yves Saint Laurent's gift of $10,000 was complemented by an additional donation of 10 percent of the new boutique's sales for the week following its grand opening. The funds will support general research at the project and mark the first gift from the fashion giant to the University of Miami.



NEW TRADITION WELCOMES FIRST-YEAR MEDICAL STUDENTS
A Common Bond


t was a family affair at the University of Miami School of Medicine's second annual freshman pinning ceremony last January. First-year students were welcomed to the medical school community by their peers and alumni, with family members joining in the celebration.
For the ceremony, alumni visited their alma mater to pass the torch to the newest generation of future physicians, presenting each first-year student with a commemorative pin. The emblem was designed by students of the Class of 2001 and depicts a molecule of DNA to represent a commitment to research, a caduceus to portray patient care, an orange and green "U" to denote the University and education, and a sun with outstretched rays, symbolizing outreach to the South Florida community.
"The sense of community here is very strong, and we have a great relationship with the older classes and alumni," says first-year student Suzanne Riskin. That relationship was manifest when she was pinned. Her father, Wayne Riskin, M.D. '71, voluntary associate professor of rheumatology at the School of Medicine, did the honors.
Also featured at the pinning ceremony was the introduction of the medical school's academic societies. These 12 organizations were created to supplement medical education with peer mentoring. Students from all four classes are represented in the groups, learning skills from each other's experiences and teaching advanced techniques that students in lower classes will need for the subsequent phases of their education.
"It's powerful and inspiring for students to see themselves in these leadership roles, pleased and sometimes surprised at the skills they've developed and shared," says Mark T. O'Connell, M.D., senior associate dean for medical education. "It's also satisfying for faculty to watch our students build confidence in the process."



Frederic Guerrier Teaches by Example


ach year a pack of Little Green Devils trades playbooks for tongue depressors when Frederic Guerrier, M.D. '81, meets them out on the field. Guerrier has provided free physicals to members of the peewee football team from St. Petersburg, Florida, since 1985. Parents make a small donation, and a local charity benefits.

"You have to be a part of the community," stresses Guerrier, whose outreach projects have earned him local and national accolades.
Many of those commendations reflect his commitment not only to the community, but to his students as well. Since graduating from the School of Medicine, Guerrier has found himself on the other side of the podium, currently serving as a clinical associate professor of family medicine at the University of South Florida. His success in this arena is perhaps best reflected through the eyes of his students: Guerrier's medical residents at USF's Bayfront Medical Center presented him with the Bud Pryor Outstanding Preceptor Award in 1999 and 2001.
"It's great to be able to teach them and see their eyes and minds open," Guerrier says. "I try to help them learn to take care of the total patient, not to just remember their pharmacology."
In 1995, care of a most important patient sparked Guerrier's pride in the education he received at the School of Medicine. His mother, Miami resident Denise Louis, suffered a stroke.
"One of the times I was most proud to be a doctor was when I was able to be supportive and knowledgeable for my mother," Guerrier says. "She gave so much to me, including seeing me through my medical education. It felt great to finally be able to give something back."


Photography: Pyramid Photographics






UM MEDICINE HOME | UM MEDICINE ARCHIVE