LYNN GIVES $5 MILLION FOR Endowed Chairs
Strides in Knowledge



oosting the research that will help put paralyzed patients back on their feet and improve surgical techniques to reduce the trauma of pelvic fracture, South Florida philanthropist Christine E. Lynn has joined with the School of Medicine in creating two new endowed chairs. Her cash gift of $5 million was announced at a special presentation last January, held at the Lois Pope LIFE Center, home of The Miami Project to Cure Paralysis.
"This is not the beginning or the end, but one part of our passionate pursuit of first-class science," said UM President Donna E. Shalala, Ph.D.
Grateful for the care her late husband received at the School of Medicine, Lynn offered a lasting legacy with her gift, creating the Christine E. Lynn Distinguished Chair in honor of Barth A. Green, M.D., for The Miami Project to Cure Paralysis and the Christine E. Lynn Distinguished Chair in Orthopaedic Trauma in honor of Gregory Zych, D.O. Both Green, cofounder of The Miami Project, and Zych, chief of orthopaedic trauma, treated Lynn's late husband, Eugene M. Lynn, and the endowments they received will further research to advance clinical treatments for spinal cord injury and pelvic trauma.
Mirroring the philanthropy of his benefactor, Green appointed Mary Bunge, Ph.D., senior researcher at The Miami Project, to the chair named in his honor, emphasizing the importance of Bunge's research on the regeneration of axons damaged due to spinal cord injury.

"Every accomplishment and paper published under the work that bears your name will be a testament to your generosity," Green told Lynn at the dedication ceremony.
"This gift, both generous and significant, will allow the Division of Orthopaedic Trauma to continue its mission of academic excellence and the highest quality of trauma care," added Zych.
The Lynns have been supporters of The Miami Project since 1995. In total, they have given more than $5.6 million to the University.



UM's Devi Sridhar Is Youngest Rhodes Scholar


eading off across the Atlantic this fall, Devi Sridhar will continue her father's legacy of dedication to academic excellence and social advocacy. Daughter of the late Kasi Sridhar, M.D., a lung cancer researcher at the University of Miami Sylvester Comprehensive Cancer Center, she is the youngest American to be named a Rhodes Scholar and one of only 32 nationwide to receive the honor in 2002.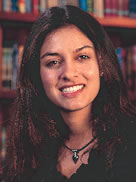 Sridhar launched her studies in biology at UM when she was just 16, after acceptance to the University's Honors Program in Medicine, which sends qualified students on a fast track through undergraduate and graduate education to earn a medical degree in six years. Now 18, she graduated with honors from the College of Arts and Sciences in May, and she will attend Oxford University in October to study international relations with her sights set on work with the United Nations as a health care advocate. The Rhodes Scholarship, recognizing academic achievement, integrity, unselfishness, respect for others, leadership potential, and physical vigor, will support her education at Oxford for up to three years.
Academia is only one arena in which Sridhar has flourished. An accomplished violinist and tennis player, she speaks five languages and has written a children's book on Indian myths. In high school, she tutored autistic children and started a multi-school organization to address autism.
Former president of the UM/Sylvester medical staff and a Board of Governors member, Kasi Sridhar set a stellar example for Devi—and her older sister, Divya, who will graduate from the School of Medicine in 2005. His study to develop a vaccine to stimulate the immune systems of lung cancer patients was a milestone in the search for a cancer cure.



GREEN FAMILY FOUNDATION FUNDS PEDIATRIC INFECTIOUS DISEASE RESEARCH
Making a World of Difference



former U.S. ambassador to Singapore, Steven Green earned a new post as ambassador for children's health with a recent gift from his foundation to the University of Miami School of Medicine. Through a donation of $2.5 million to the Department of Pediatrics, the Green Family Foundation Initiative in Pediatric Infectious Diseases and Immunology and International Health will support outreach efforts to children and families with HIV/AIDS and tuberculosis in South Florida, Haiti, and other countries. The program also will fund research in pediatric infectious diseases, provide a vehicle for community education and international outreach, and enhance the quality of life for children infected with HIV around the world.
Directed by Gwen Scott, M.D., the Division of Immunology/ Infectious Diseases in the Department of Pediatrics is the largest single-site pediatric AIDS program in the nation. It provides medical and psychosocial support for more than 300 HIV-positive children and adolescents each year, while screening another 200 at-risk infants born to HIV-infected women. School of Medicine physicians will use skills gained through these patient encounters to train physicians and community health care workers in Haiti. Partnering with the nonprofit organization Project Medishare, University doctors, nurses, and students will deliver care to underserved families.
"The Green Family Foundation recognizes the substantial impact the University of Miami Department of Pediatrics has made in our community," says Green, who is a member of the University's Board of Trustees. "By developing a structured support system, our foundation hopes to encourage others to join in the global fight against preventable infectious diseases."




Irwin Redlener's Care For Children Knows No Bounds



t the Montefiore Children's Hospital in New York City, patients often don't want to go home. With interactive learning games at their bedside, comfortable accommodations for their families, and a solar system in the lobby, getting healthier runs right alongside getting smarter and having fun.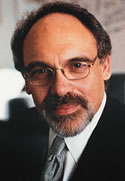 President of the hospital from 1990 to early 2003 and key contributor to its renowned educational design, Irwin Redlener, M.D. '69, not only wants to see each child head home healthy, but also ensures that their needs continue to be met.
"Doctors need to see themselves as clinician advocates," he says. "The conditions of children have to be dealt with along with their consequences."
Much of Redlener's outreach is supported through the Children's Health Fund, a not-for-profit organization for homeless and indigent children he founded in 1987. Mobile pediatric clinics operate with local partners in 15 sites around the country, including UM. The fund also is a voice for children's issues and access to health care.
Redlener's natural compassion for children was strengthened at the School of Medicine. "The pediatricians at the University of Miami were so deeply concerned about kids. Their broad view of 'well-being' resonated with my own," he recalls. "The combination of a humanistic, caring atmosphere and dedicated physicians had a major impact on me."
Through his advocacy, Redlener has opened the nation's eyes to the effects of current events on children. Among these efforts is a campaign to identify the impact of terrorism on children and spur preparation and response guidelines. Extending his reach beyond children to their families and their communities, Redlener recently joined Columbia University as the founding director of its National Center for Disaster Preparedness and associate dean at the Mailman School of Public Health.




GIFT ENDOWS RENAL TRANSPLANTATION CENTER AND CHAIR
Honoring a Remarkable Patient



he Division of Kidney and Pancreas Transplantation in the Department of Surgery, one of the top five programs of its kind in the country, has been renamed in memory of Lillian Jean Kaplan. Established through the support of her family, The Lillian Jean Kaplan Renal Transplantation Center houses the division's clinical transplant program and active research at the forefront of studies in donor organ tolerance.
Funds from the donation also established the Joshua Miller, M.D., Chair in Transplant Surgery to honor the founder of the University of Miami's transplant program. George W. Burke, M.D., chief of kidney and pancreas transplantation, is the first physician named to the chair, which will provide the resources to continue Miller's commitment to improving transplant treatment, education, and research.
In appreciation of the care Lillian Jean Kaplan received as kidney transplant recipient at UM/Jackson and longtime patient of Miller, who now serves as codirector of the center that bears her name, the Kaplan family has funded a permanent memorial.
"Lillian Jean Kaplan had a bright and indomitable human spirit of graciousness, sophistication, and unsinkable optimism," says Miller. "Our work at the center that bears her name will be a testament to her and her family in the wish for a brighter tomorrow."
More than 200 family members and friends of Lillian Jean Kaplan gathered on the School of Medicine's Schoninger Research Quadrangle last December for the center's dedication. In a tribute to his late mother, Thomas Kaplan recalled her characteristic strength and noted the honor he felt in giving to the transplantation program that extended her life.
The organ transplant program at UM/Jackson was instituted in 1978 under the direction of Miller. In its first year, 28 kidney transplants were performed. Today, UM/Jackson has the third most active organ transplant program in the nation, performing more than 500 organ transplants last year.




50th Anniversary Celebration Comes to a Close


irthday candles have been extinguished across campus, but the flame of discovery still burns brightly after the School of Medicine's 50th anniversary celebration. Begun with a student luncheon and concluded with the 2003 graduation ceremony, the golden anniversary was marked by reflection, celebration, and anticipation of the advances to be made in the school's bright future.
Held in the Schoninger Research Quadrangle last September, the luncheon united the Classes of 1956 and 2006, who reveled in the accomplishments of a school virtually unrecognizable since its first days in the servants' quarters of The Biltmore Hotel. "Imagine gross anatomy, in the same weather we have today, in a windowless room with no air conditioning," said John G. Clarkson, M.D. '68, senior vice president for medical affairs and dean of the School of Medicine.
A November picnic in the quadrangle honored the contributions of faculty and staff to the school's success. Then, history was revisited at the anniversary's marquee symposium in January, with recollections from former Dean Bernard J. Fogel, A.B. '57, M.D. '61, and former UM Presidents Henry King Stanford, Ph.D., and Edward T. Foote II, J.D. President Donna E. Shalala, Ph.D., and Dean Clarkson presented a special session on the school's next 50 years.
Alumni and faculty gathered at the Radisson Deauville Resort in early February for the Miami Nature Biotechnology Winter Symposium, featuring keynote speaker Sir James D. Watson, Ph.D., co-discoverer of the double helix structure of DNA. Dinners with old friends and a flurry of activity marked an exciting weekend that brought together the school's best offerings in its 50 years—its graduates.




South Florida Center ESTABLISHES CHAIR IN NEPHROLOGY
Advancing Kidney Care


he Division of Nephrology at the University of Miami School of Medicine is well positioned to enter the top tier nationally, with a generous gift from the South Florida Artificial Kidney Center in honor of its longtime medical director, Wm. Way Anderson, M.D.
Answering a community need, Anderson and colleagues founded the not-for-profit center in 1965 to provide dialysis for seriously ill kidney patients. With government funding providing that care today, its Board of Directors has made an important contribution for the future, donating the center's assets after its closing to create an endowed chair in nephrology at the School of Medicine. David Roth, M.D., chief of the Division of Nephrology, is first to be named to the Wm. Way Anderson, M.D., Chair in Nephrology.
Now retired after 30 years of private practice in nephrology, Anderson treated many patients suffering from terminal kidney failure. Many of these cases were referred for transplantation to Jackson Memorial Hospital, with care provided by School of Medicine faculty members, Roth among them.
But Anderson's experience with the medical school extends even further, to residency training at Jackson under the direction of William Harrington, M.D., then chairman of the Department of Medicine. Anderson also served as a voluntary faculty member through the 1960s and early 1970s. His wife, Betty, who was director of nursing for the Artificial Kidney Center, was trained at Jackson, as well.
The Anderson Chair will support research studies that aim to improve treatments for conditions related to kidney failure, like hypertension, vascular disease, and diabetes, in addition to encouraging faculty members to pursue excellence in the clinic as well as the laboratory.



Dr. John T. Macdonald Foundation Cares for K-12



hrough a $6.25 million, five-year grant from the Dr. John T. Macdonald Foundation, the School of Medicine has established a coordinated system of health care clinics in the North Miami Beach Senior High feeder pattern. The Dr. John T. Macdonald Foundation School Health Initiative provides basic health care and psychosocial services for children from kindergarten through high school. A ribbon-cutting ceremony in February marked the grand opening of a 1,700-square-foot facility at North Miami Beach Senior High School.
Also located at John F. Kennedy Middle School, Fulford Elementary, Greynolds Park Elementary, and G. K. Edelman/Sabal Palm Elementary, clinics provide immunizations, vision and dental screenings, physical exams, blood work, patient education, social services, and referrals for specialized treatment. Height, weight, and body mass indexes are compiled, and the parents of overweight children are offered exercise and diet modification counseling. A sports program offers complete physical examinations, including EKGs, for student athletes. And a database of every asthmatic child outlines triggers, medications, and steps to take during acute attacks. Gaining hands-on experience, third-year medical students and family medicine residents support the nurses, nurse practitioners, and social workers on staff.
"Many students come from underserved communities and lack medical insurance and the means of getting to see a physician," says Joycelyn J. Lawrence, M.D., medical director of the initiative and assistant professor of family medicine. Without the school health initiative, she adds, many children would go without health care altogether.




Kathy Fields Takes Medicine at Face Value



n the sidewalks of San Francisco, it's not uncommon for strangers to tell Kathy Fields, M.D. '83, that she's changed their lives. Self-doubt and stigma used to keep many of Fields' patients and customers hiding at home. Through the development of ProActiv Solution, a medication that both heals and prevents acne for all ages, with business partner and close friend Kathy Rodan, M.D., Fields has helped countless sufferers put their best face forward.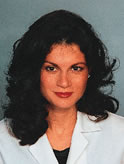 "Acne is one of the most common but most stigmatized conditions," Fields says. "It really affects self-esteem. And we knew ten years ago that people really needed something over-the-counter that worked."
Primarily targeted at adolescents, current acne treatments overlook the significant number of adults with the condition. About one in four adults aged 25 to 44 suffers from acne, and nearly all adult women can blame fluctuating hormones among other factors for their battle with mild to moderate acne. Safe and effective for all ages, Proactiv Solution has become the top acne treatment system in the country, boosted by regular infomercials, Internet communication, dramatic success stories, and media attention including a feature in People magazine.
Fields began a path toward obstetrics/ gynecology at the School of Medicine, but specialized in dermatology after residency training at Stanford University. Though her focus now rests in a different discipline, the miracles of new life have remained.
"I'm able to restore confidence in patients for whom acne had devastating effects," Fields says. "It's like giving life in another way."
Fields credits the School of Medicine for her compassionate approach. Mentors like longtime faculty members Mark T. O'Connell, M.D., and Manuel Penalver, M.D. '77, showed her the humanist side of medicine, putting patients first.
Between travels across the nation for lectures and training, private practice in dermatology, and duties as an instructor at the University of California, San Francisco, Fields finds time to develop new projects, including treatment for lightening skin spots left by acne scars or sun exposure. She also is working to build awareness of dangerous mercury levels in some types of seafood, focusing on the particular vulnerability of pregnant women, as recently outlined by the Food and Drug Administration.




Photography: Pyramid Photographics and John Zillioux








UM MEDICINE HOME | UM MEDICINE ARCHIVE