ifth-year M.D./Ph.D. student Alan Hanash is building a strong foundation in experimental science. Fresh from completing postdoctoral training, Pedro Beltran is perfecting the art of laboratory management. And assistant professor Beatriz Fontoura is collaborating with a former mentor and Nobel Prize winner on studies that may improve the treatment of cancer and other diseases.

Like their counterparts throughout the University of Miami School of Medicine, these three scientists represent different career stages and research interests, but share a strong passion for creating knowledge that will improve lives. What drives them? And what makes the School of Medicine such an ideal proving ground for researchers like them?

For Alan Hanash, motivation comes from an intense sense of ambitious idealism. At a relatively early stage in his training, Hanash possesses a zest for medicine that stretches beyond his specific research toward the broad spectrum of the field. Here is where a young researcher begins.
imed at creating physician-scientists educated in both the clinical issues of the day and the research that will address them, the M.D./Ph.D. Program guides qualified students through two years of preclinical training toward a medical degree, followed by laboratory dissertation work toward a doctorate in one of the basic sciences. The student finishes the program with two years of hands-on clinical experience.
Having completed the first two years of medical school, Hanash has shifted his focus to the molecular mechanisms that result in or prevent the diseases and disorders he will encounter in the clinic later in his training. His current work involves methods to improve bone marrow transplantation, battling graft rejection with regulatory T cells to encourage acceptance of donor bone marrow. While his efforts in the lab are highly focused, Hanash is learning most about conducting solid experimental science.
"The most important thing in Ph.D. training is to learn how to do good science," says Richard Bookman, Ph.D., associate dean for graduate studies and director of the M.D./Ph.D. Program. "It's always good if you're interested in and passionate about the problem you're working on. But the very first priority is the experience of formulating and working through an experimental problem."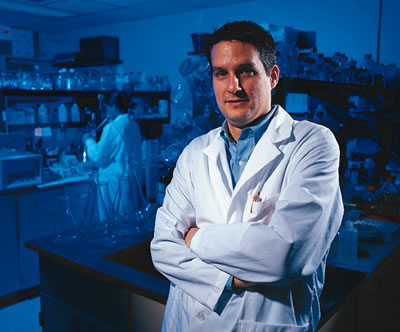 Exposure to biomedical research in childhood and adolescence led Hanash to his current pursuits. Some of his earliest memories are of his father's laboratory. This personal role model, a clinician-scientist himself, sparked the young novice's interest in both science and medicine. Hanash completed premed studies at the University of Michigan in Ann Arbor, where his father has served on the faculty since 1979.
"I remember being a little kid, going into my dad's lab and seeing stacks of 2-D protein gels piled high," he recalls. "To see how people were making sense of science was very exciting. My father is my first and biggest role model, inspiring me to make an impact in academic medicine."
Whether that impact will be created in the lab or the clinic remains to be seen. But with publications in peer-reviewed journals and his first oral presentation at a meeting of the American Society of Hematology last winter, Hanash is striding toward success. Speaking of T cells responsible for supporting donor bone marrow grafts with the ease of fluency in a second language, Hanash seems enthralled with discovery and the chance he has to contribute to research that will make a difference.
"You have to keep your perspective," he notes. "I'm not offering a cure for graft versus host disease; I'm not providing the answer for bone marrow transplantation. I'm adding a piece of the puzzle. If my work ultimately yields clinically relevant protocols or concepts, it would be absolutely wonderful. If not, hopefully it will at least gain biological insights that will further our understanding."
Monitoring these young scientists' work and informing others in the field, the faculty mentor plays a key role in the early steps of a researcher's path. Childhood influence from his father has expanded to the productive and cohesive relationship Hanash now shares with Robert Levy, Ph.D., director of graduate studies in the Department of Microbiology and Immunology. Brainstorming and encouragement from both sides mark this significant relationship in a young scientist's development, Levy notes.
"We want to guide our students in thinking about a lot of different areas and deciding, 'Where do I think I can grow? Where can I really learn?'" Levy says. "Our place is to help them build on that, turn it inside out.
"You have to have good students in order to have a successful research program in the lab," Levy adds. "The students bring ideas, and they bring interaction with other students, faculty, and laboratories. The relationship works both ways."
Though a mentor sets an example in productivity and investigation, one essential ingredient that can't be taught is passion. Whether he ends up in the lab, the clinic, or both, Hanash's current passion is the journey.
"Sometimes I'm enamored with the science," he says. "Then other times I look forward to the challenges awaiting me in the clinic. Between the two, I've got my bases covered. And exactly how my future will develop, I'm excited to see."

ridging the realm between scientific mentor and apprentice is Pedro Beltran, Ph.D., assistant scientist in the Neuroscience Program. A few steps further along in his career, Beltran has just finished postdoctoral training and, although his formal education is complete, he is still gaining knowledge. Armed with scientific experience and proven productivity, Beltran now balances basic science with laboratory management, the sense behind the science. The young researcher has grown comfortable in the lab, carved his niche, and pursues a more focused track toward biomedical solutions.
Beltran's particular quest involves neuronal molecules that mediate communication between two cells or between a cell and its extracellular environment. This interaction can spur enzymatic activity that guides the growth of axons, which branch out from neurons to direct electrical impulses toward other neurons or muscle cells. Joining the School of Medicine in 1998 for a postdoctoral fellowship in neuroscience, Beltran crossed interdisciplinary lines to apply the gains he made in the study of receptor protein tyrosine phosphatases (RPTPs) during doctoral training in cancer biology at M. D. Anderson Cancer Center at the University of Texas. University of Miami researchers in the lab of John Bixby, Ph.D., director of the Neuroscience Program, knew of the molecular group's potential in neurological development, but Beltran's perspective on their role in cancer was original. Drawing on conclusions in studies of cell biology and developmental neuroscience, Beltran applied these theories to research on cancer cells. When healthy cell-to-cell contact is lost, as is the case when malignant cells divide to form a malignant tumor, a loss of functional RPTPs may be partly to blame, he predicted. A branch of his studies is paving the way for this hypothesis, defining the relationship between phosphatases and their natural biological competitors, known as kinases. When the activities of these two cells clash, Beltran wants to find out, how are cell growth and survival affected?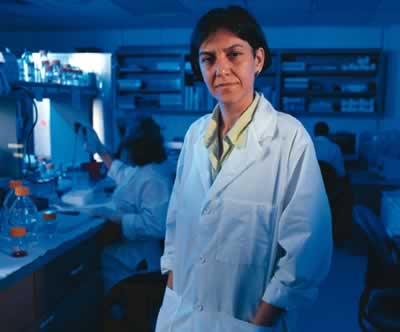 "The ideal postdoctoral fellow contributes not just techniques, but ideas—a different perspective than that which is already found in the laboratory," Bixby says. "Pedro's experience in cancer biology has led him to think in ways I don't ordinarily think, so it's had an effect on the way we approach our experiments. And that's what is supposed to happen." Along with providing new perspective during postdoctoral training, young scientists have much to gain at UM. According to a poll of postdocs conducted by The Scientist magazine, the School of Medicine was ranked second in the world for such training.
While always important in any researcher's progression, innovation is just one quality in this stage of a young scientist's development. In addition to lab work, the scientist needs skills in administration and supervision. As a student completes doctoral study, he or she begins to become a teacher. Doctoral candidates and fellows now appeal to Beltran for the guidance he once sought from his own mentor. To his mentor he is becoming more of an equal, contributing invaluable time and resources to the laboratory's administrative enterprises, including grant writing, collaboration with colleagues around the country, and presentations at national and international seminars.
"At this stage in his development, Pedro is more of a colleague than a student," Bixby says. "It's now a matter of two heads being better than one."
Science remains the ultimate stimulus for Beltran. The fascination he felt at his initial exposure to biomedical research still motivates him to answer the riddle of receptor protein tyrosine phosphatases, among other scientific brainteasers.
"As an undergraduate, I was overwhelmed by how complicated science is and how little we really know about it," Beltran says. "That's what science is all about. You'll never stop being surprised by what you find in the lab; you'll always find something else that you'll want to learn about."
Focus on a particular molecule or mechanism in human biology will inevitably lead to new pathways of knowledge and wonder. With the answer to one question, innumerable others arise. While Beltran has an eye on where his research is directly headed, his curiosity is far from being satisfied. In nailing down the causes and effects of these molecules, he wants to put together as complete a story as possible, he says, but recognizes the infinite possibilities in its beginning and end.
"Science needs to be opportunistic. If you uncover something very interesting and unexpected, you need to be able to follow your nose and go after it," says Bookman. "The interests of scientists continue to evolve throughout their careers. The smarter you are, the harder the problems get."

eatriz Fontoura, Ph.D., followed her instincts straight into the pages of Science, one of the world's most distinguished peer-reviewed journals. Now an assistant professor in the School of Medicine's Department of Molecular and Cellular Pharmacology, Fontoura has hit her scientific stride, collaborating with Nobel Prize winner Günter Blobel, Ph.D., her former mentor, and others in the investigation of molecular transport between a cell's cytoplasm and nucleus. Manipulation of the location of certain molecules within the cell could hold promise for treatment of diseases and disorders such as cancer. In particular, Fontoura and her collaborators found that interferon can be used to stimulate the cell's production of proteins targeted by viruses, which bind to the protein molecules and prevent important intracellular transport. With more protein molecules, cellular information has a better chance of being received by the nucleus, regardless of the virus's presence.
The discovery is only one element of Fontoura's work on nuclear transport. Interdisciplinary bridges were built during her postdoctoral work in Blobel's lab at The Rockefeller University, where she stumbled upon interferon's potential in regulating the trafficking of molecules into the nucleus. Reflecting the multiple disciplines and varied avenues a researcher can travel on the road to scientific discovery, the convergence of minds from many different backgrounds made a lasting impression on Fontoura during her postgraduate training at Rockefeller.
" That was very exciting because Dr. Blobel has a very large lab with people from diverse backgrounds, scientifically speaking as well as culturally speaking," she says. "We could count on each others' different expertise. It was a very productive time."
Likewise, the diversity of research pursuits and collaboration between departments at the School of Medicine made the move to the University of Miami an attractive one. Fontoura, a native of Brazil, joined faculty members with biomedical backgrounds as varied as the many locations around the globe from which they hail. And a sense of camaraderie and collaboration between researchers in every department is central to the success of research studies at the School of Medicine.
Concerns like these are paramount to seasoned researchers. Established in their careers in specific scientific arenas, biomedical investigators earning faculty appointments begin to enjoy the freedom of academia and the opportunities it offers for personal growth in pursuing original ideas. But with freedom comes responsibility, as Fontoura is quick to note.
" When scientists leave their postdocs, they are in a very productive phase, just thinking science all the time," she says. "That's the phase in which you reflect the most. When you advance beyond that, there are so many more things to do."
Directing her own lab at the School of Medicine, Fontoura supervises students and fellows, in addition to seeking sources for funding to support the academic freedom she embraces. And though she is on the other side of the bench as mentor and teacher, Fontoura still considers herself a student of science.
" Sometimes, all of a sudden, science surprises you. The important thing is to be open to new concepts and new ideas that help you to generate something novel," she says. "It's not just about consuming knowledge, but creating it."