1970s
Dan Appelrouth, M.D. '70, also known as the "singing doctor," has presented concerts in Atlanta every two to three years and has been the high holiday cantor at two Atlanta synagogues. He just produced his first CD, My Memories. All profits from CD sales will help feed the hungry in Atlanta.
1980s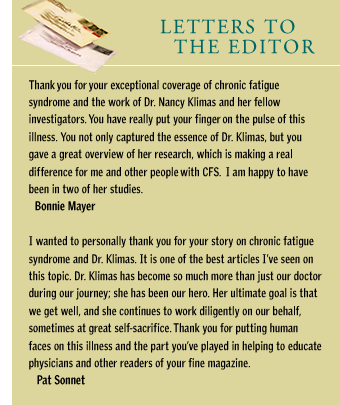 Karl Goodkin, M.D. '82, Ph.D., professor of psychiatry and behavioral sciences, neurology, and psychology at the Miller School, wrote an article, "The Dawn of a New Morning," for Science and Spirit magazine.
Pedro Carvajal, M.D. '82, has been in private practice in orthopaedic surgery in Miami since 1987. He and his wife, Arlene, are the parents of Danny, a junior, premed student at the University of Miami, and Christopher, a junior at Gulliver Prep School.
Larry Hobbs, M.D. '82, has been elected president of the Florida College of Emergency Physicians, the state chapter of the American College of Emergency Physicians. Hobbs is currently the medical director of the emergency department of Southwest Florida Regional Medical Center, in Fort Myers, Florida.
Michael E. Shapiro, M.D. '87, is the president and CEO of Physician Technologies, Inc., a company that assists doctors to bring their ideas to market. To date, PTI has successfully launched one product, the Infusion Catheter Epidural, has five products FDA certified, successfully completed three clinical trials, and anticipates bringing an additional four products to market this year. Shapiro continues to practice part time as well, performing interventional pain management procedures. He lives in Reno, Nevada.
1990s
Faith R. Protsman, M.D. '90, has been in a solo general practice for six years while raising her daughters, Jennifer, 14, and Jacqueline, 12. She and Randy Barbaglia got married in March 2006. They live in Morgan Hill, California.
Brian Carter, M.D. '97, is in private practice with an orthopaedic group in Huntsville, Alabama, which specializes in sports medicine and non-surgical spine care. He and his wife, Louise, just had their third child, John Bouldin Carter, who joined his siblings, Virginia, 4, and Brian Jr., 2.
William O. Collins, M.D. '97, and Shelley Wells Collins, M.D. '99, relocated to Gainesville, Florida in July 2006. William took a position as chief of pediatric otolaryngology with the University of Florida College of Medicine. Shelley has joined the UF Department of Pediatrics as a hospitalist in the Division of Critical Care Medicine. They have two sons: Robbie, 5, and Cooper, 19 months.
2000s
Ian Steele, M.D. '00, is finishing his fellowship in gastroenterology at the University of Florida after completing a residency and chief residency in internal medicine. He will be joining Melbourne Internal Medicine Associates in July 2007.