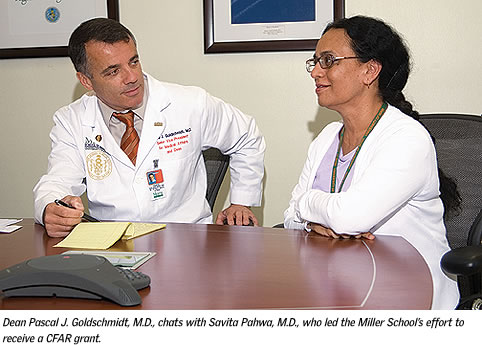 The sky was astonishingly blue. The letter "y" carved in the sky by the white smoke of the dislocated space shuttle Challenger was reflected in the dark pupils of Tara. She was 4 years old and lying in a bed at North Shore University Hospital in Manhasset, Long Island, New York. By her hospital bed, as she was most days, was Savita Pahwa, M.D., now staring in shock at the television screen. It was a long journey that brought Savita from her home in India to the bedside of a child whose illness would become her life's work.
Her own youth in New Delhi was filled with the excitement of tombola (local bingo), the rigors of a convent education, and the dream to one day become a doctor and do research in America. Her father was an army cardiologist whose universe was an India still under the legacy of the British Empire. Young Savita surprised the family when she packed a bag for Kabul, Afghanistan, to take the ECFMG, the test that opens the door to American medical training programs. It was the first time that she saw snow and her first victory, as she passed her exam.
Savita chose Kings County Hospital Center in Brooklyn as the site for her training program in pediatrics. In spite of the extraordinarily challenging environment of the county hospital, she encountered her first mentor, Elizabeth Smithwick, M.D., who took her under her wing to train with world-renowned immunologist Robert Good, M.D., Ph.D., D.Sc., at Memorial Sloan-Kettering Cancer Center, one of the bastions of American cancer academia. Physician husband Raj moved from England to the United States to continue his training and subsequently ended up at Sloan-Kettering doing bone marrow transplantation; he helped Savita and her team treat children with severe combined immune deficiency. After eight years of clinical and research immunology, Savita left the cancer hall of fame to become chief of pediatric allergy and immunology at North Shore University Hospital.
Already knowing the best medicine is learned from your patients, she was ready for the new challenge of encountering the first child with acquired immune deficiency. The children would typically present with very large lymph nodes in their neck and armpits and failure to thrive. Recurrent bacterial infections would limit their survival to 4 to 5 years of age. It would be the work supported by a pediatric AIDS clinical trial program in which UM's Gwendolyn Scott, M.D., among others, played a big role that would lead to the use of AZT to reduce mother-to-child transmission of the deadly virus. While at North Shore, Savita would partner with infectious disease specialist Mark Kaplan, M.D., and help collect and study samples used by Robert Gallo, M.D., at the National Institutes of Health that would lead to the discovery of the AIDS virus. She would also identify immune defects in children with the virus and see the miracles of new treatments allowing children to survive.
Savita received a call from UM's Eckhard Podack, M.D., Ph.D., asking her to join the team in its fight against AIDS. With his enigmatic voice he challenged Savita to obtain a Center for AIDS Research (CFAR) grant from the NIH within three years. "By the way, many people have tried before you," he said, "and all five trials thus far have been unsuccessful."
To prepare for the challenge, Susan Plaeger, Ph.D., Janet Young, Ph.D., and Ann Namkung, M.P.H., were instrumental in advising Savita and getting her to chair a study section at the NIH, reviewing the CFAR grants to help select those that would receive funding across the United States. The advocacy role that NIH personnel such as Susan, Janet, and Ann play is never mentioned enough—these are the unsung heroes who are often responsible for making science possible across the nation and the world.
Once at UM, Savita quickly rallied individuals who had done remarkable work in the AIDS domain, too often in isolation. Her quiet demeanor, humble approach, and brilliant intelligence were the tools she used to break down skepticism and division among the groups. In 2005 Savita submitted the first CFAR application, which was deemed in the very good range, but not fundable. But Savita is not a quitter; she remembered the lessons she learned from her parents and the long road to Afghanistan to take the ECFMG test. She and her team did what they needed to do, looking at the criticisms and addressing them one by one.
Savita does not like attention. She wants to be sure we all understand the work was done by her colleagues—she was simply bringing people together. Among the critiques, one reviewer wrote: She has been there less than a year—how could she possibly know the people at the University of Miami? Well, that is what Savita does best: learning to know people. Margaret Fischl, M.D., Gwendolyn Scott, M.D., Gail Shor-Posner, Ph.D., Lisa Metsch, Ph.D., Andreas Baur, M.D., and Neil Schneiderman, Ph.D., were the people Savita learned to know and work with to accomplish what had never been done at the University of Miami: getting a CFAR grant funded. Many others, such as Richard Bookman, Ph.D., gave their time and advice relentlessly.
When asked if she still carries the lessons learned from little Tara in the bed at North Shore with her to this day, she answers, "I learned more from the children I took care of than from anyone else in the world."
Tara eventually developed a strange form of chicken pox, actually the first acyclovir resistant varicella case ever described in the medical literature, a complication of the AIDS virus ravaging her small body. Encephalitis would follow and lead to her death.
It is so hard to understand the absurdity of the death of a child like beautiful Tara, with her big smile and trusting dark eyes. The opportunity to make a difference against this dreadful epidemic would never have happened without her contribution. So we'll remember her, watching the explosion of the shuttle on a television screen with perplexed eyes, her chin perched on top of her emaciated wrists. We'll remember all of those who, like Savita Pahwa, took the long road to America. We will remember the kindness and generosity of our people in America who welcomed those who arrived often exhausted, but ready to contribute.
One day when the AIDS epidemic is remembered as a nightmare of the past, special note will be made of what UM contributed to erasing HIV from the human species here at home and everywhere in the world. Our congratulations to the CFAR team!
This article is the first in a series by Dean Pascal J. Goldschmidt, M.D., that will appear in this magazine saluting the work of scientists and physicians at the Miller School of Medicine.