As the World Watches, We Shine
By William W. O'Neill, M.D.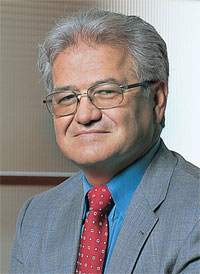 The day after the earthquake, National Public Radio (NPR) reporter Carrie Kahn told an international audience how a small Miller School trauma team was the first to reach Haiti.
"Within 20 minutes, they were at the makeshift hospital here doing triage," Kahn reported from two open storage tents at the Port-au-Prince airport, where Barth Green, M.D., and other UM physicians kneeled by cot after cot treating patients. "They are just amazing."
Kahn, clearly moved by the situation, continued: "When the plane landed, the doctors were led by President Rene Preval and his wife. And at the meeting, when doctors held hands with him, everybody started weeping. They were just crying."
As NPR and other media noted, the Miller School's response to Haiti was immediate. Without much consideration for the onerous circumstances, we simply went to Haiti. We quickly became leaders in post-quake health care because of the University of Miami's and Project Medishare's long ties to the country.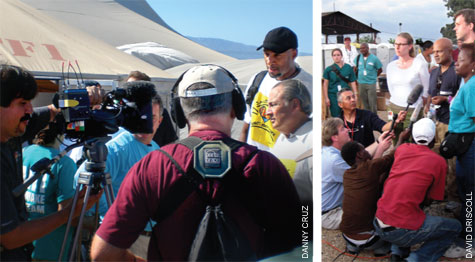 Left: Alonzo Mourning and Barth Green, M.D., speak to the media. Right: Medishare volunteers appear at an impromptu news conference.
In the following days, our communications team worked tirelessly to help facilitate reports like Kahn's on CNN, ABC, NBC, CBS, Fox, BBC, and broadcast outlets around the world. The Miami Herald chronicled the event exhaustively, and The New York Times, The Wall Street Journal, USA Today, The Washington Post, and The Times of London had similar detailed coverage. Magazines and journals such as Time, Newsweek, Poder, and The New England Journal of Medicine, as well as countless other print media and Web outlets included the Miller School's response in their coverage of the quake.
In only a few days, the University of Miami Miller School of Medicine's name was viral and truly global. People who had no knowledge of our success in education, health care, and consistent community endeavors were talking about the "U."
Our already good reputation was enhanced stratospherically—all because our doctors, nurses, and other health care workers were doing what they do best for the people who needed them most.
Such recognition is the best kind. It's not bought; it comes through work done with no thought of reward and no hesitation about cleaning yet another wound, setting another long-bone fracture, stitching another gash, performing another surgery, delivering a baby amid the ruins, even comforting another motherless, fatherless child.
I was there working alongside Dr. Green and another dozen or so of our physicians. When we left, dozens more replaced us. We cycled in and out of the veritable war zone for weeks, cheering when we could move patients into the new tented UM Hospital. Recently UM physical therapists and rehabilitation medicine specialists were in Port-au- Prince, fitting many of the amputees with prosthetics. Project Medishare continues to run a temporary critical care and rehabilitation hospital in Haiti, with plans to help Haiti build a national trauma system.
Now that we are in the consciousness of so many people globally, we hope it will help us attract more of the great physicians and students who choose the "U." Already we are seeing more new patients, many of them international, who want to experience the cutting-edge expertise, care, and compassion synonymous with the Miller School and UHealth medicine.
The attention also has attracted new friends who want to join our local and global efforts to make more people well. Longtime partners have redoubled their commitment to Haiti. In and out of the media's gaze, we will continue to bring better health care wherever it's needed.
That's always been the way of the "U"—and countless more people know that now.

William W. O'Neill, M.D., is executive dean for clinical affairs, Miller School of Medicine, and chief medical officer, University of Miami Health System.