New Vascular Biology Institute Foments Collaboration Among Researchers

f blood vessel disease were eliminated, life expectancy would rise by almost ten years, and the beneficial impact on quality of life would be immeasurable," says Gary Striker, M.D., professor of medicine and director of the School of Medicine's new Vascular Biology Institute.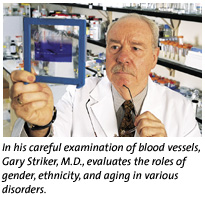 These facts were more than enough reason for the school to establish the Vascular Biology Institute last year. Vascular biology is the study of blood vessels and their role in a number of debilitating diseases. Encompassing conditions like stroke, heart disease, hypertension, kidney failure, and diabetes with its serious complications, blood vessel disease accounts for more than 50 percent of all U.S. deaths, and has for nearly a century, according to government statistics.
Recognizing that today's most noteworthy medical breakthroughs result from combined basic science and clinical research, the school identified vascular biology as one of six focus areas for growth in collaboration.
"The Vascular Biology Institute is the first formal structure to result from the research strategic planning process," says John G. Clarkson, M.D. '68, senior vice president for medical affairs and dean of the School of Medicine. "While there has been a great deal of research conducted in vascular biology, we lacked a central entity to support and coordinate related projects. With Dr. Striker having been a program development specialist for the NIH, specifically the National Institute of Diabetes and Digestive and Kidney Diseases, there is no better person to have at the helm."
With Type 2 diabetes reaching epidemic proportions in the United States, according to Dr. Striker, diabetes and its blood vessel complications are a major institute focus. Funding already has been secured to support the laboratory research program within the institute to study diabetes, macular degeneration, and hypertension.
"Our intent is to take information conceived by scientists in the research laboratory and bring it to the bedside for testing and fine-tuning, so that these advances become accepted practice at the earliest time possible," says Striker. "Our marker for success will be that the institute faculty is made up of men and women who believe the future of scientific discovery lies in this dynamic power of collaboration."



Livingstone to Lead the Department of Surgery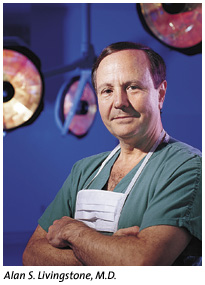 lan S. Livingstone, M.D., professor of surgery and associate vice president and medical director of the University of Miami Medical Group, has been named chairman of The Daughtry Family Department of Surgery at the School of Medicine.
Dr. Livingstone, also chief of surgical oncology at the UM/Sylvester Comprehensive Cancer Center, will maintain his active surgical practice as a specialist treating esophageal, liver, and pancreatic cancers.
A skilled recruiter, Dr. Livingstone has brought 15 new surgeons to his department during his last two years as acting chairman. These new faculty members not only reflect surgical growth areas for the School of Medicine, but also reinforce his goals to advance the department's research and teaching enterprises.
"His vision to provide surgeons with the environment necessary to advance their academic careers is the driving force behind his effective recruiting," says John G. Clarkson, M.D. '68, senior vice president for medical affairs and dean of the School of Medicine. "Dr. Livingstone's knowledge of, and enthusiasm for, this medical center and his leadership as an administrator, surgeon, and teacher are unmatched. We are extremely fortunate to have him as our chairman."
Dr. Livingstone is currently expanding the subspeciality of minimally invasive surgery, which is especially patient-friendly with regard to recovery time.



New Findings Reveal Drug to Ease Alcohol Addiction

bstinence from alcohol is made easier with a new drug called acamprosate, according to a study by Barbara Mason, Ph.D., professor of psychiatry at the School of Medicine. Acamprosate was found most effective in people who wanted to completely avoid alcohol, rather than those who want to simply cut down. "It has to go hand in hand with having abstinence as your treatment goal," Dr. Mason says. She recently presented her findings at the American Psychiatric Association's annual meeting.
Six hundred and one study participants were treated over a six-month period. The subjects were randomly assigned to one of three groups: the first two taking either two or three grams of acamprosate twice a day, the third taking a placebo. All groups received psychological counseling and were educated about the effects of alcohol and how to recognize what led them to drink.
According to Dr. Mason, 241 of the participants (41 percent) aimed for complete abstinence. In this group, the participants taking two grams of acamprosate per day refrained from drinking alcohol on 76 percent of the days they were observed. Participants taking three grams of the drug each day did not drink on 80 percent of the days, and the placebo group averaged 59 percent of days without drinking.
Acamprosate is manufactured by Lipha SA of France and sold in Europe, South America, and Asia, among other international markets. Lipha plans to make the drug available on the American market as soon as possible, pending federal approval. Dr. Mason's study was the first U.S. test of acamprosate.



Cardiothoracic Group Assembles Strong Lineup for an All-Star Team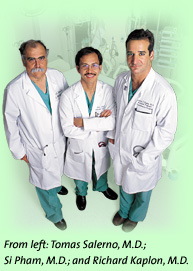 he draft has closed. Recruitment is over, and a cardiothoracic dream team has assembled in The Daughtry Family Department of Surgery at the School of Medicine.
"The faculty are young—coming off training with a new vision and tremendous enthusiasm," says Tomas Salerno, M.D., recently appointed chief of the cardiothoracic surgery division. "Without exception, they are truly excellent surgeons."
He speaks of Si Pham, M.D.; Richard Kaplon, M.D.; and Eliot Rosenkranz, M.D., who each bring their own brand of surgical expertise to the playing field. Dr. Pham is nationally renowned in heart and heart/lung transplantation; Dr. Kaplon in artificial cardiac devices that can sustain patients on the transplant list; and Dr. Rosenkranz in congenital heart defects, a pediatric specialist.
Dr. Salerno himself is a new acquisition to the team, joining the faculty last year and specializing in general cardiac surgical procedures, having developed and taught a few of those techniques to many throughout the world.
These newcomers join the already impressive team of Mark Anderson, M.D.; Richard Thurer, M.D.; Kushagra Katariya, M.D; and Hooshang Bolooki, M.D., who pioneered use of the balloon pump.
Although the buzz may be about the fresh faces around the surgical table, Dr. Rosenkranz asserts, "It's important not to forget the enormous contributions of the existing faculty."
Such respect has led to an especially cooperative atmosphere. While many of the surgical faculty have their own research labs, collaborative studies are in the works.
All members of the team continually seek ways to escalate patient care.



School of Medicine Invention Curtails Lengthy Wait for Biopsy Results


or a patient, waiting several days to find out whether or not you have cancer is a terrifying experience. For doctors, the wait is frustrating due to the delay it can cause in planning and instituting treatment. For the hospital, it means longer days of stay and increased costs, which translate to less reimbursement and lower health care ratings.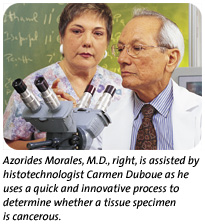 A new process developed at the School of Medicine and Jackson Memorial Hospital has cut that wait drastically through the development of a new method and instrument for processing surgical biopsies and tissue specimens, reducing the standard 24- to 48-hour time frame to about two hours. Patients conceivably will learn cancer test results before leaving the recovery room, certainly before leaving to go home. Physicians can begin treatment plans immediately, and the facilitated discharge of the patient improves the hospital's capacity to see more patients. The product development is in alliance with the world's leading histopathology company, Sakura Finetek.
"Not only have we shortened and automated a previously lengthy test, but we also are restructuring the geographic/logistic relationship between pathologists and surgeons," says Azorides Morales, M.D., professor and chairman, Department of Pathology, and one of the principals in this new technology. "Referred to as 'point of care surgical pathology,' the basic idea is to move the tissue processing function right next to the surgical suites. Close interaction and personal exchange between these two specialties provides especially precise tissue samples and faster test results."
This new technology was conceptualized and tested at the UM/Jackson Memorial Medical Center by Dr. Morales and father-son colleagues Ervin Essenfeld, M.D., and Harold Essenfeld, M.D., of Caracas, Venezuela. The new automated instrumentation and its associated laboratory method utilizes microwave-based technology to produce highly defined tissue samples that previously took considerably more time and laboratory chemicals to prepare.



Renowned Specialist Named Chair of Otolaryngology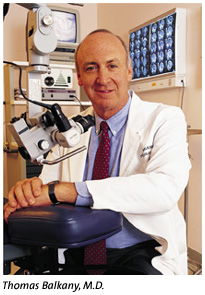 nationally and internationally renowned ear surgeon, researcher, and teacher, Thomas J. Balkany, M.D. '72, Hotchkiss Professor of otolaryngology, neurological surgery, and pediatrics, has been named chairman of the Department of Otolaryngology at the School of Medicine.

A leader in cochlear implantation surgery, which helps restore hearing to the profoundly deaf, Dr. Balkany returned to South Florida from Colorado as founding director of the University of Miami Ear Institute in 1990 and has since built the University's cochlear implant program into one of the busiest in the nation. In addition, he collaborates with technology manufacturers around the world to help develop new restoration devices, including cochlear implants and implantable hearing aids.

Dr. Balkany established the Ear Institute's Microsurgery Training Center in 1995 to provide advanced hands-on training for surgeons. Other programs at the institute include the Comprehensive Tinnitus Center and the Center for Advanced Treatment of Meniere's disease, as well as active laboratory research in otoacoustic emissions, the mechanisms of noise and age-related hearing loss, gene therapy of deafness, and the role of viruses in ear infections.

Numerous national and international scientific congresses have honored Dr. Balkany for his achievements.



Donna Shalala Named Fifth President of the University of Miami


here's no need for a recount; the votes are unanimous. After a nine-month national search, U.S. Secretary of Health and Human Services Donna E. Shalala will succeed Edward T. Foote II as president of the University beginning June 1.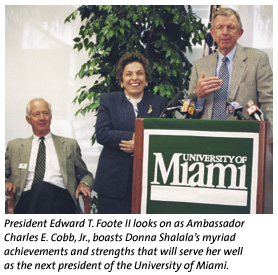 Throughout her career, Secretary Shalala—the longest-serving Secretary of Health and Human Services in U.S. history—has been a scholar, educator, and administrator. As chancellor of the University of Wisconsin-Madison from 1987 to 1993, she was the first woman to head a Big Ten University.
During her tenure there, she helped raise more than $400 million for the institution's endowment and spearheaded a $225 million public-private partnership program to renovate and expand the university's research facilities. While presiding over one of the largest and most prestigious state universities in the nation, she recruited world-class scientists, upgraded undergraduate education, and restructured the university's athletics program.
In her nearly eight years as Secretary of Health and Human Services, Shalala has overseen some of this country's most important initiatives, providing essential services to the American people in recent years. These include directing the federal welfare reform process and extending the life of the Medicare Trust Fund. As a proponent of scientific research, she has taken a leadership position in strengthening the scientific budget of the National Institutes of Health (NIH).
Shalala says she looks forward to returning to academia. "I am thrilled to lead the University of Miami and become part of the South Florida community," she says. "I look forward to working with Miami's gifted faculty, alumni, and students. This is an important and challenging time for higher education."
Shalala says she will work to strengthen the ties between the University and the South Florida community and enhance the University's relationships on national and international levels. "For nearly 20 years, Tad Foote has been a visionary leader who has established the University of Miami as one of the nation's leading private research institutions," Shalala says. "I eagerly await the opportunity to build on this momentum."
Ambassador Charles E. Cobb, Jr., a member of the Executive Committee of the Board of Trustees and former board chair, says the Presidential Search Committee selected Shalala from an impressive pool of candidates. But, early in the search process, the committee concluded that Shalala would bring extraordinary talents to the University.
"She is a gifted leader who will guide the University of Miami in its quest for continued excellence in teaching, research, and community service," Cobb says.
He adds that Shalala worked diligently to reinvigorate the scientific leadership and increase research funding for NIH during her tenure as Secretary of Health and Human Services. Since 1993 the NIH budget has increased by nearly 75 percent, up $4.2 billion in the last three years alone.
"The University of Miami School of Medicine, which together with Jackson Memorial Hospital, constitutes the second-largest institution of its kind in the nation, will benefit tremendously from her expertise in health policy and finance," Cobb says.
He further notes that Shalala's candidacy for the UM post was supported by leading political figures on both sides of the aisle in Washington and Tallahassee. "Secretary Shalala consistently receives high marks for superb management skills as evidenced by the fact that Business Week named her one of the five best managers in higher education," Cobb says.
In addition to her U.S. Cabinet post and former chancellorship, Shalala has held a number of other senior-level academic and government positions. She will become the fifth president of the University of Miami as well as a member of the faculty. Shalala joins UM as the University prepares to celebrate its 75th anniversary this fall.






UM MEDICINE HOME | UM MEDICINE ARCHIVE
SCHOOL OF MEDICINE HOME | UNIVERSITY OF MIAMI HOME