UM PHYSICIAN'S PHILANTHROPY DOES THE HEART GOOD
Beating Time to Save Lives


hen Chancellor Edward T. Foote II, then the University of Miami's president, presented an award check to the School of Medicine's 2001 Distinguished Faculty Scholar, the last thing he expected was that the check would be presented right back. But that's exactly what Robert Myerburg, M.D., did.
Dr. Myerburg has pioneered a longtime crusade in South Florida and nationwide, and he felt it was time for the University community to join in. Director of the Division of Cardiology, Dr. Myerburg has taken to heart the crucial minutes directly following a cardiac arrest. Medical rescue crews, though they respond to an emergency call as quickly as possible, often don't arrive in time, significantly lowering the survival rate of the victim.
Now those vital minutes won't tick away when a heart attack strikes someone on the University of Miami campus. The award money Dr. Myerburg donated will help supply every University security vehicle with a portable defibrillator, a device that shocks the heart and normalizes its rhythm.
The idea came from a study Dr. Myerburg conducted in Miami-Dade County. He found that when police officers carried defibrillators in their patrol cars, survival rates of heart attack victims doubled. Subsequently, Miami-Dade equipped its police cars with the devices.
"At the medical center, many of our visitors and patients are in poor health, and the likelihood that the security staff may find themselves in a situation where a defibrillator is needed is increased," says Anthony Artrip, director of security at the School of Medicine. "With our staff trained to use them, a heart attack victim's chance of survival is greatly improved."
As a service to the non-medical personnel who respond to emergencies on campus, Michael Gordon, M.D., Ph.D., associate dean and director of the Center for Research in Medical Education, and his staff provided training for the security staff. Portable defibrillators now are located at strategic locations around the medical center complex and in security vehicles on the Coral Gables campus.




Alumni Mentors Offer Sage Advice to Students


ducation and clinical rotations may provide the nuts and bolts for a successful medical practice following graduation, but where can physicians-in-training find guidance for the gears and cogs to make it all work together like a well-oiled machine?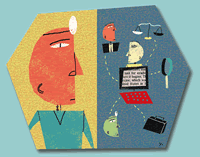 School of Medicine alumni now offer those services as part of the E-Medical Alumni Mentors program, a new initiative from the UM Medical Alumni Association that aims to fill the gaps that can't be found in a textbook or lecture hall, like techniques for forging a trusting doctor/patient relationship or coping with stress to avoid burnout.
Nearly every medical discipline is represented, and alumni mentors in the network are grouped accordingly. They are available to offer advice, answer questions, or provide encouragement to students looking for guidance.
If you would like to become an e-mentor or find out more about the program, visit the School of Medicine's alumni Web page at www.miami.edu/medical-alumni.




EAR INSTITUTE EMBARKS ON CAMPAIGN TO CURE DEAFNESS
Breaking the Silence


child's laughter, a mother's lullaby, a grandparent's wise advice. Ten years ago, these were considered lost to babies born deaf or adults who developed hearing impairments with age. Today, with the success of cochlear implantation at strongholds like the University of Miami Ear Institute, most forms of birth-related deafness are all but cured. And in another ten years, scientists and physicians at the Ear Institute expect the same in restoring hearing for those who have lost it.
To reach this goal, the Ear Institute has created a campaign that aims to raise $5 million over three years to support research that will break the silence and find a cure for deafness. Funds raised will help create advanced research facilities, as well as an endowment to support dedicated scientists.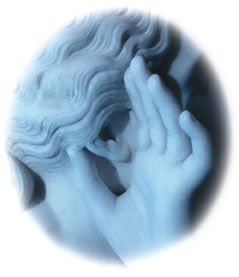 Prevention and restoration of hearing loss will be the initiative's primary objectives. In preventative studies, researchers will seek to identify methods to preserve the neurological and physiological mechanisms that allow humans to hear and distinguish sounds. Restoration research will attempt to regenerate these mechanisms once they begin to fail, including transplanting the inner ear's crucial hair cells, which trigger the auditory nerve and make hearing possible.

"Advances in the fields of deafness genetics, engineering of auditory implants, and reparation of damaged cells in the hearing organs will allow us to cure hearing loss for good," says Fred Telischi, M.D. '85, director of the Ear Institute and associate professor of otolaryngology, neurological surgery, and biomedical engineering.
The institute has recruited noted physician-scientists for the project, a reflection of its commitment to translational research. Xue Zhong Liu, M.D., Ph.D., joined the Ear Institute last summer, and is focusing on finding and manipulating a genetic predisposition to deafness and hearing loss. Thomas Van deWater, Ph.D., will coordinate efforts in molecular and cellular biology studies. They join the Ear Institute's renowned team, led by Thomas Balkany, M.D. '72, professor and chairman of the Department of Otolaryngology.
To help break the silence of deafness with a gift to the University of Miami Ear Institute or for more information, contact the Department of Otolaryngology, Office of Development, at 305-243-6256.



George E. Batchelor Funds Research Endowment


chool of Medicine leaders and distinguished guests were busy thanking philanthropist George E. Batchelor for his leadership gift of $10 million to create the Batchelor Children's Research Institute last May at the building's dedication, when he decided to one-up them. Clueing no one in on his surprise, Batchelor stunned the crowd with the pledge of an additional $5 million in support of the Department of Pediatrics and its researchers at the institute.
The gift will create the Micah Batchelor Endowment Fund for Research in Children's Health Issues. It memorializes Batchelor's grandson, killed last year in a construction accident.
"I had been thinking of a way to further motivate our scientists in their quest for cures for diseases and disorders of pediatric illnesses," Batchelor says. "And when Micah died, I finally had the inspiration for the award."
Approximately $300,000 will be given each year to a scientist at the Batchelor Children's Research Institute conducting studies related to children's health issues. The awardee will receive 75 percent of the award money to support his or her research endeavors; the other 25 percent is a personal gift to the recipient—George Batchelor's thank-you, of sorts, for commitment and dedication to relieving or preventing the suffering of thousands of children.



Lynn Foundation Pledges $5 Million for Endowed Chairs
Helping Others Heal


xcellence in patient care has always earned School of Medicine faculty members a stellar reputation and full waiting rooms, but for Barth Green, M.D., and Gregory Zych, M.D., dedication to a patient's needs has garnered them something more. In recognition of their medical and emotional support of her late husband Eugene, Christine Lynn of the E. M. Lynn Foundation in Boca Raton, Florida, has pledged her own support—two endowed chairs of $2.5 million each to fund the doctors' clinical and research endeavors.
Dr. Green, chairman of the Department of Neurological Surgery and cofounder of The Miami Project to Cure Paralysis, will be named to the Christine E. Lynn Distinguished Chair in Neurosurgery. The funds from this endowment will support Dr. Green's clinical research efforts at The Miami Project, which include studies at the forefront of medical advances and the first steps toward finding treatments to enable paralyzed patients to walk again.
"I have always admired Dr. Green's dedication to his patients and his research to find a cure for paralysis due to spinal cord injuries," Lynn says.
The Christine E. Lynn Distinguished Chair in Orthopaedic Trauma will be filled by Dr. Zych, associate professor of orthopaedics and rehabilitation and director of orthopaedic trauma at UM/Jackson. The funds will support his research on tissue adhesives, which may prove to serve as a "bone cement," instantly healing fractures while still allowing natural therapeutic processes to occur. Dr. Zych also looks to create an orthopaedic trauma registry.
Since 1995, Eugene and Christine Lynn have generously supported The Miami Project, providing funds for research and the Lois Pope LIFE Center.



School of Medicine's ALS Center Continues Fight
Their Dreams Live on


he dreams of three special people live on at the University of Miami ALS Center. As the center remembers three of its most beloved patients, hope still reigns in the fight against amyotrophic lateral sclerosis (ALS), better known as Lou Gehrig's Disease.



Jose Perez, Sr., a cofounder of Neff Rentals, began treatment with Walter Bradley, D.M., medical director of the University of Miami ALS Center, in the early 1990s. Perez founded the University of Miami ALS Research Foundation to raise funds in support of the center's research efforts. As president of the foundation, he committed himself to raising South Florida's awareness of the disease, becoming a spokesperson and advocate. With the help of his two sons, Perez organized the annual Miami ALS Golf Classic, which has raised more than $500,000.
Perez's dedication was matched by Mark Kessenich, Jr., president of a New York financial company and another patient of Dr. Bradley. Already suffering significant disability as a result of ALS, Kessenich needed the help of several specialists. Each specialist required a separate appointment, which frustrated him.
Dr. Bradley remembers Kessenich saying, "You do not know how to look after ALS! You need a multidisciplinary team, with physical therapists, occupational therapists, pulmonologists, and so forth, to see the patient in the same place on the same visit." Kessenich promised that if Dr. Bradley provided the multidisciplinary team, he would provide the funds. The Kessenich Family MDA ALS Center was established as one of the few truly multidisciplinary ALS care centers in the country.
Bruce Packman was a young attorney at the peak of his career in the early 1990s when he sought ALS treatment at the center. When first affected by the disease, he set up the ALS Recovery Foundation, now reactivated by his son. The foundation held its first public education fundraising event, a five/ten kilometer walk and run last May, and raised more than $100,000, bringing awareness of ALS to more than 2,500 participants.
Although Perez, Kessenich, and Packman lost their own battles with ALS last year, their dedication lives on in the work of the ALS Center.



Papanicolaou Corps Supports UM/Sylvester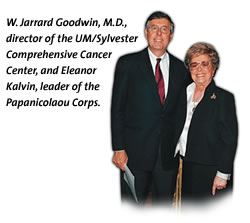 ontinuing an unprecedented tradition of generosity, the Papanicolaou Corps for Cancer Research, Inc., presented $2 million to the UM/Sylvester Comprehensive Cancer Center last May in support of cancer research efforts by School of Medicine faculty. The organization has raised funds for cancer education and research for decades and celebrates its 50th anniversary this year.
The funds raised by the Papanicolaou Corps in last year's campaign broke all records from previous years. Founded in 1952 and named for cancer research pioneer George Papanicolaou, M.D., inventor of the "Pap smear," the Corps has long been heralded by the South Florida community for its philanthropic efforts. Among its many honors is the "Organization of the Year" award, which the group received from 1990 through 1996 at the University of Miami School of Medicine Helping Hands Award Gala.
"Tomorrow's cure is today's research," says Eleanor Kalvin, leader of the Papanicolaou Corps. "We're excited and energized by the discoveries being made at UM/Sylvester."
The Papanicolaou Corps for Cancer Research, Inc., is composed of 33 units throughout Miami-Dade, Broward, and Palm Beach Counties, and boasts more than 10,000 members.



Michael Dorso: A Personal Experience with Cancer


t was the diagnosis of one particular patient that changed Dr. Michael Dorso's life: himself. Dorso, M.D. '69, found out he had prostate cancer in 1997. Today, as close to cured as a cancer patient can be, he says that radiation treatment and hormone therapy weren't the only salves that healed him. Seeds of Hope, a book Dr. Dorso wrote to chronicle his transition from physician to patient, was the best medicine.

"Writing about it allowed me to put my own thoughts into perspective," Dr. Dorso says, recalling the disbelief, fear, and finally triumph in his battle with prostate cancer. "I also wanted to talk to other men with their own diagnoses."
Aside from a personal documentary, Seeds of Hope provides comfort, optimism, and essential information for other prostate patients and their families. An appendix lists valuable resources, including contact numbers for support groups and suggested questions patients should pose to their doctors.
Medical author, however, is only one qualification on Dr. Dorso's resume. After serving the United States Air Force on active duty during his final two years of study at the School of Medicine, he headed off to begin a distinguished career as a flight surgeon for the U.S. Air Force. Dr. Dorso's military career included a tour of duty with the Strategic Air Command as chief of flight medicine at Plattsburgh Air Force Base, in addition to a stint at Edwards Air Force Base, where he oversaw the health of a squadron of test pilots. Three years later, as a civilian, Dr. Dorso worked with NASA's Space Shuttle program.
Today Dr. Dorso is an emergency medicine physician at Marshall Hospital near Sacramento, California.
Seeds of Hope is available through Acorn Publishing, 877-700-2219.



Stephanie Brundage: Taking Care of a Community


patient roster of half a million would be daunting to any physician, but to Stephanie Brundage, M.D. '82, M.P.H., it's another milestone in a career dedicated to public service. In her new post as health director for the Appalachia II District in northwest South Carolina, Dr. Brundage looks after the health of an entire population.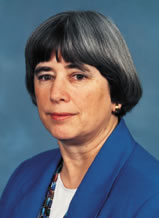 "My community is now my patient," she says. Her passion for public health stems from a stint practicing family medicine in southern Mississippi. After completing residency at UM/Jackson, Dr. Brundage set out to serve the underserved, manning a rural clinic as the only family physician in town. A grant from the National Rural Health Organization followed, giving her an opportunity to focus on community outreach. The natural progression was a master's degree in public health, which she earned from the University of South Carolina School of Public Health in 1992.
Patient care as an officer in the health department keeps Dr. Brundage busy with tasks like strategic planning and emergency preparedness for two counties. She also is back at school, though on the other side of the podium, teaching in the family practice residency program as a clinical assistant professor at the Greenville Hospital System of the University of South Carolina School of Medicine.
Recalling her own days as a student, Dr. Brundage remembers hectic rotations at UM/Jackson and the intricacies of its varied patient population.
"The challenge of communicating with individuals from many cultures was an invaluable experience," she says. So too, Dr. Brundage adds, was the expertise of her School of Medicine professors and peers. "My education at the University of Miami was an excellent experience."
In school, Dr. Brundage spent her free time as photo editor of the yearbook, and today extracurricular interests are just as important. After work, Dr. Brundage enjoys gardening and home remodeling projects.



Photography: by Donna Victor (Beating Time, Zych/Green), John Zillioux (Batchelor)
Illustration: James Yang (Mentors)







UM MEDICINE HOME | UM MEDICINE ARCHIVE