EXECUTIVE OFFICE OF RESEARCH LEADERSHIP CREATED
Full Speed Ahead


ompletion of the Schoninger Research Quadrangle, surrounded by five buildings totaling almost one million square feet of dedicated research space—two new in the last 16 months—positions the University of Miami School of Medicine at the forefront in several scientific specialties.
The research enterprise also has advanced with the creation of the Executive Office of Research Leadership by John G. Clarkson, M.D. '68, senior vice president for medical affairs and dean of the School of Medicine.
"I have charged three highly respected and productive scientists with developing strategies to lead a major enhancement of the school's research activities," says Dr. Clarkson. "It is our ultimate goal to move the University of Miami into the top 20, in terms of National Institutes of Health funding to medical schools, within the next ten years."
Directing the initiative is Clyde McCoy, Ph.D., professor and chairman of the Department of Epidemiology and Public Health. As director of UM's Comprehensive Drug Research Center, he is renowned for his community and population studies in cancer, substance abuse, health services, and HIV/AIDS.
Codirectors include Camillo Ricordi, M.D., scientific director of the Diabetes Research Institute, to oversee clinical research efforts, and James Potter, Ph.D., professor and chairman of the Department of Molecular and Cellular Pharmacology, to concentrate on basic science research.
Dr. Ricordi is the inventor of the Ricordi Chamber, the device that allows for the separation of insulin-producing islet cells from the pancreas, which are then transplanted into patients with Type 1 diabetes. Dr. Potter researches muscle contraction regulation and is currently developing animal models for research in cardiovascular disease.



Medical Student Bears Olympic Torch

trapping on his sneakers became just as important as strapping on his seatbelt for second-year medical student Adam Blomberg last December. Chosen from thousands of entries as an inspiration to his community, Blomberg earned a spot among those bearing the Olympic torch during its 65-day, 13,500-mile relay to the 2002 Winter Games in Salt Lake City.

That he was able to lace up his sneakers, much less run in the prestigious relay, is a miracle. Six years ago, Blomberg suffered a traumatic brain injury during a near-fatal car crash. But he turned his survival story

into a mission, educating high school students and community organizations with a multimedia presentation about road rage, drunk driving, and the necessity of seatbelts for drivers and passengers. In addition to his public education efforts, Blomberg also volunteers at the William Lehman Injury Research Center at UM/Jackson.

Raymond Whitted, M.D., M.P.H., assistant professor of gynecology and certified menopause clinician, and Donna Lundy, speech pathologist, also were selected as Olympic torchbearers.

Back to top



Pain Inspires Art for UM/Jackson Burn Patient
A Vibrant Journey


t has been over a decade since Betty Kjelson had second- and third-degree burns over 25 percent of her body. Ironically, she was performing her greatest creative skill—making paper from subtropical plants for her art— when burned by boiling water needed for the process.
Eleven years later, Kjelson has come full circle in recovery, both physically and emotionally, with the publication of Betty's Book: A Journey from Pain to Recovery. Gil Ward, M.D., medical director of the University of Miami/Jackson Memorial Burn Center, wrote both the foreword and closing of the book.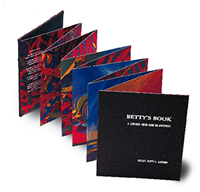 "All patients go through a process of internalizing and coming to grips with their injuries," Dr. Ward says. "Burn patients are challenged to the core, and the psychological recovery can be as painful and difficult as the physical one."
It was through one of those painful ordeals, twice-daily dressing changes to raw wounds, that Kjelson first experienced the "colors" that eventually became the pages in her book. The unique hardback contains a colorful, moving set of interconnected paintings that represent the evolution from pain to physical recovery, which Kjelson endured throughout a two-and-one-half-month hospital stay, followed by years of outpatient treatment. Designed accordion-style, the book can be read frontward as well as backward.
Kjelson thought she had finished the book a few years ago, but Dr. Ward thought otherwise. He said that her body was ahead of her mind and that her version of "finished" work didn't yet express "a psychological conclusion."
Initially, yellows appear stabbing, representing pain. But by the end of Kjelson's journey, yellow takes on a healing sensation of sunlight, and the design patterns transform into breaking waves. In describing this final image of the book, Dr. Ward says, "There is peace and a freshness known only at the end of a storm."
The UM/JM Burn Center underwrote the publication of Betty's Book, and copies of the limited edition are presented to major donors. It is also available at Books & Books in Coral Gables, Florida, 305-442-4408, www.booksandbooks.com.



Medical School Set to Mark 50th Birthday


he School of Medicine has come a long way since its original home in the former servants' quarters of the Biltmore Hotel in Coral Gables. Fifty years of clinical advances, groundbreaking research, and physicians who go above and beyond to deliver excellence in patient care are just some of the accomplishments the University of Miami will celebrate beginning this fall, when the School of Medicine marks its 50th anniversary.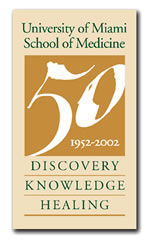 The 50th Anniversary Steering Committee, assembled by John G. Clarkson, M.D. '68, senior vice president for medical affairs and dean, is hard at work planning festivities and special presentations as the school nears this important milestone. The committee's first step is to compile archives of the School of Medicine's history, such as photos of the original Class of 1952 and memorable anecdotes from those who were there to see it all begin.
An Honorary Council composed of community friends and benefactors of the School of Medicine will be announced this spring. The 50th Anniversary Committee, which includes a cross-section of school leaders, will contribute input.
The School of Medicine kicks off anniversary festivities in September with an event to mark the first day of classes 50 years ago. Anyone wishing to share photos from earlier days or personal perspectives on the growth of the school should contact the committee at Post Office Box 016960 (R-699), Miami, Florida, 33101; telephone: 305-243-3453;
e-mail: 50thanniversary@med.miami.edu.



SELENIUM SHOWS PROMISE FOR CANCER AND HIV PATIENTS
A Wonder Drug?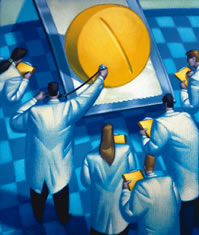 eople with prostate cancer and HIV may find new hope in selenium, a nonmetallic trace element essential to human health, according to research at the University of Miami Sylvester Comprehensive Cancer Center and the University of Miami Behavioral Medicine Research Center.
Researchers at UM/Sylvester are participating in one of the nation's largest clinical trials designed to assess the effect of selenium and vitamin E in preventing prostate cancer. The five-year, multi-site study, known as the Selenium and Vitamin E Chemoprevention Trial (SELECT), will involve at least 30,000 patients.
"Since prostate cancer is the most common malignancy in men, developing ways to prevent this disease is most important," says Mark Soloway, M.D., professor and chairman of the Department of Urology and principal investigator of SELECT. "Found mainly in men over age 50, prostate cancer is more common in African-American men. In fact, black men in the United States have the highest rate of prostate cancer in the world."
Higher risk, prevalence, and mortality, especially within the African-American community, have placed SELECT's emphasis on both preventing prostate cancer and increasing early diagnosis in order to begin treatment at a more curable stage. While the study is seeking healthy men age 55 and over, the age range for African-American men begins at 50 years.
In a separate study at the University of Miami Behavioral Medicine Research Center, researchers are investigating whether selenium can improve both cardiovascular and immune system health in persons infected with HIV/ AIDS. Theirs is the largest federally funded study of selenium to date.
"Powerful protease inhibitors do an excellent job of improving immune status—but they also induce the condition called insulin metabolic syndrome, which leads to heart complications," says Barry Hurwitz, Ph.D., professor of behavioral medicine and principal investigator of the study. "We are looking even more closely at selenium because of its antioxidant properties that protect against atherosclerosis by lowering cholesterol deposits in the artery walls."



Diabetes Patients Move Toward Insulin Independence


he Diabetes Research Institute (DRI) at the University of Miami School of Medicine moved one step closer to making islet cell transplantation both a viable and accessible option for people suffering from Type 1 diabetes.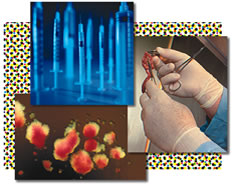 Generally, a single donor pancreas does not provide enough islets (insulin-producing cells) to allow a transplant recipient to stop using insulin. One reason may be that too many islet cells are lost during isolation, the process that separates these delicate cells from other pancreatic tissues.
Ricardo Pastori, Ph.D., director of molecular biology at the DRI, has successfully tested a method to introduce protective proteins into mouse pancreas cells, a procedure that may one day prevent islets from dying during the isolation process.
"If perfected, the procedure could also reduce patient waiting periods because a single donor pancreas might suffice for not one, but multiple recipients," says Dr. Pastori.
The findings were so significant that they were approved for rapid publication in the journal Diabetes.



President Shalala Pledges Excellence at Historic Inauguration

eneath a sprawling white tent, festooned in orange and green, the November 2 inauguration of the University of Miami's fifth president, Donna E. Shalala, Ph.D., was history in the making. More than 3,000 faculty, staff, students, and distinguished guests, including Florida Governor Jeb Bush, gathered on the University Green to witness the hallmark event of the University's 75th Anniversary celebration.

"She is someone who has enthusiasm, a zest for life, an understanding that student-centered education is what this University should be all about. I am so delighted that she's a Miamian," said the governor, dressed in full academic regalia as he delivered one of many opening speeches.



Outgoing Board of Trustees Chairman Carlos M. de la Cruz, Sr., J.D. '79, presided over the ceremony, which was attended by President Shalala's mother, Edna; two former presidents of the University; several high-ranking local, state, and federal officials; and academic delegates from colleges and universities around the world.

"It was one of those rare moments when the entire University community came together to witness a milestone in our history," said Jerry Lewis, assistant vice president for communication at the School of Medicine, who headed up event management for the inauguration.

President Shalala's foremost pledge in her inaugural address was the pursuit of excellence—the vehicle through which she believes freedom will prevail.

"I'm talking about excellence in our classrooms, concert halls, theaters, research labs, in our studios, and on our playing fields," she said. "Excellence in the research we pursue—and the campus life we build. Excellence in the way we treat each other—and the ties we build to the people of Miami and Florida. If the University of Miami does its part to continue to sow the seeds of excellence, the world will know that intellectual freedom is strong and unbowed in our country."

President Shalala acknowledged her University predecessors who, over the past 75 years, "turned a private college into a major research university." Poised to build upon their success, President Shalala declared particular attention to the School of Medicine.

"We intend to move into the top ranks of American medical schools in this decade," she said. "We will do that by a renewed commitment to research with new facilities and recruitment second to none."

The longest-serving Secretary of Health and Human Services in U.S. history, President Shalala also emphasized the importance of public service through research endeavors, especially now, a time when "bioterrorism has brought us threats to our health as a nation more terrifying than polio or whooping cough of another century."

"I thought the entire speech was meaningful in so many ways," said John G. Clarkson, M.D. '68, senior vice president for medical affairs and dean of the School of Medicine. "In particular I was pleased to hear that the School of Medicine is such a major component of her vision for the future. This has been a strong and consistent message since the beginning of her presidency."

The inauguration was followed by a campus-wide festival at Stanford Circle featuring entertainment and international foods.

"Dr. Shalala has assumed the leadership of this great University at a critical moment," Faculty Senate Chair Steven Green said. "We are well-positioned to forge ahead to the next level of excellence. She has the personal warmth and skills, the academic sense, and the sheer energy to lead us there."



School of Medicine Faculty on the Scene at Ground Zero
When Duty Calls in N.Y.C.


n seconds, it became hauntingly silent. Every person on site, many saluting, watched as a flag-draped victim was carried slowly through the rubble of the collapsed World Trade Center.
Behind her, Dr. Cantwell heard someone say in a faint, almost cracking voice, "Hey, doc. Got anything in that pack for a broken heart?"
Carrying a 45-pound pack of medical supplies, G. Patricia Cantwell, M.D., associate professor of pediatrics and director of pediatric critical care medicine, was the first University of Miami School of Medicine faculty member to arrive at the site of the September 11 terrorist attack on New York City.
"I cannot fathom the terror those people must have gone through," says Dr. Cantwell, medical director of Florida Task Force-2, one of 27 Federal Emergency Management Agency (FEMA) Urban Search and Rescue teams. One of two FEMA teams in the state, Florida Task Force-2 is composed of firefighters and paramedics from Hialeah, Miami Beach, Key Biscayne, Coral Gables, and many other municipalities throughout South Florida.
Arriving in New York 36 hours later was David Shatz, M.D., associate professor of surgery and trauma specialist. He is medical director of Florida's other FEMA unit, Florida Task Force-1, also known as the Miami-Dade Fire Rescue Department Urban Search and Rescue Team. In his nine years on the team, Dr. Shatz has been deployed to such disasters as the Oklahoma City bombing, earthquakes in Colombia, building explosions in Puerto Rico, and Hurricane Opal. Florida Task Force-1 joins an elite unit from Fairfax, Virginia, as the only two teams sent by the U.S. State Department on international response missions.
"Unbelievably, television pays no justice to the magnitude of the site," says Dr. Shatz. "The site alone was so big that it took 30 to 40 minutes just to walk the perimeter."
There is no question, according to Dr. Shatz, that this was the most dangerous location to which his team was ever deployed.
"The sheer size, the heavy equipment throughout, the steel structure was like nothing we ever saw," he says. "In Oklahoma City, the building was concrete, cement blocks that we could move by hand in order to reach victims and help them. In other countries, where building codes are less restrictive, rescue and recovery in a heavy structure collapse situation can be even simpler." But in New York, the Trade Center was solid steel.
"Each building, 110 stories, was constructed of 240 steel columns which made up the perimeter," says Dr. Shatz. "The columns consisted of three steel beams attached with a joist, for a total weight of 8,000 pounds. The obstacles were unimaginable."
Each urban search and rescue team typically consists of 62 members, largely firefighters with four paramedics. The only "civilians" on the team are structural engineers, canine handlers, and physicians. Both Dr. Cantwell and Dr. Shatz say the experience in New York City increased their awe of the camaraderie that professional firefighters share.
"I feel honored to be so closely associated with this brotherhood. And it is a brotherhood," says Dr. Shatz. "These individuals live, eat, and sleep in the same areas. They trust their lives to each other on a daily basis."
"At first I wondered how I would fit in," Dr. Cantwell says. "I have always immensely respected pre-hospital personnel such as paramedics and firefighters, and now it is my privilege and honor to be let into their circle."



Teaching the Elements of Antiterrorism

uild it and they will come," was a mantra for the University's Center for Research in Medical Education (CRME) long before the movie Field of Dreams gave the phrase notoriety. Such confidence in the center's scenario-based teaching methods led to its flagship innovation, Harvey, the Cardiology Patient Simulator that has provided more than 30 years of hands-on, confidence-building training at well over 100 medical institutions worldwide.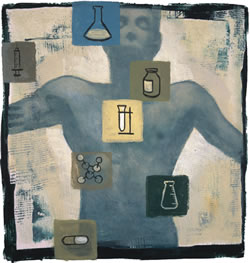 But September 11 brought a new hands-on program to "build." And they will come. Antiterrorism courses begin this spring.
"The concept of terrorist acts, especially occurring on U.S. soil, was never really in our consciousness until the Oklahoma City bombing in 1995," says Michael S. Gordon, M.D., Ph.D., associate dean for research in medical education and CRME director. "In the years following the Oklahoma City incident, terrorist attack preparation and hazardous materials training took on a new light. We developed our first domestic terrorism course in 1999."
Now two levels of new antiterrorism training are being considered, says David Lee Gordon, M.D., associate professor of clinical neurology and medicine and director of the Emergency Medical Skills and Neurology Training Programs at the center. A basic course is planned to raise awareness at the student level and meet the needs of first responders, such as security officers. The second course, at operations level, will train paramedic-firefighters and emergency room and other hospital-based personnel to respond to incidents involving nuclear, biological, or chemical weapons, with special consideration toward mass casualties. Both courses will utilize hands-on scenarios and incorporate information from two intense antiterrorism courses offered by the U.S. Departments of Justice and Defense.
Founded in 1966, the CRME has a long history of providing hands-on simulation training to thousands of health care professionals each year, positioning it as the most appropriate provider of antiterrorism training. It also is consistent with the School of Medicine's revamped curriculum, which favors case-based, rather than lecture-based, instruction.
"Our scenario-based programs trained 6,700 individuals last year; two-thirds of them were paramedic-firefighters who cover 911 calls for five million Florida residents," says Dr. David Gordon.
Harvey, which mimics nearly any cardiac disease by varying blood pressure, breathing, pulse, heart sounds, and murmurs, allows students to practice examination and diagnosis before working on patients and then reinforce those skills following patient interaction.
"Starting with Harvey, our message for decades has been to involve people. That's the only way to learn," says Dr. Michael Gordon. "Now we are applying it to the sad topic of antiterrorism."



On the Move


David Lubarsky
, M.D., M.B.A., has been named chairman of the Department of Anesthesiology at the School of Medicine. Previously at Duke University Medical Center, Dr. Lubarsky was vice chairman of the Department of Anesthesiology and chief, Division of General, Vascular, Transplant Anesthesia, and Critical Care Medicine. A specialist in vascular, cardiac, and high-risk anesthesiology, he also was an adjunct associate professor and frequent lecturer at Duke's Fuqua School of Business.
Joseph Rosenblatt, M.D., has joined the medical school as scientific director for the UM/Sylvester Comprehensive Cancer Center. Also chief of the Division of Hematology/Oncology, he is the recipient of three major grants from the National Institutes of Health and a Leukemia and Lymphoma Society of America Translational Research Award. Dr. Rosenblatt was chief of hematology/oncology and interim director of the James P. Wilmot Cancer Center at the University of Rochester.

Jeffrey Raskin, M.D., professor of medicine and medical director of the G.I. Station at UM/Jackson, has been named the first Cye Mandel Chair in Gastroenterology. Mandel was a South Florida businessman and generous supporter of the School of Medicine.



Photography: Donna Victor (Leadership) and Pyramid Photographics (Blomberg), Greg Schneider (Betty's Book), John Zillioux (Donna Shalala), The Miami Herald (Ground Zero)
Illustration: Rob Barber (Wonder Drug), Timothy John (Antiterrorism)







UM MEDICINE HOME | UM MEDICINE ARCHIVE