tem cell research holds the promise of helping millions of people who live with a host of degenerative diseases. Families stricken by illnesses such as Alzheimer's, Parkinson's, and diabetes have emphasized the importance of advancing this type of cure-focused research, even if the clinical benefits are not as immediate as we would like. For scientists at the University of Miami, stem cell research is a chance to significantly contribute to an area of biomedical science that will define new frontiers in medicine within this decade. I cannot think of a single aspect of health care that will not be affected by stem cell research, cellular therapies, and tissue engineering.
Last year, Miami Project researcher Pantelis Tsoulfas, M.D., and I contributed to a National Institutes of Health position paper, requested by Secretary of Health and Human Services Tommy Thompson to help President Bush define the potential losses associated with a proposed complete ban on pluripotent stem cell research. The President confronted this "difficult moral intersection" with a pledge to provide federal funds only for work carried out with existing cell lines, a purported 60-some colonies already housed at labs around the world. Initial relief was short-lived, however, as questions quickly arose among scientists regarding the quantity, quality, and accessibility of these lines.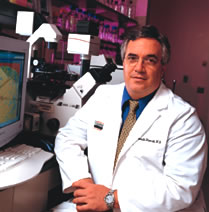 Nonetheless, work with stem cells has progressed here and abroad. Investigators in the United States fall into two distinct groups: those working in centers with substantive federal funding but relatively limited stem cell access, and those affiliated with centers that push ahead without relying on federal funds. In other, less restrictive countries, stem cell research is moving full throttle with many promising developments from laboratories in Sweden, Israel, the United Kingdom, Japan, and Spain.
With an exceptionally diverse and growing cadre of researchers, the University of Miami is a national and international leader in critically important cell therapy applications, such as pancreatic islet and bone marrow transplantation. In a unique interdisciplinary academic venture, more than 70 investigators from the School of Medicine and the College of Engineering are applying the principles of biology and engineering to develop viable alternatives for restoring, maintaining, or improving the function of human tissues and organs.

Several developments needed to capitalize on existing strengths and continue our pioneering role in this burgeoning branch of biomedical research already are under way. Critical infrastructure, such as cellular imaging laboratories and human cell processing facilities, must be created or expanded and shared in a cost-efficient manner throughout centers and departments. We also must recruit key faculty and maximize our research strengths while forging new strategic cellular therapy and stem cell alliances, as other research powerhouses are doing. Some of the best investments we can make are to nurture our own rising stars in biomedical research.
The University of Miami has all the necessary ingredients to make real inroads in stem cell research and to bring the fruits of cellular therapies and tissue and organ engineering to millions who need it.