DYSON FOUNDATION SUPPORTS COMMUNITY-BASED CARE
Reaching Children in Need



hile School of Medicine pediatricians and UM/Jackson residents continue to provide the best care for their young patients, a national initiative has extended its mission to provide the best for these doctors. The Dyson Foundation has selected the Department of Pediatrics as one of ten programs in the country to receive a grant to develop programs focused on community-oriented and community-based health care.
The Anne E. Dyson Community Pediatrics Training Initiative will provide up to $500,000 per year for five years for School of Medicine programs that reach out to children in surrounding neighborhoods, such as the Pediatric Mobile Clinic. Initially founded to provide relief after Hurricane Andrew in 1992, the clinic addresses the unmet health needs of children in Miami-Dade County who live in poverty. Its services include free physical exams, medications, immunizations, and vision and hearing tests.
"Programs like the Pediatric Mobile Clinic are so important to the families of our community who can't afford proper health care for their children," says Arturo Brito, M.D., director of the clinic. "The generosity of organizations such as the Dyson Foundation gives us the support and encouragement that are essential in continuing our outreach and service to Miami-Dade's underserved population."
The training arm of the Dyson Initiative will support Jackson Memorial Hospital's pediatric residency training program. UM Department of Pediatrics faculty, who serve as attending physicians in the training program at Jackson, will redesign the curriculum to broaden instruction on community issues that impact child health, including poverty, cultural diversity, immigration, violence, and crowding in public schools. They will team with local organizations, such as Miami-Dade County Public Schools, to learn how to best address the unique needs of children in South Florida.




Frank Beckerman Hears the Call to Help Others



rom the first transmission of his implantable hearing aid, Frank Beckerman considered himself the recipient of a miracle. "I've called it a revelation," Beckerman says of the device he received as part of a clinical trial at the University of Miami Ear Institute.
Now Beckerman has made it possible for the Ear Institute to bring the technology to more patients. Through a major gift to the institute's research program, he is helping UM physician-scientists to develop new treatments for deafness.
Beckerman is accustomed to bringing innovations to the public. He created Tops retail stores in Hartford, Connecticut, in 1948. A precursor to today's discount supermarkets, Tops brought one-stop shopping to mainstream America.
Beckerman was an ideal participant for the Ear Institute's clinical trial of the Vibrant Soundbridge, the first FDA-approved implantable hearing aid. An alternative to conventional acoustic hearing aids, the device eliminates the usual drawbacks of an external aid—sound distortion, background noise pollution, and discomfort. When Beckerman visited the institute to address some of those problems, he didn't hesitate when his physician, Thomas Balkany, M.D. '67, Hotchkiss Professor of Oto-laryngology and chairman of the Department of Otolaryn-gology, asked him about participating in the study.
"My personality is 'go,' " Beckerman says. "So I went for it. I'm so grateful for what the Ear Institute has given me, that I wanted to do anything I could to give something back."




ECKERD FAMILY FOUNDATION HELPS TEENS THRIVE
Family Influence


family is like an organization. Guidelines, structure, monitoring, nurturance, and protection are provided by the leadership of the enterprise—parents, in this case. Each family builds its own tradition for how members relate with each other, under the leadership or lack of leadership by the parents. All members of the organization—sons and daughters—play an important role. But when problems strike the family organization, you can't simply fire a troubled relative as you would a delinquent employee.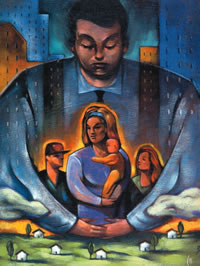 That's when the Center for Family Studies steps in. Like a corporate consultant called in to revamp a company's operations, therapists from UM's Department of Psychiatry and Behavioral Sciences meet with families to teach them the communication skills necessary to work through adolescent conflicts. Such guidance can help families become a phenomenally effective treatment agent for troubled teens.
"The family is a powerful influence in an adolescent's life," explains José Szapocznik, Ph.D., director of the center. "They have a tremendous influence on young family members' behavior and development."
The Eckerd Family Foundation agrees and has given $750,000 to help Szapocznik and Olga Hervis, voluntary associate professor of psychiatry, bring their proven family therapy model to communities around the country. The foundation will support a three-year program in which the Center for Family Studies will create a training package for its Brief Strategic Family Therapy Model, one of four major methodologies in the country using a family-based approach to treat troubled adolescents. The model has received national recognition, including approval from U.S. Secretary of Health and Human Services Tommy Thompson.
During the first year of the Eckerd-sponsored initiative, a training module will be created and 18 community providers from around the country will be chosen for its implementation. Trainers from each site will be chosen during the second year to learn the methodology and gain skills in educating others on the therapy techniques. The second and third years will bring trainers together for educational and collaborative conferences.
Sending its expertise out into community clinics has been a primary goal for the Center for Family Studies in recent years. Its establishment 30 years ago fostered 25 years of progressive research in developing the nationally renowned model of family therapy.



A Grandmother's Dedication to Research Endures



hen Ryan Dandes got a Hurricanes football signed by head coach Larry Coker, he couldn't wait to give it away. But rather than trade it for other sports memorabilia, the 13-year-old added the football's value to research efforts at the Sylvester Comprehensive Cancer Center. In memory of his late grandmother, Ryan began a fundraising project to celebrate his Bar Mitzvah while continuing her mission.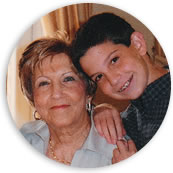 "I loved my grandma, and she was always there for me," Ryan says. "It was important to her to help fund research for people who were fighting the same cancer she did, even after she was gone."
After doctors told her she had ovarian cancer in 1990, Bernice Kraslow found few educational materials to answer her questions. In response, she created a forum at UM/Sylvester for women to support each other through knowledge and hope. Clinical staff dubbed her an honorary "Cancer Education Consultant."
"Sometimes doctors can't provide everything a patient needs," says Ramin Mirhashemi, M.D., director of the UM/Jackson Familial Ovarian/Breast Cancer Center. "Bernice stepped in and, by being realistic, humble, and determined, helped to create an outstanding program."
Her family, which includes her husband, UM trustee David Kraslow, has established the Bernice Kraslow Ovarian Cancer Research Fund to foster learning and discovery to advance cancer treatment at UM/Sylvester. For information or to make a donation, please call 305-243-9088.



UNIVERSITY MOURNS THE LOSS OF GEORGE E. BATCHELOR
A Champion of Children



he University of Miami lost a dedicated supporter and friend last summer when aviation pioneer George E. Batchelor died at age 81 following a brief battle with lung cancer.
Batchelor's relationship with the School of Medicine began when he came seeking a second opinion regarding the three-year timeline for survival that doctors gave his young son, Falcon, who suffered from cystic fibrosis. Under the care of Robert McKey, Jr., M.D., founder and then-director of the UM Cystic Fibrosis Center, Falcon lived far beyond his first doctors' diagnoses. "The 20 quality years we had with Falcon after his visit to the campus were a gift from the University of Miami that we will never be able to repay," Batchelor often said.


In appreciation for the care Falcon had received at the UM Cystic Fibrosis Center, Batchelor donated $10 million to the School of Medicine in the mid-1990s to create the Batchelor Children's Research Institute. And at the building's dedication ceremony in May 2001, he pledged another $5 million to establish the Micah Batchelor Endowment Fund, honoring his late grandson.
Through his generosity, Batchelor aimed to bring the same dedication and expertise he found during his son's treatment at the School of Medicine to families in South Florida and around the world. His support of the research that will one day advance clinical care offers peace of mind and hope to families with children suffering from a variety of pediatric disorders.
"George Batchelor's passion was for research and treatment of childhood diseases," says John G. Clarkson, M.D. '68, senior vice president for medical affairs and dean of the School of Medicine. "He leaves a legacy of concern for our most vulnerable citizens that will provide improved health and well-being for decades to come."



Chef Carmen Gonzalez Cooks for a Cure



hat could be better than fine wine, a gourmet meal, and the warm company of friends? Treating your palate could help treat patients at the University of Miami Sylvester Comprehensive Cancer Center through one of its newest donor campaigns, Chef Carmen Cooks for a Cure.
Carmen Gonzalez, renowned executive chef and recipient of an honorary degree in the culinary arts from Johnson & Wales University, established this $1 million fundraising campaign in memory of her close friend Anne Bennett, an executive at Southern Wine & Spirits, who was treated at the cancer center. After Bennett lost her battle with lung cancer last January, Gonzalez chose to honor her memory by lending her talents to support the facility that treated her friend with care and dignity.
"The doctors and nurses at UM/Sylvester take time to not only look after their patients, but the friends and family there with them, too," Gonzalez says. "They understood our pain and helped to ease it."
A tribute dinner for Bennett last May, accompanied by a silent auction, brought South Florida's best chefs to Coral Gables and brought in $20,000 to benefit UM/Sylvester. During the coming year, Chef Carmen will expand her recipe for success by preparing gourmet meals that will give new meaning to "wining and dining" significant donor prospects of the cancer center.
If you are interested in hosting an installment of Chef Carmen Cooks for a Cure in your home, contact the UM/Sylvester Office of Development at 305-243-9114.



UM/SYLVESTER JOINS IN BREAST CANCER CRUSADE
Avon Calling



utheria Hollis sat alongside Route A1A, massaging her fallen arch, waving away pain as supporters drove by and honked their horns. And she still had 30 miles to go, marching with nearly 2,000 other brave souls who set out from Boca Raton around dawn one weekend last spring, walking 60 miles to downtown Miami in just three days to support the Avon Foundation Breast Cancer Crusade.
Hollis, a clinical research coordinator at the University of Miami Sylvester Comprehensive Cancer Center, was one of ten walkers from the School of Medicine who braved hard streets and hot weather to raise money to fight cancer. Orlando Silva, M.D., walked with bad blisters on his feet. Nurse Rose Boise spent the weekend apart from her husband and two small children. Each UM participant completed the trek into Miami-Dade County, helping to raise more than $2 million for the event.
The mission of the Avon Foundation Breast Cancer Crusade is to fight cancer in the medically underserved, a population regularly addressed at UM/Sylvester and the Taylor Breast Health Center (BHC) at Jackson Memorial Hospital. The Avon Foundation capped off the annual walk with the announcement of a $500,000 gift to UM/Sylvester and Jackson's BHC, citing their diverse patient populations and world-class physicians as the best to carry out its crusade.
"One of the things that we pride ourselves on, which the Avon Foundation gift will certainly be contributing to, is that we are multilingual, multicultural, multiethnic," says Judith Hurley, M.D., assistant professor of medicine and member of UM/Sylvester's site-based breast cancer disease group, whose program was selected as primary recipient of the gift. "Our practitioners are multiethnic in their background and multilingual in their abilities. And I think when your caregiver is like you, it's a level of comfort."




Roderic Pettigrew Brings New Focus to Biomedical Imaging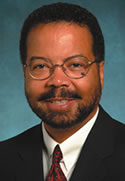 ast summer, the National Institutes of Health (NIH) took a page from the book of Roderic I. Pettigrew, M.D. '79, Ph.D. A new institute was created to support research in bioengineering and bioimaging as a path to improve health care diagnosis and treatment. The mission has been Pettigrew's own in a career dedicated to developing progressive techniques in magnetic resonance imaging, or MRI. The NIH not only borrowed his philosophy for its new branch, it also adopted his expertise. Fittingly, Pettigrew has been chosen to serve as the first director of the National Institute of Biomedical Imaging and Bioengineering.
His contributions extend into the operating room through development of three-dimensional imaging of a patient's beating heart, granting surgeons a view not attainable by even their own eyes. The list hardly stops there. Pettigrew has been involved in the development of cardiovascular MRI since its inception nearly 20 years ago. And with his new post at the NIH, Pettigrew looks to guide advances in biomedical imaging well into the future. The focus now is on implementing progression in bioengineering to offer earlier diagnosis and applying biomedical imaging across the board to improve public health.
The University of Miami's Most Distinguished Alumnus for 1990 found his place at the School of Medicine within an accelerated M.D. program for individuals who already hold a Ph.D. in a scientific field. Granted that degree in applied radiation physics from the Massachusetts Institute of Technology, Pettigrew came to UM to round out his medical education.





Aileen Marty Has Commanding Role in U.S. Security



ea to shining sea" has become a way of life for Aileen Marty, B.S. '78, M.D. '82. She crosses the seas to bring her expertise to thousands of health care practitioners and aid workers around the world, and as a commander in the United States Navy, she also helps to safeguard them. Commander Marty's most recent post has found her melding the two roles, serving the U.S. government in developing curricula to prepare the country for the now-too-real threat of biochemical warfare.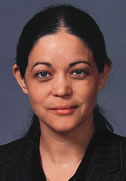 Expertise and coincidence came together in Marty's career following the September 11 terrorist attacks. As surreal cases of what seemed like anthrax infection began to pop up around the country, a random encounter brought together Marty's mother, Judy, and a family member of a Boca Raton mail courier who was ill with symptoms resembling those of inhalation anthrax infection. After Judy Marty suggested that the family contact her daughter, an expert in emerging infections and pathology, Dr. Marty was among the first to confirm their worst fear. Luckily, the diagnosis came in time, and the courier made a full recovery.
In a second twist of fate, Laboratory Aspects of Biowarfare, a journal edited by Marty, was released days after the September 11 attacks. The book was a huge seller.
Today, Marty teaches an intensive course on weapons of mass destruction at the Uniformed Services University of the Health Sciences in Bethesda, Maryland, where she also serves as president of the Faculty Senate. Her instruction extends to students from the German Navy and firefighters from across the United States.
This educator has found inspiration in her own teachers at the School of Medicine. "World-class individuals in their respective fields seem to wind up as professors at the University of Miami," Marty notes.






Student Crowned Miss Florida USA


econd-year School of Medicine student Carrie Ann Mewha proved she has brains and beauty, capturing the 2003 Miss Florida USA crown in July. Mewha, who represented Broward County in the com-petition, plans to specialize in maternal and child health. She will compete for the Miss USA title in February.




Photography: Donna Victor (Beckerman), Pyramid Photographics
Illustration: Chris McAllister







UM MEDICINE HOME | UM MEDICINE ARCHIVE