Lipshultz Named Chairman of Pediatrics
School of Medicine Receives $6.75 Million Diabetes Grant
Better Screening Improves Early Detection



New Center Focuses on Caring for the Elderly
Getting Better with Age



s the baby boomer generation has matured, its demographic has transformed nearly every aspect of American life, from commerce to careers to the structure of the modern family. Now that group is set to "boom" again, and the next step will change the fundamentals of clinical care. By 2030 nearly 25 percent of Americans will be age 65 or older.
"Aging is not a disease, it's an achievement," says Carl Eisdorfer, Ph.D., M.D., chair of the Department of Psychiatry and Behavioral Sciences and director of the Center on Aging. "And it doesn't have to be defined by decline and disability. It's a natural part of life."
Building on the success of the department's established programs for older adults, the newly created Center on Aging will feature collaboration within and beyond the School of Medicine. Faculty from the Colleges of Arts and Sciences and Engineering as well as the Schools of Architecture, Nursing, and Business Administration will play a significant role in efforts to advance care of elderly patients.
Partnerships among researchers, community experts, and students will help providers better understand the elements of aging and develop solutions to promote healthy, productive lifestyles. Advancing studies and community outreach in pain management, elder abuse, spirituality, ethical dilemmas, family caregivers, the older worker, and environmental designs for better mobility are just a few of the center's priorities. The center also will educate physicians about the specific clinical needs of older patients.



Program Reaches Out to Family Caregivers



s our population continues to age, it is estimated that more than 13 million Americans will develop Alzheimer's disease by mid-century unless new ways are found to prevent or treat the disease. Some therapies have proven useful in slightly slowing its progression, but the disease continues to have an enormous impact on patients as well as the families who care for them.
There is hope, however, as newly published findings show the use of family therapy and a technology-based intervention helped alleviate symptoms of depression among caregivers. The research at the School of Medicine was conducted as part of a multisite national study called REACH (Resources for Enhancing Alzheimer's Caregivers Health). Results of the study were published in The Gerontologist, the top journal on aging issues.
As part of the study, the caregivers received family therapy while using an interactive telephone system to talk to family members in a conference call setting or to reach out to community resources. "Caring for a family member with Alzheimer's takes a toll on the caregiver, and many suffer from stress and emotional strain," says Sara Czaja, Ph.D., principal investigator of REACH II, which is now under way to expand on the original REACH findings. "It's important to devote research to the so-called forgotten patient, the Alzheimer's caregiver."



Clinical Trial Testing New Artificial Dis
Easing Pain in the Neck

egenerative disc disease in the neck can be painful and often debilitating, with limited treatment options that are not always successful. But now there is new hope.
The Department of Neurological Surgery at the School of Medicine is one of 25 active sites nationwide conducting a randomized clinical trial of the Bryan cervical disc, a unique artificial cervical disc. The prosthesis, about the size of a nickel, is designed to replace a diseased disc and to help maintain or restore spine flexibility.
Current treatment for degenerative disc disease in the cervical spine usually begins conservatively, with physical therapy and anti-inflammatory medications. Surgery is considered only after everything else fails. The most common surgery for the condition is cervical spine fusion. During the procedure, surgeons remove the diseased disc that is impinging on the spinal cord or nerve root. They replace the disc with bone from the patient's hip or a bone bank, and fuse or weld together the vertebrae above and below where the disc was removed and implant plates to help keep the fusion together.
"The problem with traditional fusion surgery is that it severely limits a patient's range of motion, and arthritis often sets in above and below the fusion point," says Allan Levi, M.D., principal investigator of the artificial disc clinical trial at the School of Medicine. "By replacing the diseased disc with an artificial device, recovery time is greatly reduced and patients are able to maintain mobility of their neck."
The trial will continue until 450 patients nationwide have been randomized to either receive the artificial disc or undergo traditional fusion surgery. The Bryan disc has been approved for use in Europe since September 2000, and close to 1,000 patients already have received it.
"It's too soon to say if an artificial device will eventually replace the traditional fusion surgery," Levi says, "but it could end up being another option for patients to consider."



Breaking Ground on Breakthroughs


he School of Medicine has such big plans for the future they won't all fit in the space available. Enter the new Clinical Research Building, the first of six new medical structures on the University's wish list in the coming years. "The plan is to consolidate all clinical research space into this facility," says Ronald Bogue, assistant vice president for facilities planning for the School of Medicine. "A lot of people are excited about this project, and the excitement will build as we get closer to completion." That completion date is estimated to be in January 2006.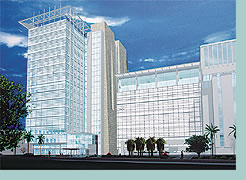 Researchers have good reason to look forward to the finished product. The 15-story Clinical Research Building will be home to more than 300,000 square feet of clinical research space. Also planned for the site is an expansive 60,000-square-foot wellness center, atop a parking garage for 1,420 cars. That's important because the "footprint" of the new $90 million facility is on what used to be parking for the Professional Arts Center on Northwest 14th Street.
This first building will become an icon for future plans, which include a multispecialty practice building and four new wet lab facilities spread around the medical campus. "The first project will be a multiplier," Bogue says. "Hopefully, the new building will help us get supporters to step forward. This will offer us a naming opportunity and other opportunities for future support."
Those opportunities aren't far off. Planners hope for a groundbreaking on another major project in the next 12 to 18 months.



Drug May Improve Results of Radiation Therapy
Radiating New Ideas


heldon Greer, Ph.D., has been an innovator in the Department of Microbiology and Immunology for years. He continues that long tradition with a newly approved clinical trial to improve the effectiveness and reduce the side effects of radiation therapy.
The new drug, called Cytochlor, includes chlorine and amino molecules. The amino group masks Cytochlor from normal tissue. "But Cytochlor enters a tumor cell, releases the amino group, and forms Urochlor, which is then incorporated into tumor cell DNA," says Greer. "Upon irradiation a chlorine molecule breaks off, which results in irreparable DNA damage, killing the tumor cell."
"Dr. Greer in the past has discovered several related compounds, but Cytochlor, a second-generation drug, appears to be the most effective," says Luis E. Raez, M.D., the clinician working with Greer. After receiving intravenous Cytochlor, a patient's tumor may become as much as three times more susceptible to radiation therapy, yielding better results with less radiation and less damage to surrounding tissue.
"Having a radiation sensitizer on board is really exciting," says May Abdel-Wahab, M.D., Ph.D., who has been involved with Cytochlor from the beginning and who will oversee the radiotherapy.
The trio recently received support from the National Cancer Institute to begin human trials of Cytochlor after investigators at the NCI's Cancer Therapies Evaluation Program confirmed its potential in their own study. "We are the only place in the world that has been doing work with this compound, and the NCI has hopes that our studies will result in developing a multi-center clinical trial," Raez says.
The protocol at UM soon will enroll the first patients, those with head and neck tumors, but the treatment also has shown promise in the lab for a variety of other human cancers, including prostate, breast, brain, and lung tumors.
"That's the amazing thing about research," says Abdel-Wahab. "You can influence future treatment paradigms and really make a difference."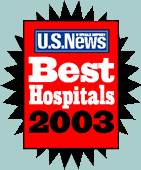 Quality Care Earns Top Rankings


ine specialties at the University of Miami/ Jackson Memorial Medical Center were recognized as among the best in the nation in the 14th annual survey of "America's Best Hospitals" published by U.S. News & World Report.
Bascom Palmer Eye Institute, UM's Department of Ophthal-mology, was once again ranked the No. 2 eye hospital in the United States. It has been in first or second place each year the rankings have been published.
UM's other ranked specialties are kidney disease (No. 21); geriatrics (25); ear, nose, and throat (30); digestive disorders (32); hormonal disorders (34); urology (36); rheumatology (37); and orthopae-dics (38).
Moving up in the rankings were kidney disease; geriatrics; ear, nose, and throat; and, digestive disorders.
"As South Florida's only academic medical center, our mission is to provide our patients the very highest quality of care," says John G. Clarkson, M.D. '68, senior vice president for medical affairs and dean of the School of Medicine. "It is enormously gratifying to receive this endorsement from our peers and to have our clinical services recognized nationally."
The U.S. News report ranks 203 hospitals — winnowed from a total of 6,003 — in 17 specialties. Hospitals that meet initial standards such as affiliation with a medical school, availability of certain medical technology, or performance of minimum numbers of specific procedures, then receive a score that weighs reputation, mortality, and a group of care-related factors such as nursing.



New Technique for Patients with Intestinal Transplants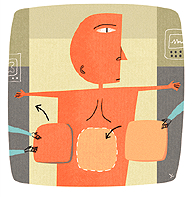 Transplant Innovation


team of surgeons in the Division of Liver and Gastrointestinal Transplantation at the School of Medicine has found a way to bring closure to patients undergoing an intestinal transplant.
Severe scarring from previous surgeries or other related problems makes it extremely difficult to close the abdomen quickly after surgery, leading to a longer recovery time and an increased chance of developing complications. Transplantation of an abdominal wall, either at the same time or after the intestines are transplanted, enables surgeons to close the abdomen in cases where it would be impossible to do so using conventional techniques.
The prestigious medical journal The Lancet last summer published the results of eight abdominal wall transplants performed by the UM surgeons, the first anywhere to try the procedure. Five of the eight patients now have functioning abdominal wall grafts, and surgeons say the transplants proved instrumental in their recoveries. The first of these five patients received an abdominal wall more than two years ago. Two patients died as a result of medical problems unrelated to the abdominal wall transplants.
"This is an initial experience with a novel technique, and more research needs to be done," says David Levi, M.D., transplant surgeon and author of the study. "But our work does demonstrate that transplantation of the abdominal wall is feasible and safe."
Under the direction of Andreas Tzakis, M.D., the Division of Liver and Gastro-intestinal Transplantation has performed more than 170 intestinal and multivisceral transplants since 1994. The busiest program of its kind in the world and one of the most innovative, the division recently hosted the Eighth International Small Bowel Transplant Sym-posium on Miami Beach. The biennial meeting attracted scientists and clinicians worldwide who specialize in intestinal failure and small bowel transplantation.



Spotlight Shines on Family Medicine Physician

or Penny Tenzer, M.D., educating the doctors of tomorrow is its own reward, but now the vice chair and director of the residency program in the Department of Family Medicine and Community Health has received national attention with two major teaching awards.
In July the Florida Academy of Family Physicians gave Tenzer its 2003 Exemplary Educator Award. She was recognized for her "outstanding contributions to the specialty of family practice and the young people who benefit from your ability to teach." The state academy then nominated her for its national honor.
A few months later, Tenzer was back on stage to receive the Exemplary Teaching Award for full-time faculty from the American Academy of Family Physicians at its national congress in New Orleans. In a nominating letter, Family Medicine Chair Robert Schwartz, M.D., described Tenzer this way: "Her ability to motivate and captivate her audience and provide an exciting environment to learn a subject is truly outstanding."
Tenzer says she is humbled by the recognition, "and it inspires me to be the best teacher I can be every day to live up to the expectations of my peers."
As for how she evaluates herself in the classroom, Tenzer says, "If I can help teach someone to be a doctor who treats their patients with dignity and respect in their career, then I will have done my job successfully."



Lipshultz Named Chairman of Pediatrics
Keeping Kids at Heart


sk Steven E. Lipshultz why he chose pediatric cardiology as a specialty, why he has devoted much of his career to understanding cardiomyopathies in children, even why that career path has now led to the chairmanship of pediatrics at the University of Miami School of Medicine, and the answer inevitably returns to the families of children he treated many years ago.
"Early in my career I was very moved and very touched by a number of children and their families who were afflicted with heart disease," Lipshultz says. "Many of those children didn't make it. You shed many tears and hold many hands and make many promises, and you really develop a covenant with these families that you have to do more, to keep pressing for answers."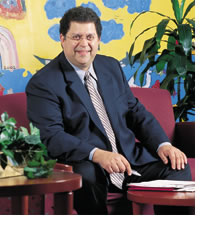 "The entire group of pediatric care providers here has a passion to do the absolute most they can for children in this community, to give families a real reason to believe," Lipshultz says. "They do it at the primary care level, in a tireless, selfless way, and they do it in the most cutting-edge, sophisticated areas, such as transplantation of organs and complex cardiac surgery."
The strength of the School of Medicine and the ambitious goals of its leadership helped lure Lipshultz from his positions as associate chair of pediatrics for strategic planning and chief of the Division of Pediatric Cardiology at the University of Rochester Medical Center and Golisano Children's Hospital at Strong.
Previously, Lipshultz was on the faculties at Harvard Medical School and Boston University School of Medicine. He also has been the principal investigator on groundbreaking NIH studies on the causes and treatment of cardiomyopathies in children.
Sometimes the cause of a weakened heart muscle in children is a virus. Lipshultz has been studying this damage in children with HIV and AIDS. His clinical trials have discovered therapies that can prevent heart disease in children with HIV.
Another major focus of his research has been the heart damage that can be caused by treatment for other diseases, such as chemotherapy or radiation for cancer. Genetic and metabolic causes also account for a considerable number of the children with cardiomyopathy, and the need for prevention and treatment is acute, Lipshultz says.

Unraveling the mysteries of this disorder has required a global view. "One of the things we discovered about a decade ago was that no one center in the United States saw enough children to learn enough to make a difference," Lipshultz says. "So we got funding from the NIH to set up a North American pediatric cardiomyopathy registry." Before that, there was a widespread lack of understanding of when the heart damage occurs, how many children it affects, and how well or poorly those children do. The result was that children were not being listed for heart transplants and they were dying.
That, to Lipshultz, is a dramatic example of the need for translational research—and why he wants to run a program that can provide research role models for medical students and fellows. "There's a real paucity of pediatricians who practice medicine, care about clinical issues, and have active research careers," he says.
The School of Medicine's growing roster of experts and growing plans for new research space, along with the huge patient population, make this an ideal place to develop new generations of pediatric researchers, Lipshultz says. "The ultimate thrill will be to have a number of pediatricians well trained in research who can then go out and become independent investigators."



School of Medicine Receives $6.75 Million Diabetes Grant
Commitment to a Cure

he School of Medicine has been awarded a prestigious $6.75 million matching center grant from the Juvenile Diabetes Research Foundation International. The grant will be used to create a JDRF Center at the Diabetes Research Institute, already a world leader in diabetes research, to accelerate research in islet cell transplantation.
"To be recognized as an institution that is leading the way in islet cell transplantation is a testament to our outstanding scientists and clinicians," says John G. Clarkson, M.D. '68, senior vice president for medical affairs and dean of the School of Medicine. "This new collaboration with the JDRF will help move our research forward at a faster pace and provide greater benefit to patients."
Islet cell transplantation is considered one of the most promising methods for curing diabetes. During the procedure, islet cells are separated from a donor pancreas and infused into a diabetic patient's liver where they begin to produce insulin. A growing number of patients who have received islet transplants at the DRI are now living insulin-free for the first time since being diagnosed with type 1 diabetes decades earlier.
The Diabetes Research Institute Foundation is contributing an additional $6.75 million to the grant, a 50 percent match required by the JDRF award. The JDRF Research Centers are flagship programs at select institutions that provide scientists and clinicians the opportunity to work together to drive new and emerging ideas into clinical benefit.
"This unprecedented partnership between JDRF and an academic institution to support a center of excellence with a matching grant mechanism will be critically important to further our work in islet cell transplantation and rewards not only the quality of our science, but also three decades of institutional commitment to cure diabetes," says Camillo Ricordi, M.D., scientific director of the DRI.



Better Screening Improves Early Detection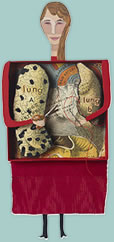 ith lung cancer, early detection saves lives. That's why the School of Medicine got involved two years ago with the International Early Lung Cancer Action Program, a collaboration of 33 medical institutions in nine countries. It is also why UM was proud to host the 9th International Conference on Screening for Lung Cancer in October.
Using CT scanning, radiologists have quadrupled their detection of early lung tumors compared to chest X-rays, which could improve the five-year survival rate from 12 percent to 90 percent. Worldwide, the lung cancer action program strives to screen 50,000 high-risk patients.
"Spiral CT is a much more effective way of imaging the lung for the detection of lung cancer," says Nathaniel I. Berlin, M.D., former deputy director of UM/Sylvester and an advisory board member of the screening program. The Miami study focused on screening at-risk patients from South Florida's diverse population. To date, 187 mostly indigent individuals have been screened at Jackson Memorial Hospital at no cost to the patients.
Patient recruitment is being done through faith-based community outreach aimed at educating uninsured, at-risk individuals about the free initial and annual screening. A majority of the patients were referred to the program by the Jessie Trice Cancer Prevention Project and by the Reverend Ted Greer's Healthy Choice Network.
"We want to inform the community about this valuable new technique," says Berlin.

Back to top



Photo Illustration byThe Image Bank/Photography by Pyramid Photographics. Photography by John Zillioux (patient safety) and Pyramid Photographics. Illustrations by Whitney Sherman, James Yang andSusan Farrington.







UM MEDICINE HOME | UM MEDICINE ARCHIVE