nly once in the life of a great institution does an opportunity like this come along. An opportunity to accelerate the realization of our goals. An opportunity to move this already-great medical school to the international prominence it was meant to achieve.
An opportunity to make a dramatic difference for the citizens of our community.This is the historic juncture at which we find ourselves after December's spectacular announcement that the family of Leonard M. Miller has donated $100 million to the School of Medicine. We join only seven other medical schools nationally that have received gifts large enough to rename the school—among them the Keck School of Medicine of USC, Cornell's Weill Medical College, the David Geffen School of Medicine at UCLA. We could not be in more distinguished company.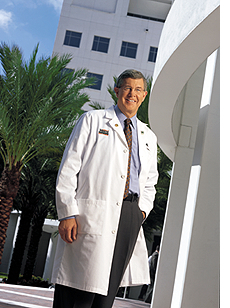 The commitment to excellence this gift makes possible will be an appropriately grand tribute to Leonard Miller, a Miami developer who helped thousands of American families gain wealth through home ownership and who devoted much of his time and passion to the University of Miami. The fact that the Miller family has chosen the School of Medicine for this most substantial philanthropy makes all of us proud and should serve as an inspiration to all who consider playing a role in our Momentum campaign.
This gift is about moving to greatness, not about funding the day-to-day operations of the medical school. It ensures that for the coming decades the Miller School of Medicine will have the financial foundation to invest in biomedical scientists to help develop our centers of excellence in research and patient care, and to enhance our educational mission.
The gift will accrue to the school over the next several years, and we have agreed to spend only the income it earns. We are reserving the corpus of the gift to solidify our financial position as we expand our research and clinical facilities. Although none of the money will be used for these facilities, the gift will provide the assurance the University administration and the Board of Trustees need to make bold investments in our planned new wet lab building and multispecialty practice building and hospital.

There is a direct correlation between top medical school ranking and research funding from the National Institutes of Health. We will not be able to retain our top investigators or recruit our future leaders with significant NIH funding until we increase and improve our research space. Similarly, we have been striving for years to acquire a University clinical facility where we can consolidate our clinical services and provide a single impressive front door for our patients locally, regionally, and nationally. Having our own hospital complementary to the services we provide at Jackson Memorial Hospital will also allow us to benefit from hospital revenue to support our academic mission—a characteristic common among the top medical schools nationally.
As The Miami Herald said in an editorial following our gift announcement, "Monday was a momentous day in Greater Miami, a day that will be remembered for setting into motion events that will have a positive impact in our community for many years to come."
The Miller gift will help us take the critically important steps that will move us into the upper ranks of the nation's schools of medicine. The beneficiaries will be every resident of South Florida and every patient ever touched by a discovery made possible by the University of Miami Leonard M. Miller School of Medicine.