Diabetes Research Institute Designated Islet Cell Transplant Center by NIH







Stimulating Sight




Diabetes Research Institute Designated Islet Cell Transplant Center by NIH
Road to a Cure



he Diabetes Research Institute (DRI) has been selected as one of only five centers worldwide to receive funding from the National Institutes of Health (NIH) for clinical islet transplant trials in patients with type 1 diabetes. The NIH plans to award about $75 million over five years to a network that includes three centers in the United States and two centers abroad, with a data coordinating center at the University of Iowa.
"This new, unprecedented funding from NIH will allow the DRI to continue and expand our team effort to develop successful islet transplant strategies, without potentially harmful anti rejection drugs," says Camillo Ricordi, M.D., Stacy Joy Goodman Professor of Surgery and scientific director of the DRI. "Our long-term goal will be to develop safe and effective anti-rejection strategies and eventually immune tolerance to the transplanted insulin-producing cells so that patients will no longer require a lifetime of anti-rejection drugs."
It's estimated that more than 17 million Americans have diabetes—and more than one million of those have the type 1 form of the disease. Type 1 diabetes is usually diagnosed in children and young adults and is often referred to as juvenile diabetes.
In islet transplantation, islets are extracted from the pancreas of a deceased donor and infused into a patient with type 1 diabetes through the portal vein of the liver. In successful transplants, the cells lodge in the liver's small blood vessels and begin producing insulin. The procedure is seen as having the most potential as a treatment for type 1 diabetes.
The DRI has already designed and submitted new clinical trial protocols as part of the funding process in the NIH network.



Gwendolyn B. Scott First Recipient of a
New Children's Research Award



wendolyn B. Scott, M.D., professor of pediatrics and director of the Division of Pediatric Infectious Disease and Immunology at the Miller School of Medicine, decided to specialize in infectious disease because she liked to see patients get well.
"You give them antibiotics, and they get better," Scott says. Then came the HIV/AIDS epidemic. Scott saw some of the very first children with AIDS early in 1981. "The babies died very early—there was rapid disease progression in 20 percent of these infants."
But through the efforts of Scott and her colleagues in the Miller School of Medicine, the transmission rate of HIV/AIDS from mother to infant has declined to less than one percent. And her continuing research efforts in the treatment of pediatric HIV/AIDS have resulted in her selection as the first recipient of the Micah Batchelor Award for Excellence in Children's Health Research.
As a pediatric infectious disease specialist at UM/Jackson Memorial Medical Center, Scott cares for the largest number of pediatric HIV patients seen at a single center in the country. With the Micah Batchelor Award, she and her team will develop new ways to prevent the transmission of the virus from mother to child.
The late George E. Batchelor, a renowned aviation entrepreneur and philanthropist, established the Micah Batchelor Award for Excellence in Children's Health Research in memory of his grandson, Micah. The award was started with a $5 million endowment; each year at least $300,000 will be awarded to one University of Miami scientist conducting research in children's diseases and working in the Batchelor Children's Research Institute. This is one of the largest awards nationally for children's health research.
Batchelor's longtime financial commitment to the University of Miami Miller School of Medicine, and in particular the Department of Pediatrics, was largely responsible for the establishment of the Batchelor Children's Research Institute.



Helping alzheimer's patients preserve functional skills

Mind Training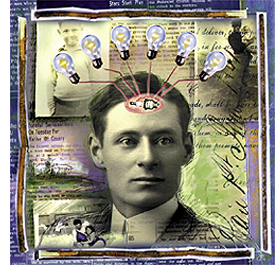 hen patients are first diagnosed with the early signs of dementia, especially Alzheimer's disease, they are often treated with medication that can enhance the function of the hippocampus, the memory center of the brain. That can delay dementia—but it can't prevent it.
Researchers at the Miller School of Medicine wondered whether they could train other parts of the brain that are spared by early Alzheimer's to enhance memory and other skills, and they devised a training program to find out.
They call it cognitive rehabilitation.
"These methods are all ways of targeting regions of the brain other than the hippocampus and to rely on areas of the brain that still have full function," says David Loewenstein, Ph.D., director of research and neuropsychology for Mount Sinai's Wien Center and professor of psychiatry and behavioral sciences at the Miller School of Medicine. In Alzheimer's, cholinesterase inhibitors keep acetylcholine in the neuronal synapses in the hippocampus, which can help—but only for a year or two. Loewenstein considers that a window of opportunity.
"The area of the brain responsible for motor movements is also responsible for motor memory, so we can target that area and other areas for implicit or procedural memory," says Loewenstein. He worked closely with Sara Czaja, Ph.D., director of the Center for Research and Education on Aging and Technology Enhancement, and assistant professor Amarilis Acevedo, Ph.D., cognitive rehabilitation co-developer, who led the work among Spanish-speaking patients. The results of their three-year study were published in the July-August 2004 issue of the American Journal of Geriatric Psychiatry.
They assigned 44 patients taking a cholinesterase inhibitor into two groups: one receiving minimal mental stimulation, the other receiving 24 weekly sessions of intensive cognitive rehabilitation.
"People who participated in the rehabilitation sessions had far greater cognitive skill gains than the other group," Loewenstein says.
The endpoint in the research is to help patients keep their functional skills.
"We may have medications in the future that could stop progression so we want to give patients a bridge to maintain the functionality that they have," he says . "Now instead of just giving someone a diagnosis, you can also tell them there is something they can do about it."



Interventions for Spinal Cord Injury Patients
dvances in medicine sometimes yield unintended consequences. Case in point: Aging with a spinal cord injury is a relatively new phenomenon because more people are suffering spinal cord injuries or disabilities later in life, and those injured at a young age are living longer.
"Older persons with a spinal cord injury or disability face the dual challenges of injury-related disability and age-related declines in functioning," says Sara Czaja, Ph.D., professor of psychiatry and behavioral sciences and co-director of the Center on Aging. "Also, people who provide support to these patients face multiple and often extreme challenges."
Czaja and her team at UM, together with colleagues at the University of Pittsburgh, have begun recruiting patients after being awarded a five-year, $3.4 million grant from the National Institute of Nursing Research. They will study how an innovative, multi-component psycho-social technology intervention can help spinal cord-injured patients and the people who care for them.
The 400 participants will have greater access to community, government, and health care resources, enhanced social support, and will learn strategies that may help with physical and emotional health, stress, communication, and socialization. The program is tailored to the participant's needs.
Helping these patients live longer is only half the task.
"Our goal," says Czaja, "is really to increase the quality of life and independence of these people."



Medical Students Start at Satellite Campus in Boca Raton
Meeting Statewide Needs

call to train more physicians in the state of Florida was answered in part this fall as 16 students began attending the University of Miami Miller School of Medicine at Florida Atlantic University.
The 16 students are part of the Miller School of Medicine's largest-ever freshman class. They will complete the first two years of their medical curriculum at FAU's Boca Raton campus before transferring to Miami to complete years three and four at the UM/ Jackson Memorial Medical Center campus.
Ainel Boonprakong appreciates being part of that first class. "Students have so many more opportunities to interact with the faculty because it's such a small class size," says Boonprakong.
"What I like about it is that you feel you have your own piece of the medical school. You have a place, you have a study, you have your own desk. It's a very homey feeling. Medical school is very rigorous—having the feeling that you belong is going to make it go smoother."
The FAU program was created as state lawmakers became aware of a developing shortage of locally trained physicians. By combining forces, FAU, a public university with more than 25,000 undergraduate and graduate students, and the Miller School of Medicine enabled the state to fulfill its commitment to expand medical education without the expense of creating new medical schools. Building on that unique educational partnership, the Miller School of Medicine and FAU also entered into talks with Boca Raton Community Hospital about becoming a community teaching hospital for the school. "The affiliation among the Miller School of Medicine, FAU, and Boca Raton Community Hospital would give our students invaluable patient care experience from the very beginning," says John G. Clarkson, M.D. '68, senior vice president for medical affairs and dean of the University of Miami Miller School of Medicine. "This is a win-win-win situation, not only for the three institutions but also for southern Palm Beach County."



UM Leads HIV Study in India

ince the first HIV infection in India surfaced in 1987, the number of cases has risen at an alarming rate. The United Nations estimates five million Indians were HIV positive last year, a number that may be doubling every 18 months. Experts believe India could eventually surpass Africa in the number of HIV cases. And now the University of Miami Miller School of Medicine is doing its part to help stem the rising epidemic.
Mahendra Kumar, Ph.D., professor of psychiatry and behavioral sciences, has teamed up with investigators in his native India to help them find ways to handle the spreading infection. Funded by the National Institutes of Health, Kumar's study is looking at the neurological and neuropsychological effects of HIV.
The UM-led study is being conducted in Bangalore, India, with scientists from India's National Institute of Mental Health and Neurosciences, as well as in Chandigarh in northern India. The researchers will follow more than 200 patients over three years to evaluate neurological and neurocognitive impairments associated with HIV-related dementia and minor cognitive-motor disorders resulting from the virus entering the central nervous system. "Once we pinpoint the prevalence of neurologic problems among the HIV infected, a health policy can be instituted that may help design interventions for the infected individuals," Kumar explains.
One of the study's long-range goals is to strengthen the research capacity of scientists in India. The UM investigators have extensive experience in HIV research, while very little of this type of research has been carried out in India.



News, Accomplishments, and Achievements in the Miller School of Medicine
Making Headlines
Learning without facts
U.S. News & World Report
July 26, 2004
David Loewenstein, Ph.D., professor of psychiatry and behavioral sciences, was interviewed about his newly published study that showed Alzheimer's patients in the early stages of the disease can still learn new skills. His research was also reported on Miami television stations WTVJ, WFOR, and WPLG, and in The Miami Herald, Sun-Sentinel, Los Angeles Times, and WebMD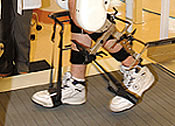 .
Fitness through the ages
The Miami Herald
July 27, 2004
Five Miller School of Medicine physicians were featured in an extensive article about keeping trim for a lifetime. Robert Schwartz, M.D., Carla Lupi, M.D., Larry Friedman, M.D., Silvina Levis, M.D., and Ronald Goldberg, M.D., were each featured in their area of expertise.
Maggots make medical comeback
Associated Press
August 3, 2004
Robert Kirsner, M.D., director of the UM Wound Center, talked about his research using the wriggly little creatures on patients where conventional therapy alone wasn't enough. It has been a year since the Food and Drug Administration approved the use of the insects to clean wounds.
Prospects improve for those with spinal cord injuries
USA Today
August 17, 2004
The Miami Project to Cure Paralysis was prominently featured in a USA Today article on research into paralysis. Scientific Director W. Dalton Dietrich, Ph.D., said that "in the last five years, it has never been more exciting in terms of the knowledge we're obtaining." Researcher Edelle Field-Fote, Ph.D., was interviewed about her study, which is evaluating several methods of locomotion training. "Humans have evolved in a way that requires the brain to turn those circuits on, but by retraining the circuits in the spinal cord, it might be possible to enhance motion, even when signals from the brain are blocked."

Hurricane stress
September 9-13, 2004


Stress was at a record level in South Florida when Hurricane Ivan threatened, since it was the third hurricane to do so in just one month. Daniel Armstrong, Ph.D., professor and vice chair of the Department of Pediatrics and director of the Mailman Center for Child Development, and Alan Delamater, Ph.D., professor of pediatrics and psychology and director of the Psychology Division at the Mailman Center, became voices of calm for South Florida. They were quoted in publications including USA Today, The Miami Herald, Los Angeles Times, and The Palm Beach Post, and appeared on programs aired by CBS, CNN, and MSNBC.



Policy Forum Raises Critical Questions
The Presidency and Health Care

fter the dust—and the rhetoric—of the election settle, the president of the United States is going to have to deal with a health care system that needs a serious shot in the arm.
That was the message of Why Care, Why Vote? What's at Stake for Health in Election 2004, a forum held in October at the Miller School of Medicine. Co-sponsored by the Henry J. Kaiser Family Foundation in honor of Leila Applebaum, a long-time supporter of the Miller School of Medicine, the event brought together renowned health care policy experts as part of the University's Presidential Debate series. Moderating and joining the discussion were University President Donna E. Shalala and CNN Medical Correspondent Sanjay Gupta, M.D. The audience was filled with a rapt group of first- and second-year medical students.
Diane Rowland, Sc.D., executive vice president of the Henry J. Kaiser Family Foundation and executive director of the Kaiser Commission on Medicaid and the Uninsured, gave an overview of the critical issues facing the American health care system.
Judy Feder, Ph.D., professor and dean of the Georgetown Public Policy Institute, Georgetown University, and Bruce Vladeck, Ph.D., professor of health policy and geriatrics at the Mount Sinai School of Medicine, then discussed—or rather, dissected—the presidential candidates' health care policy positions.
What became clear from the speakers was that no matter which policy prevails, the steadily increasing numbers of uninsured and elderly will have an unprecedented impact on the training and practices of these future physicians.
After the speakers finished, students asked questions on issues including the disparity between regular health and mental health coverage and the prohibitive cost of malpractice insurance.


Stimulating Sight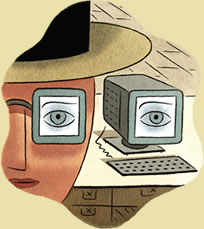 here is new hope for the estimated 1.5 million stroke and traumatic brain injury patients in the United States who have major vision problems that affect their daily life. Physicians in the Department of Neurology and at Bascom Palmer Eye Institute are among the first in the country to offer patients a new computer-based therapy for vision loss. The treatment, NovaVision VRT, was developed by NovaVision, Inc. of Boca Raton and approved by the U.S. Food and Drug Administration in 2003.
VRT (Vision Restoration Therapy) is based on the principle of neuroplasticity—the ability of partially damaged neurons in the brain to compensate for injury and adjust their activity in response to stimulation from the environment. After a stroke or brain injury, an area of residual vision exists between regions within the brain's vision-processing areas. Within this zone, there are areas that can be improved using precise patterns of stimulation.
Here's how the therapy works: A patient focuses on a fixation point displayed on a specially designed computerized device. During each session, specifically engineered stimuli are applied to the identified areas that show potential for recovery. Repeated exposure to these stimuli over a period of six months activates neurons and helps improve vision.
"It was once thought that after a brief period of spontaneous recovery, improvement in visual function ended. With this innovative technology based on the principle of neuroplasticity, we may now have the potential to improve vision and quality of life for many stroke and brain injury patients," says Jose G. Romano, M.D., associate professor of neurology.
After an initial session and training, patients can perform the therapy at home.



Photography by John Zillioux, Donna Victor, Pyramid Photographics,and David Southerland
Illustrations byAndrew Faulkner and Michael S. Klein