ancer researchers at the UM/Sylvester Comprehensive Cancer Center are investigating new strategies to attack an old foe. They are combining—and in some cases replacing—traditional care with targeted therapies that promise better results with fewer side effects and collaborating on research to expedite translation to patient care. Patients with poor prognoses may have new hope as UM scientists get better at understanding, targeting, and killing tumors.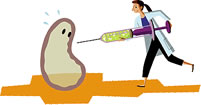 Lung Cancer Vaccine Promising

ifty-two-year- old Barbara Ruiz smoked her whole life, but she still wasn't prepared for the diagnosis she got in 1999.

Lung cancer.
She had surgery but the tumor returned, and she was told that she was incurable.
But in 2001, Ruiz was injected with an experimental lung cancer vaccine at UM/Sylvester.
Her tumors disappeared.
Three years later she is still cancer free. "This is magnificent," says Ruiz, who hasn't had any other treatment since receiving the vaccine.
"We tested it in 19 people who had incurable disease," says Luis E. Raez, M.D., assistant professor in the Department of Medicine. "Six of them are still disease-free and three have passed three years with no sign of relapse."
The vaccine was developed by Eckhard Podack, M.D., Ph.D., chairman of the Department of Microbiology and Immunology. The results of the first three-year study were published in July in the Journal of Clinical Oncology. Once funding is available, the vaccine will be tested with new protocols for newly diagnosed early- and late-stage patients.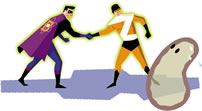 Tuning in Radioimmunotherapy

adioimmunotherapy, or RIT, combines two powerful weapons into one agent to fight some non-Hodgkin's lymphomas. A monoclonal antibody finds and "marks" lymphoma cells so the body's immune system can attack them, and it carries a radioactive isotope along. In clinical trials, two RIT agents, Bexxar and Zevalin, succeeded after other therapies failed. Both are now available at UM as outpatient therapy.
"We now have two great agents that are easy to use and are well tolerated by the patients," says Aldo N. Serafini, M.D., professor of radiology and medicine in the Division of Nuclear Medicine at the Miller School of Medicine.
Both therapies are covered by Medicare and private health insurers.
"Radioimmunotherapy is a very, very valuable tool to have in the inventory," says Izidore Lossos, M.D., associate professor of clinical medicine in the Division of Hematology Oncology at UM/Sylvester. "Patients with follicular lymphoma have a history of repeated relapse, and each relapse is more resistant to chemotherapy. But this disease is very sensitive to radiotherapy like the isotopes in these agents."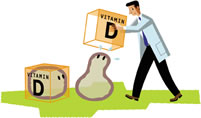 Working Together

erry L. Burnstein, Ph.D., found that vitamin D stopped tumor cell growth by interfering with a key protein, CDK2. Vitamin D inactivated CDK2 by keeping the protein out of the nucleus of prostate and head and neck cancer cells.
"We didn't know how this was happening, whether CDK2 couldn't get into the nucleus or if it was being exported from the nucleus, and that's where Beatriz came in," Burnstein says.
Beatriz M. Fontoura, Ph.D., a colleague in the Department of Molecular and Cellular Pharmacology, was working with Microbiology and Immunology's Glen Barber, Ph.D., on the potential for cancer therapies in nuclear transport—how molecules enter and leave the nucleus of cells.
Along with Carol K. Petito, M.D., from the Department of Pathology, they are all now teamed up on the state of Florida's Team Science Program grant, designed to foster and reward collaboration in cancer research. But they all agree that collaboration is part of the culture at the Miller School of Medicine—in fact, eight teams from UM applied for the funding.
"We were thinking of applying for joint funding next year, but having this grant available now really moved things along," says Barber. "It was a very big carrot."
"It was key that there was a scientist here who was working on that fundamental cellular mechanism," says Burnstein. "If they weren't at UM we could find someone with the expertise, but there's nothing like having the experts just down the hall."
– Kelly Kaufhold