Donors Boost Initiatives at UM/Sylvester

Friends in the Fight against Cancer

ecent gifts to the UM/Sylvester Comprehensive Cancer Center, from individual donors as well as a major foundation, are supporting cancer-related research and treatment conducted by the center.
Macdonald Foundation Supports Breast Cancer Research
Thanks to a $25,000 grant from the Dr. John T. Macdonald Foundation to the UM/Sylvester Comprehensive Cancer Center, Erin Kobetz, Ph.D., M.P.H., research scientist at the Braman Family Breast Cancer Institute, will be able to study and implement new ways to improve cancer screening among Haitian women.
" We're very grateful to the Dr. John T. Macdonald Foundation for supporting this initiative," says Kobetz. The grant will help expand an existing collaboration, Se ede Se—Sisters Helping Sisters—between UM/Sylvester and the Haitian American Association Against Cancer intended to reduce cultural, social, and economic barriers to mammography and Pap tests among Haitian women.
The backbone of the program is the use of lay health advisors, women from Miami's Haitian community, as the source for information and guidance. "Our preliminary findings, based on focus groups, was that most of the women felt that they would trust getting information from one of their friends or peers about health, and that's who they tended to turn to for health information," says Kobetz.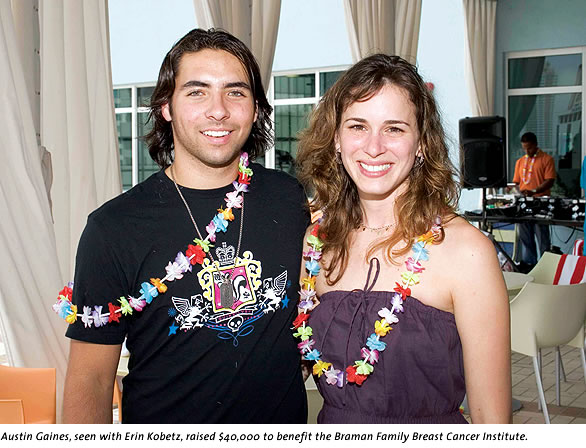 Gaines Luau Benefits Braman Institute
Hundreds came out on a warm summer evening to attend the Fifth Annual Joan G. Gaines Breast Cancer Fundraiser—a luau pool party with all proceeds benefiting the Braman Family Breast Cancer Institute at UM/Sylvester Comprehensive Cancer Center.
The event, which raised $40,000, was held at The VUE at Brickell. "My goal is to obtain the support of businesses and families to raise support for breast cancer research here in Miami," says Austin Gaines, the organizer of the event.
Six years ago Gaines's mother was diagnosed with breast cancer at the time he was celebrating his bar mitzvah. The then-13-year-old took the monetary gifts he received for the ceremonial occasion and established a fund for cancer research. But Gaines didn't stop there. He thought of a way to boost his research fund with a charity event—and at age 14 he convinced Glen Rice, then of the Miami Heat, to help with a celebrity basketball game that raised $10,000.
As a senior at Gulliver Preparatory Academy, Gaines organized his third NBA fundraiser with help from the Miami Heat and the University of Miami men's basketball program. Two years ago Gaines delivered a check for $21,700 to support the Braman Family Breast Cancer Institute. He has raised a total of more than $100,000 for breast cancer research, making the 19-year-old college sophomore the youngest member of the Founders Society at UM/Sylvester.
Amber Brothers Support Research
Eleven years ago Ian Amber, 10, was diagnosed with acute lymphoblastic leukemia. While he fought to stay alive, he and his 5-year-old brother, Kyle, began selling stickers and running bake sales to help pay for a possible bone marrow transplant.
Fortunately, Ian recovered without the need of a transplant—but over the last 11 years the brothers' Kids That Care charity has raised more than $100,000. Ian's experience with cancer convinced him not only to help raise money for cancer research, but also to enroll in the University of Miami's highly competitive undergraduate Honors Program in Medicine.
The brothers recently presented a check for $20,000 to W. Jarrard Goodwin, M.D., F.A.C.S., director, and Joseph D. Rosenblatt, M.D., associate director, clinical and translational research, UM/Sylvester, to help in the fight against cancer. "What Ian and Kyle have done is extra special and serves as a wonderful example for all of us," Goodwin says.