1960s
J. James Rooks Jr., M.D. '68, is an otolaryngologist in Tacoma, Washington, and completed a term as president of the Pierce County Medical Society.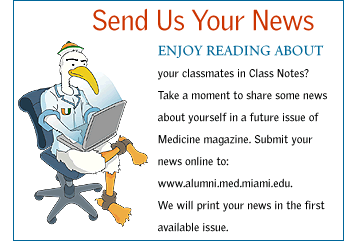 1970s
Howard Maccabee, M.D., Ph.D. '75, retired from private practice. He co-founded Northern California's first stereotoxic radiosurgery unit at a community hospital.
Vincent Calamia, M.D. '78, is CEO at Victory Memorial Hospital in Brooklyn. He was selected by the governor of New York to serve on committees addressing state hospital planning and health care facilities.
Dennis Tihansky, M.D., Ph.D. '78, received an award from the Consumers' Research Council of America for work in vascular and interventional radiology.
Efrain Arroyave, M.D. '79, is author of Understanding Cosmetic Procedures: Surgical and Nonsurgical, a textbook and reference guide for skin care specialists.
1980s
Jeffrey Klein, M.D. '81, is chief of plastic and reconstructive surgery at Trinity Health Systems in Minor, North Dakota, and clinical assistant professor of surgery at the University of North Dakota School of Medicine and Health Sciences.
Christopher Kowalsky, M.D. '85, is deputy assistant to the chief of the Navy Medical Corps at the Navy Bureau of Medicine and is a psychiatrist at the National Navy Medical Center in Bethesda, Maryland.
Stephen Kagan, M.D. '86, is medical director of the Sterling Institutional Review Board, an independent group that aims to protect human subjects in medical research studies.
J. Michael Di Maio, M.D. '87, is associate professor of cardiovascular and thoracic surgery at the University of Texas Southwestern Medical Center in Dallas. He was awarded the Laurence and Susan Hirsh/Centex Homes University Distinguished Professorship in Heart Disease.
Wafik El-Deiry, M.D., Ph.D. '87, is professor of medicine at the University of Pennsylvania School of Medicine and program leader of the radiation biology program at the Abramson Comprehensive Cancer Center. El-Deiry is editor in chief of Cancer Biology and Therapy.
Lee Pravder, M.D. '89, is chief of psychiatry at Aventura Hospital in Florida.
1990s
Craig Bottoni, M.D. '91, is a colonel in the U.S. Army Medical Corps and was awarded the Order of Military Medical Merit and the Medical Corps "A" Proficiency Designator Award, equivalent to a full professorship.
William Trattler, M.D. '92, was voted one of the Top 50 Opinion Leaders in 2006 for contributions to cataract and refractive surgery in Cataract and Refractive Surgery Today.
Gina D'Amato, M.D. '98, spoke on "Concepts and Controversies in Oncology Drug Development" at the Bear Stearns 18th Annual Healthcare Conference in New York City.
Karl Dhana, M.D. '98, is medical director of the Marilyn and Stanley M. Katz Senior Campus, a living and health care community for seniors in West Palm Beach. He is on the faculty at the Miller School of Medicine and Nova Southeastern College of Osteopathic Medicine.
Vincent Pedre, M.D. '99, is in private practice in New York and specializes in integrative medicine.
2000s
Eric Carlson, M.D., D.M.D. '00, is a fellow of the American College of Surgeons.
Richard Pilch, M.D. '00, is a bio-safety specialist assisting in preventing the proliferation of biological weapons in Russia. He is co-editor of the Encyclopedia of Bioterrorism Defense.
Jennifer Marinari Heffernan, M.D. '01, is an assistant professor at the University of North Texas Health Science Center in Fort Worth.