1980s
George Ehringer, M.D. '83, is chief of staff of Florida Hospital Ormand Memorial in Ormand Beach, Florida. Ehringer is also in primary care practice with his father, Gerald L. Ehringer, M.D. George Ehringer would like to thank Arthur Fournier, M.D., and Laurence Gardner, M.D., of the Miller School for their guidance and encouragement.
Maureen McLaughlin-Grant, M.D. '86, has joined the medical staff of WestCare Health System, working with WNC hospitalists at Harris Regional Hospital in Sylva, North Carolina. McLaughlin-Grant completed an internship in family practice at St. Vincent's Medical Center in Jacksonville, Florida, and a residency in internal medicine at the University of Florida in Gainesville.
Lisa M. Shulman, M.D. '88, has been named the first recipient of the Eugenia Brin Professorship in Parkinson's Disease and Movement Disorders at the University of Maryland School of Medicine. A professor of neurology and a researcher in the Parkinson's Disease and Movement Disorders Center, Shulman was invested in her new position in September.
1990s
John A. Rumberger, M.D. '96, is a cardiologist working with Daiichi Fine Chemical Co., Ltd. of Japan on a new clinical trial to investigate the effect of pantethine as a dietary supplement for lipid management and the reduction of cardiovascular risk factors in the North American population. Rumberger, who also has a Ph.D. in engineering and applied mathematics from The Ohio State University, has published more than 200 peer-reviewed articles, 200 abstracts, and 40 book chapters.
David Kenigsberg, M.D. '97, has performed the implantation of the first wireless implantable electrocardiogram monitoring system in South Florida. The procedure took place at Westside Regional Medical Center in Plantation. A clinical cardiac electrophysiologist on staff at Westside Regional, Kenigsberg was previously an electrophysiology fellow at Virginia Commonwealth University Medical Center. He has an office located in Plantation.
Mazyar Rouhani, M.D. '99, is the medical director for the Department of Emergency Medicine at Cleveland Clinic Florida in Weston. Among his other accomplishments, Rouhani has started a hospital-based medical transport system that includes two helicopters for medical transports to and from Cleveland Clinic Florida. Rouhani and his wife have two children.
Sangeeta Sawhney, M.D. '99, is senior medical director at Pharmaceutical Product Development, Inc., in Research Triangle Park, North Carolina. Sawhney provides discovery, development, and post-approval services as well as compound partnering programs. She also is involved with research and clinical trials of several new drugs entering the market in the near future. Sawhney lives in Chapel Hill, North Carolina, with her husband, son, 15, and daughter, 10.
In Memoriam
Jack R. Tenzel, M.D. '83, passed away at the age of 50 last August at his residence in Georgia, under the care of Ogeechee Area Hospice. Born in New York, Tenzel lived most of his life in Miami before moving to Statesboro, Georgia, in 1997. He was a dedicated physician caring for his patients at East Georgia Regional Eye Center in Statesboro. Tenzel is survived by his wife of 26 years, Haydee Levin Tenzel, and two sons, Paul Tenzel, who is currently attending Georgia Southern University, and Brian Tenzel.
Jose Garrigo, M.D. '86, passed away last May in Miami. A pulmonary specialist, Garrigo completed a fellowship in pulmonology at Mount Sinai Medical Center, where he was appointed to the medical staff in 1993. Garrigo was an integral part of the medical staff and demonstrated compassion for patients as well as his co-workers. He was also a dedicated educator in the Pulmonology Teaching Program.
James E. Wilkerson, M.D. '87, died last August at Palestine Regional Medical Center in Palestine, Texas, at the age of 63. Born and raised in Kingsville, Texas, Wilkerson did a three-year residency in internal medicine at University of Miami/Jackson, followed by a three-year fellowship in cardiology. After completing his postgraduate medical education, Wilkerson entered private practice as an invasive, non-interventional cardiologist with the Valley Diagnostic Clinic in Harlingen, Texas.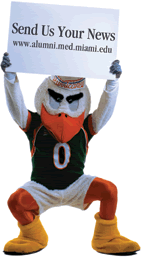 Send Us Your News
Enjoy reading about your classmates in Class Notes?
Take a moment to share some news about yourself
in a future issue of Medicine magazine. Submit your
news online to: www.alumni.med.miami.edu. We will
print your news in the first available issue.