To the Editor
Congratulations on another great edition of University of Miami Medicine (Winter 2009). When I was going through medical school, residency, and fellowship, I didn't think I'd ever leave Jackson Memorial Hospital. However, it's been 27 years since I left. It is wonderful to have a periodic update on my alma mater. The magazine layout is beautiful and the articles are informative.
It's encouraging to see our new dean leading the University into the surrounding community and beyond. The University's acquisition of the former Cedars Medical Center was long overdue. Moving into Palm Beach County is also a "good move." It increases the University's referral base and will hopefully expose the medical students to community private practice.
I can rarely get to Miami for a medical school event. Your journal is the perfect link.
Charles F. Tate III, M.D., FACR
B.S. '69, M.D. '73

Having recently read our story ("Productive Partnership") in the Winter 2009 issue of University of Miami Medicine, my husband and I were brought to tears as we relived that moment in our lives. Being newlyweds and having to deal with breast cancer and future fertility was indeed overwhelming.
We were fortunate to have such a great team of physicians. My oncologist, Dr. Gluck, and my infertility specialist, Dr. Attia, are both phenomenal physicians. Although not every case will be as successful as mine, it is reassuring to know the partnership between Sylvester Comprehensive Cancer Center and the fertility center properly counsels patients such as myself.
Nathalie Dauphin McKenzie, M.D.
Editor's Note: In reference to this article, "Productive Partnership" (Winter 2009), Society of Assisted Reproductive Endocrinology (SART) data was never intended to be used to rank practices or to allow for direct comparisons between practices. The variables in patient selection and treatment processes, as well as program policies, influence the statistics and make comparisons undependable.

Correction
Due to a production error, the Second Opinion column (University of Miami Medicine, Winter 2009) by Alan Pollack, M.D., Ph.D., professor and chair of radiation oncology, contained two extraneous sentences. The fourth and fifth sentences in the first paragraph were inserted inadvertently. We apologize for the error.

1970s
William Bess, Jr., M.D. '76, has joined the staff of emergency physicians at the Urgent Care Center of Southwest Florida. Bess did his emergency medicine residency at Medical College of Pennsylvania. He has practiced in Southwest Florida as an emergency physician since 1979. The Urgent Care Center has locations in Estero and Cape Coral.
1980s
Joe Barefoot, M.D. '86, is opening a medical practice on Grand Cayman, Cayman Islands. Barefoot is certified by the American Board of Internal Medicine and has a strong interest in the noninvasive diagnosis, treatment, and follow-up of cardiac diseases. Barefoot completed his internal medicine residency at Shands Hospital, University of Florida, in Jacksonville.
2000s
Rachel Dawkins, M.D. '04, has joined the faculty of Louisiana State University (LSU) as an assistant professor of pediatrics. Dawkins, who runs one of the pediatrics department's resident continuity clinics, also serves as an associate program director for the pediatric residency program at LSU New Orleans.
In Memoriam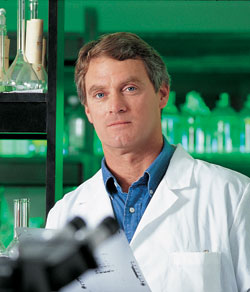 Remembering a Revered Colleague: William Harrington Passes Away
William J. Harrington Jr., M.D. '84, a beloved and dedicated professor of medicine in the Division of Hematology Oncology died from a cerebral hemorrhage on January 29. He was 54.
Harrington was a leading authority on viral-induced cancers and co-leader of the Viral Oncology Program at the Sylvester Comprehensive Cancer Center. His research uncovered a novel approach to attacking viral-mediated tumors that had proved resistant to conventional chemotherapy, and he had collaborated with investigators in Brazil to develop new therapies against Epstein-Barr-related lymphoma.
Harrington, who also was co-director of the William J. Harrington Medical Training Programs in Latin America, came from a family with long ties to the Miller School. His father, William J. Harrington Sr., M.D., former chair of medicine, started the Harrington Programs that continue to train top-tier medical graduates from Latin America and the Caribbean. His brother, Thomas Harrington, M.D., is an assistant professor of medicine at the Miller School.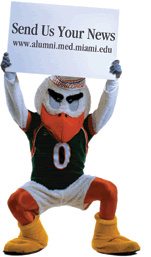 Send Us Your News and Letters
Send letters to to the editor to magazineletters@med.miami.edu. Enjoy reading about your classmates in Class Notes? Take a moment to share some news about yourself in a future issue of Medicine magazine. Submit your news online to: www.alumni.med.miami.edu. We will print your news in the first available issue.