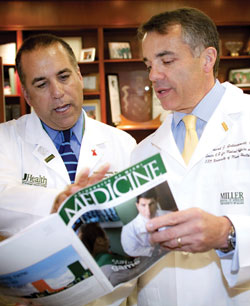 Ralph Sacco, M.D., M.S., who has led the rejuvenation of the neurology department, reviews Miami Medicine with Dean Goldschmidt.
Stroke is one of the most dreaded conditions that can affect us. The sudden loss of brain function resulting from a thromboembolic event inspires more fear than any other illness. At the Miller School of Medicine and UHealth, we are developing the most cutting-edge stroke program in the United States and beyond. With our partner Jackson Memorial Hospital, we have established interventions to help every patient with a stroke, from the mildest to the most complex thrombotic and hemorrhagic problem.
Our research in the field of brain injury, mediated by a vascular or traumatic event, is leading the world in acute and chronic intervention. Basic science and clinical research synergize to decipher mechanisms of brain injury, leading to new opportunities for prevention and treatment of such conditions. The remarkable growth of our program has been catalyzed by the new chair of neurology, Dr. Ralph Sacco, who succeeds Walter Bradley, as head of a well-respected department founded by Peritz Scheinberg.
If only his grandparents and Aunt Dottie could know how right they were! What little Ralph ended up doing with his life is nothing short of exceptional. When he was recently elected the first neurologist to be president of the American Heart Association, perhaps the largest medical organization of its type, professor and chair Ralph Sacco remembered his grandparents and Aunt Dottie with deep affection. In a universe where sports were ranked far above academic achievement, it took a true visionary to perceive what little Ralphie could become: the most cited physician-scientist in the area of human stroke.
The human brain defines who we are—from scientific thinking to emotions and spirituality, the human mind wanders through rows of cells, cables of nerves, and networks of processors and receptors. Ralph Sacco is a natural born leader—the kind of leader who makes a difference not only for those who happen to meet him, but also for millions of people who are able to avoid a dreadful condition like stroke because of his work. As a leader, he has an innate ability for self-effacement and for promoting those who work day in and day out in his department to advance and teach the field of neurology and to deliver outstanding preventive and therapeutic care. That is how I discovered a young woman, Tatjana Rundek, associate professor of neurology at the Miller School. And here is her story:
Bombs were exploding in the sky on a dark night in Croatia. Tatjana could recognize the sound of each weapon and measure the distance at which the artillery was firing. She could also anticipate the human casualties that might result from each detonation. She became accustomed to running with her team of doctors to assess the damage and help the victims—men and women who, like her, could not understand the cruelty and absurdity of this war. There were those Tatjana could help and those for whom she could do nothing. There was the feeling that because of her role as a doctor on the front line, she could not be a target of the deadly fire.
After years in the line of fire, she was asked to step aside and re-enter civilian life, against her will. In her memory, the explosions, the casualties, the war itself were still her faithful companions. She now understood what people meant by post-traumatic stress disorder. She understood the impact of repeated injuries on the functionality of the human brain.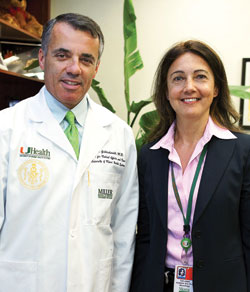 Dean Goldschmidt and Tatjana Rundek, M.D., Ph.D., who has created tools for stroke prevention and the study of the disease process..
The brain was her intellectual interest. With her knack for math, it was easy to see the brain as a network of links and nodes and visualize how such a beautiful network could be affected by illnesses. Like a sequoia tree losing its branches, forest fire after forest fire, the brain—that beautiful network of neurons, synapses, and isolating cells—loses its integrity, small injury after small injury. But sometimes after a major injury, the damage sustained by the brain could perhaps be predicted and potentially managed and reconstructed. From the Max Planck Institute, where she trained in science, to Columbia University in New York, Tatjana became an expert in neuroscience. Navigating through the peaks and troughs of the academic world, she ended up focusing on stroke and more specifically the epidemiology of stroke, modifying susceptibility for stroke and its neurological consequences.
With Ralph Sacco as her mentor, her expertise grew rapidly. She created the tools for stroke prevention and the study of the disease process. For example, she was instrumental in testing a new technology of transcranial ultrasound to detect and analyze blood supply in patients with cerebral vascular disease. When Ralph Sacco was invited to join the Miller School as chair of neurology, he asked Tatjana to come along. A keen interest for both Ralph and Tatjana is the role ethnicity plays in stroke risk, so Miami's diversity was extraordinarily appealing.
Tatjana consulted with another of her key mentors: her father. He told her that when a professor like Ralph Sacco asks you to join him, you don't hesitate. You just go. The next day, she called Ralph. The decision was made—she was coming to the University of Miami.
Today, Ralph's grandparents are gone, and Tatjana's father passed away a couple of years ago. But they would be very proud and quite amazed with the career achievements of Ralph and Tatjana. They have rejuvenated our role in world-class neurology and together with other longtime UM experts are developing solutions not only for stroke, but also for amyotrophic lateral sclerosis (Lou Gehrig's disease), spinal cord injury, Alzheimer's disease, Parkinson's disease, age-related cognitive decline and memory loss, and a myriad of neurological disorders that affect patients in need of newer treatments. Furthermore, they bring personalized medicine and human genetics to the field of neurology by addressing differences such as ethnicity, which represents an extraordinary opportunity for people affected by neurological disorders.
In the end, giants of the field of neurology who work at the University of Miami are making sure that the most precious aspect of the human organism, the command center that controls our most important thoughts and deepest emotions—our brain—is kept free from harm.
To read the full transcripts of the interviews with Ralph Sacco, M.D., M.S., and Tatjana Rundek, M.D., Ph.D., go to med.miami.edu/deansoffice/dean's_perspective.asp.