Miller Faculty Honored by
American College of Physicians

Drs. Gardner and Lippman Elected to Mastership
Saurence B. Gardner, M.D., Miller Professor and executive dean for education and policy, and Marc E. Lippman, M.D., the Kathleen and Stanley Glaser Professor of Medicine and chair of the Department of Medicine, have been elected masters of the American College of Physicians (ACP), joining three other Miller faculty members who previously were elected to mastership.
Laurence B. Gardner, M.D.
Masters are selected from among fellows of the prestigious College and represent a very elite group of physicians who have distinguished themselves through clinical care, educational leadership, or medical research and have made a notable contribution to the field of medicine.
The presentation of Lippman and Gardner as masters took place during a special convocation at the ACP's annual meeting in San Diego in April 2011. The college is the nation's largest medical specialty society, representing doctors of internal medicine. The organization promotes the highest clinical standards and ethical ideals, provides continuing medical education for its members, and advocates on public policy related to health care for the benefit of patients and the medical profession.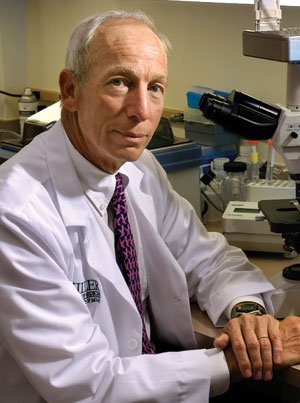 Marc E. Lippman, M.D.
Dean Pascal J. Goldschmidt, M.D., remarked that the ACP masterships and special honors bring more national recognition to the "consistent, high-quality medicine" that takes place on the Miller School campus.
"These are outstanding achievements for the entire Miller School and for Drs. Lippman and Gardner, two giants of medicine who have long committed their expertise and excellence to UHealth and the entire community," Goldschmidt said. "Indeed, UHealth, the University of Miami, and the larger community salute their outstanding contributions to medical education, research, and patient care and take pride in these well-deserved honors."
Gardner, a graduate of Massachusetts Institute of Technology and Harvard Medical School, trained in internal medicine at Massachusetts General Hospital and completed a fellowship in nephrology while serving as chief resident at the Hospital of the University of Pennsylvania. After two years of active duty with the U.S. Army, he joined the Miller School faculty. His entire academic career has been in Miami, including 12 years as chair of the Department of Medicine.
Lippman, a graduate of Cornell University and Yale School of Medicine, is a pioneering breast cancer researcher who came to the Miller School in 2007 after serving in several high-profile positions. His curriculum vitae includes serving as chair of the Department of Internal Medicine at the University of Michigan, head of the Medical Breast Cancer Section of the National Institutes of Health's National Cancer Institute, director of the Vincent T. Lombardi Cancer Research Center, and chair of oncology at Georgetown University. During his time at NIH, Lippman rose to medical director of the U.S. Public Health Service and reached the rank of captain in the U.S. Naval Reserve.
More ACP Honors:

Kathy Hebert, M.D.
Kathy Hebert, M.D., M.M.M., M.P.H., associate professor of medicine in the Cardiovascular Division and director of disease management and outcomes research, was honored with the ACP's Second Richard and Hinda Rosenthal Award from The Rosenthal Family Foundation. She was honored for her original approach in designing and operating a disease management program, which increased clinical and economic effectiveness for heart disease patients at UM/Jackson, Louisiana's public health system, and the country of Georgia.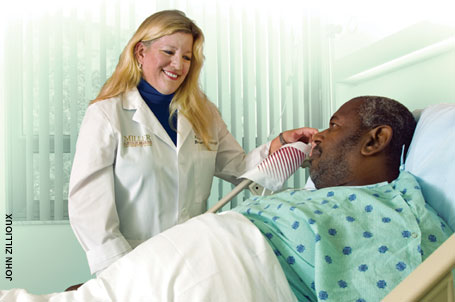 Kathy Hebert, M.D., M.M.M., M.P.H., associate professor of medicine who was honored by the ACP for treatment of heart disease patients, checks on the progress of patient Larry Marshall.
Hebert received her medical de-gree from Louisiana State University School of Medicine and completed fellowships in cardiology/nuclear medicine at the Alton Ochsner Medical Foundation in Louisiana. Hebert also holds a Master of Medical Management degree from the Tulane School of Public Health and a Master of Public Health from the Harvard School of Public Health. Prior to joining the Miller School, Hebert was the state task force director for congestive heart failure disease management at the Louisiana State University Health Care Services Division and director of cardiology at the Chabert Medical Center in Louisiana.

The DRI
The ACP also recognized the Diabetes Research Institute (DRI), a Center of Excellence at the Miller School, with the Samuel Eichold II Memorial Award for Contributions in Diabetes, presented for important health care delivery innovations that improve clinical or economic outcomes for diabetic patients.
With its renowned scientific director Camillo Ricordi, M.D., one of the world's leading scientists in cell transplantation, at the helm, along with a notable team of experts, the DRI has a long history of collaboration with leading researchers in academia and biomedical companies around the world. The DRI provides an array of diabetes management and education activities for patients and their families as well as for professionals throughout the health care industry.