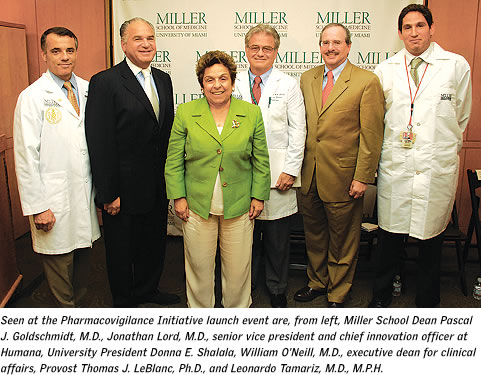 After new drugs have been tested and placed on the market, consumers expect them to work in the manner prescribed. But in a few recent cases and several others in the past, media reports have chronicled instances where supposedly safe drugs have adversely affected consumers. Take Avandia and Vioxx, for example, drugs that have gone through clinical trials and received approval from the Food and Drug Administration, but later seemingly brought more harm than good to some users.
How certain drugs work and what effect they have on a broad range of people is crucial, possibly lifesaving information that will result from the new Pharmacovigilance Initiative, a program launched in August by the Miller School of Medicine and Humana.
UM doctors and Humana executives say the program, which will track patients in the insurer's 11 million-member database (it will be stripped of identifying information), is crucial for drug safety. The Pharmacovigilance Initiative will provide timely, real-world analysis of how patients use certain medications, document emerging patterns of adverse impacts and, as appropriate, quickly report results to consumers, physicians, and the FDA.
"This is a very unique program. We'll have a lot of data through our partnership, and we're going to focus on prescription drug safety," says UM President Donna E. Shalala. "We're combining the expertise of an academic medical center and the collaboration of a health insurer. With Humana's 11 million-member prescription drug and medical claims database, we are going to be able to track more closely and quickly and contribute to the ongoing dialogue in Washington around safety and the use of pharmaceuticals."
The Initiative, says Miller School Dean Pascal J. Goldschmidt, M.D., is simply "the right thing to do, at the right time" to help fill a gap in the current cycle that takes new drugs from development and approval to the marketplace.
"We all know that drugs can have side effects. We certainly want to understand them all, address any adverse issues, and prevent them from having negative impacts on our patients and citizens," says Goldschmidt.
The Pharmacovigilance Initiative will operate out of the Health Services Research Center, a public-private partnership established in 2005 to focus on health services and health behavior research with an emphasis on improving health outcomes for individual patients. The center, which is based at the Miller School, undertakes various scientific studies, including current research on a diabetes drug and recent research on coronary stents.
The study that looked at 7,000 Humana patients with stents concluded that drug-eluting stents are safe but patients put themselves at risk when they don't take the drugs prescribed for recovery.
William O'Neill, M.D., executive dean for clinical affairs, says the stent study is an example of how people benefit from the wealth of information Humana's database provides. In addition to being able to track people of various ages, ethnicities, locales, and lifestyles, the database will provide details about hospital stays that could paint a truer picture of the effect of particular drugs.
"We'll have a very complete medical record of these patients, and that is the power and advantage of this," says O'Neill.
"We'll be able to tell very quickly whether or not a potential risk is found."