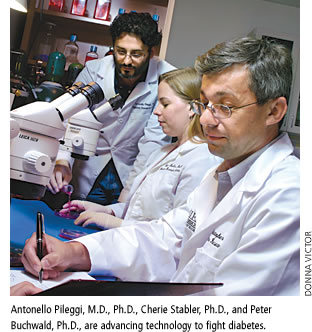 Islet cell transplants, the vision of Camillo Ricordi, M.D., scientific director and chief academic officer of the Miller School's Diabetes Research Institute, hold the promise of revolutionizing diabetes care. But like all transplants, they require anti-rejection therapy, and immunosuppressive drugs can be problematic, increasing infection risk throughout the body.
What if anti-rejection drugs went only to the area of the transplant? That's the idea behind research under way at the DRI on a bioengineered islet-cell chamber. The chamber is made of a biocompatible material with a mesh-like outer surface capped at its ends and with an internal sprinkler system running down the middle of the device. The device is implanted and for 40 days blood vessels grow around it, then the shaft is removed and replaced with islets. In the lab, they've successfully generated insulin.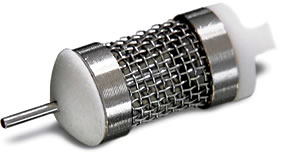 Now Peter Buchwald, Ph.D., director of drug discovery at the DRI, is working with Antonello Pileggi, M.D., Ph.D., director of pre-clinical cell processing and translational models, Cherie Stabler, Ph.D., director of the tissue engineering laboratory, and others on techniques to administer immunosuppression drugs inside the chamber. The early results are promising and could eventually lead to transplants without the need for systemic anti-rejection therapy.