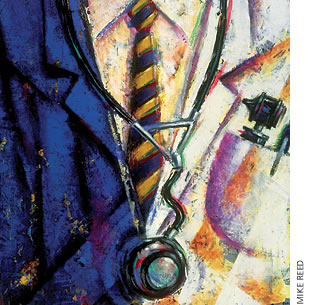 To prepare future physicians for an increasingly complex world of health care where compassion often comes with a dose of commerce, the Miller School and UM School of Business Administration have teamed up to offer an M.D./M.B.A. dual degree designed to be completed in five years.
This fall the inaugural class, made up of students who have completed three years of medical school, began studies in the yearlong intensive M.B.A. curriculum designed to teach financial planning, management, marketing, and other business skills.
"Great medical schools offer a huge array of professional development opportunities to their students, and that includes combined degrees," says Mark T. O'Connell, M.D., senior associate dean for medical education. The dual-degree program, in discussion for a few years, was fast-tracked after the arrival of Miller School Dean Pascal J. Goldschmidt, M.D., and business school Dean Barbara E. Kahn, Ph.D.
According to Steven G. Ullmann, Ph.D., professor and director of health sector management and policy at the School of Business Administration and one of the architects of the program, over the past 10 to 15 years, physicians consistently made up about a third of students enrolling in the University's Executive M.B.A. in Health Care Administration Program.
The new dual program is restricted to Miller students who have completed their third year to ensure they are fully immersed in medical training before taking on a new discipline. The M.B.A. year will take the place of the traditional fourth-year of medical school, when students will take 36 credits. In the students' additional year of school—a fifth year—the M.D./M.B.A. group will spend a majority of their time in clinical electives and subinternships, but they will be required to also complete six additional M.B.A. credits.