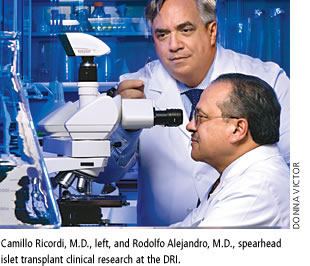 Recently launched clinical trials at the Miller School's Diabetes Research Institute (DRI) aim to improve upon the "Edmonton protocol," the existing treatment for patients with severe type 1 diabetes that was widely accepted as the standard of care in 2000, when a research team led by James Shapiro, M.D., Ph.D., at the University of Alberta in Edmonton, Canada, reported sustained insulin independence in patients transplanted with islet cells from donor pancreases and treated with an immunosuppressive regimen.
Scientists at the DRI will join ten medical centers in the United States, Canada, Sweden, and Norway as part of a trial to test new approaches to islet transplantation in adults with difficult-to-control type 1 diabetes.
The clinical studies—funded by the National Institutes of Health and referred to as the Clinical Islet Transplantation Consortium—will determine whether changes to the current methods of islet transplantation lead to improved, long-lasting control of blood glucose with fewer side effects.
"These trials are built on the cumulative expertise of global leaders in the field of diabetes research," says Camillo Ricordi, M.D., scientific director of the Diabetes Research Institute, who also serves as study chair for this prestigious group. The Miller School will be involved in three different islet transplant studies, each with a different combination of medications to protect the newly transplanted insulin-producing cells.