Brooke Zepp had a lot of people to thank for the successful removal of the tumor in her abdomen—17 to be exact. But as she sat in front of a room full of journalists watching a video of the 15-hour surgery during which six of her organs were removed and re-implanted, she could only say, "I'm glad I had a good anesthesiologist."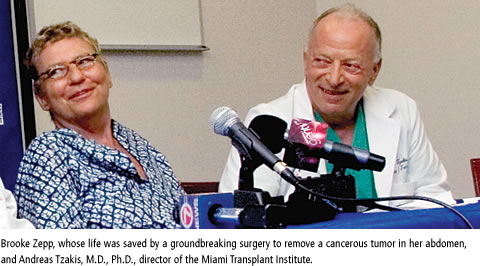 The groundbreaking procedure performed by six Miller School surgeons, two anesthesiologists, and eight nurses required removing six intra-abdominal organs (which were chilled and preserved outside the body), partially removing several arteries, replacing many blood vessels with artificial ones made from Gore-Tex, removing the tumor, and re-implanting the organs.
Ten months before the news conference, other doctors told 63-year-old Zepp that the two-inch tumor was inoperable. It was wrapped around the aorta and the base of the celiac and superior-mesenteric arteries, which supply blood to the stomach, pancreas, liver, spleen, small intestine, and two-thirds of the large intestine. After the initial diagnosis of leiomyosarcoma, a rare form of cancer, she underwent a combination of chemotherapy and radiation at other medical centers, but the treatments failed.
They gave her six months to live.
Zepp turned to the surgical team at the Miami Transplant Institute at the University of Miami Miller School of Medicine and Jackson Memorial Hospital, which offered the novel approach—believed to be the first of its type in the world.
On March 28 she was discharged from Jackson Memorial Hospital after the historic surgery.
"We've done pieces of the puzzle, but not the entire thing at one time," said Andreas Tzakis, M.D., Ph.D., director of the Miami Transplant Institute. "She was the perfect patient for this surgery because she had a locally invasive tumor. It's not that the tumor was so big that made the procedure complex, but that it was located in the middle of everything."
During the surgery, Zepp was kept stable by assistant professor of anesthesiology Yehuda Raveh, M.D., while surgeons repaired the arteries and reconstructed the blood vessels, and Tzakis, stationed at the "back table," removed the tumor and prepared the organs to be replaced. Additional Miller School physicians supported the procedure in their respective specialties, including Maria Abreu, M.D., chief of the Division of Gastroenterology, Paul Martin, M.D., chief of the Division of Hepatology, and professor of surgery Danny Sleeman, M.D.
News of Zepp's surgery traveled around the world, with coverage by media outlets including Reuters, CNN, ABC News, CBS Evening News, The New York Times, and Good Morning America.