Some unexplained phenomenon appears to have touched the University of Miami medical school class that arrived in September 1981. The Class of 1985 would wind up leading the way when it comes to producing Miller School faculty members and attending physicians. Almost a quarter-century after earning their M.D. degrees, 11 doctors from a graduating class of 170 are still at the place where their medical careers started. The "Magnificent Eleven" are large and in charge in terms of the influence they wield in lecture halls, operating theaters, and research labs around the medical campus.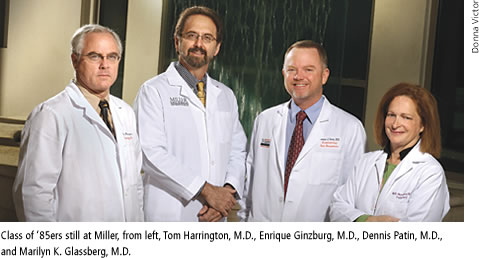 Why did so many members of the Class of '85 put down roots in a setting stirred by racial unrest, cocaine cowboys, and the Mariel Boatlift when the class began its medical training? That question was posed to several '85ers, and each had a different answer. In alphabetical order, the Magnificent Eleven are:
William Darpini, M.D., assistant professor of family medicine and clinical site physician at University of Miami Physicians at Kendall
Enrique Ginzburg, M.D., professor of surgery, Division of Trauma and Surgical Critical Care
Marilyn K. Glassberg, M.D., associate professor of medicine, Division of Pulmonary and Critical Care Medicine
Tom Harrington, M.D., assistant professor of clinical medicine, Division of Hematology/Oncology
Gail Ironson, M.D., Ph.D., professor of psychology and psychiatry and behavioral sciences
James J. Jacque, M.D., assistant professor of anesthesiology, Department of Anesthesiology
Daniel H. Kett, M.D., professor of medicine and director of the Medical Intensive Care Unit
Walter Lambert, M.D., associate professor of clinical pediatrics and medical director of the UM Child Protection Team
Dennis Patin, M.D., associate professor of clinical anesthesiology and division chief, Anesthesiology, Perioperative Medicine and Pain Management, UM/Sylvester
Alberto A. Penalver, M.D., assistant professor of psychiatry and behavioral sciences and director, JMH Mental Health Psychiatric Emergency
Fred Telischi, M.D., professor and vice chairman, Department of Otolaryngology, and director, University of Miami Ear Institute
The list would be even longer if at least three 1985 graduates who were faculty members hadn't moved on.
Marilyn K. Glassberg, M.D., who was born in Jackson Memorial Hospital and whose father was an adjunct UM medical school professor, believes the Class of 1985 was affected by "Jackson energy." Her classmates felt duty-bound to take on Miami's health care challenges, Glassberg says. "We were pretty involved in the whole Jackson thing, in terms of taking care of patients," she recalls. "So we would take on extra responsibilities as medical students.
"I remember as a senior medical student purposely taking an intensive care unit elective so I could be the only medical student in the unit and basically get to help run it," Glassberg says. "We had a lot of resident supervision, so that gave us a lot of responsibility." Couple that with an enthusiastic faculty, and you have the reason why many of her classmates never left, Glassberg reckons.
"There was something about that Jackson energy, about taking care of patients who really needed you. I think that the class had a very big sense of community."
Enrique Ginzburg, M.D., recalls that his '85 compatriots all knew medicine could be lucrative, but most didn't appear motivated by the almighty dollar. "Maybe it's our generation, which grew up with a little bit more idealism with respect to medicine," he says. "And academics probably reflects that idealism when it comes to the practice of medicine. That's the only way I could read it.
"When I think back on our class, I don't remember too many people who were going into whatever field they were going into strictly for financial gain," recalls Ginzburg, who hasn't regretted his decision to stick around. "The University has provided me with multiple channels to pursue whatever it is that I want to pursue of interest in medicine." From a personal standpoint, Ginzburg says he and his family view Miami as home after emigrating from Cuba in 1960.
Daniel H. Kett, M.D., says he isn't oblivious to the positives of private practice, and every five years or so investigates what the marketplace has to offer. "It gives me the perspective that what I'm still doing here is very good," he says. "I've always decided to stay because I still like the type of medicine that I do. I like the educational component, and I like the research."
As for why so many of his classmates are on the medical campus with him, Kett doesn't know. "I don't know why there are so many people who have stayed on as faculty," says Kett, who was raised in Fort Lauderdale. "I don't know if there's anything unique about 1985 that 1984 or '86 wouldn't have had."
Fred Telischi, M.D., grew up in a suburb of Boston prior to wedding himself to the Miller School and Miami. Telischi says nationwide developments in health care during the early 1980s filled many of his classmates with trepidation. "Health care reform was really taking shape, and managed care was severely limiting the ways people could practice," he remembers. "Gatekeepers were being utilized, and it was difficult for patients and difficult for physicians."
Beyond that, when it comes to the Class of 1985, "maybe we all had an academic bent," Telischi says. "A lot of my mentors were academic physicians, and I wanted to be just like them. Teaching is a lot of fun—it's just a valuable thing to do."
Dennis Patin, M.D., says the Class of 1985 is "probably no different than other classes. We all got along, and there was a lot of teamwork. But I don't remember a commitment to service."
Then why are he and so many of his mates still here?
"Maybe we just like the place," Patin says, smiling. "I can't attribute it to anything else!"