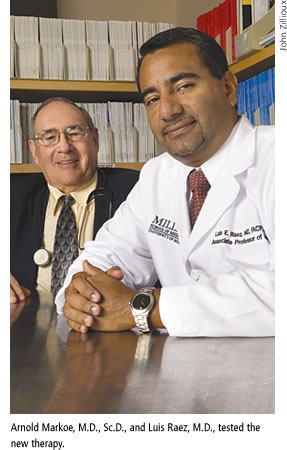 Of newly diagnosed cancers in adults in the United States, squamous-cell carcinoma of the head and neck accounts for just 5 percent—but when it's discovered, patients usually have an advanced form of the disease. Now the standard of care for those patients is improving. Two University of Miami Sylvester Comprehensive Cancer Center physicians were among the authors of a study published in The New England Journal of Medicine, showing that docetaxel (Taxotere®) helped save lives when used in combination with two other drugs as an initial chemotherapy treatment.
Luis Raez, M.D., director of the hematology/oncology clinics and co-leader of the Lung Cancer Site Disease Group, and Arnold Markoe, M.D., Sc.D., professor and chairman
of the Department of Radiation Oncology, treated 16 patients, making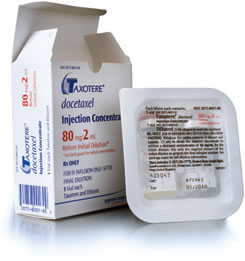 UM/Sylvester one of the largest of 55 study sites in the United States, Canada, Europe, and Argentina.
Patients in the Phase III study were either given an initial chemotherapy treatment of cisplatin and fluorouracil (PF), which has been the standard of care, or those same two drugs plus docetaxel.
"Patients who received induction chemotherapy that included docetaxel fared much better," says Raez. "They had a significantly longer three-year survival, longer time to progression, and better overall survival than patients who received induction chemotherapy without docetaxel."