Supporting Vital Research
Janet Goldstein establishes Pancreatic Awareness Fund in husband's memory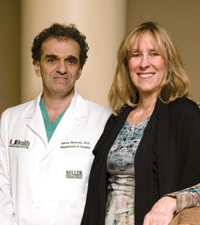 Danny Sleeman, M.D., a professor of surgery, is investigating strategies to improve care for pancreatitis, which took the life of Janet Goldstein's husband, Stephen.
Stephen Goldstein had a Midas touch when it came to owning and running successful Miami-area delicatessens. A fixture behind the cash register, the outgoing Goldstein always had a joke for his customers. "It could be the same joke over and over, but he always had one," chuckles Goldstein's widow, Janet Goldstein. "He was a funny guy."
The deli business even facilitated the couple's union—their first meeting occurred when Janet patronized her future husband's eatery in Miami Beach. Blessed with such a hardy constitution that he rarely caught a cold, Goldstein routinely worked six days a week to ensure that his Miami Beach establishment and one in North Miami remained prosperous.
But toward the beginning of 2005, as Goldstein approached his 60th birthday, he began winding down his life as an entrepreneur to spend more time with his wife.
One day in late May 2005, Goldstein awoke with what seemed to be the most excruciating stomachache he'd ever experienced. He and his wife traveled from their home in Hollywood to Aventura Hospital and Medical Center, where emergency room personnel suggested that pancreatitis could be behind Goldstein's distress.
"I had never heard of pancreatitis, although I knew about pancreatic cancer," Janet Goldstein says. Her husband was officially diagnosed with pancreatitis—inflammation or infection of the pancreas. After Goldstein was placed in intensive care, Janet Goldstein began seeking out South Florida's top pancreatic specialists.
She was referred to Danny Sleeman, M.D., a professor with the Miller School's DeWitt Daughtry Family Department of Surgery. "I e-mailed and called him, and he said he would come by (Aventura Hospital and Medical Center)," recalls Janet Goldstein, who had never met Sleeman. "Maybe he heard the desperation in my voice.
"The first time Dr. Sleeman came by was on a Sunday, and he spoke to the interventional radiologist there," Janet continues. "Dr. Sleeman's an amazing man. It just goes to show that there are physicians around who have feelings and are devoted to their medical lives."
Unfortunately, Stephen Goldstein succumbed to his illness on August 1, 2006. His death prompted Janet Goldstein to create the Stephen B. Goldstein Pancreatic Awareness Fund, www.sbgpancreatitis.org. Donations to the fund are earmarked for Sleeman's use.
"Pancreatitis is still very poorly understood," observes Sleeman. Buoyed by encouragement and counsel from her children, Jarrad Paul Goldstein and Maris Orlinsky, Janet Goldstein is making it possible for Sleeman to conduct pancreatitis research.
"Janet saw the effect that pancreatitis had on her, as well as her son and her daughter, and she doesn't want other people to go through that," Sleeman adds.