A New Chair for Psychiatry
Renowned clinician-scientist Charles B. Nemeroff joins the Miller School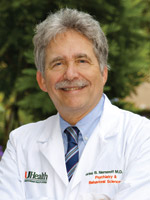 Charles B. Nemeroff, M.D., Ph.D.
One of the world's leading experts in the field of psychiatry, Charles B. Nemeroff, M.D., Ph.D., has joined the Miller School as professor and chairman of the Department of Psychiatry and Behavioral Sciences. Nemeroff spent the past 18 years building the psychiatry department at Emory University School of Medicine in Atlanta into one of the top ten departments in the United States.
"The Miller School needs a strong leader in psychiatry and behavioral health, and we have found that person in Charlie Nemeroff," says Dean Pascal J. Goldschmidt, M.D. "Like other large metropolitan areas, South Florida has a sizeable population of individuals with significant mental health disorders, and the presence of a world-class leader in psychiatry can positively impact the community in a broad and deep manner."
Nemeroff has compiled a remarkable record of scientific contributions in psychiatry over the course of his career. For the past two decades, he has focused his research on the relationship between child abuse and neglect as a risk factor for the development of depression and anxiety disorders in adulthood. In particular, he has examined through brain imaging and neurochemical testing what happens to children's brains when they are exposed to traumatic life events that leave them vulnerable in adulthood.
"It turns out that individuals with depression and a history of child abuse or neglect physically have a different brain than patients with depression without child abuse," explains Nemeroff. "Two-thirds of patients with chronic depression of two years or longer had experienced child abuse (sexual or physical), loss of a parent, or severe neglect."
In his new position, Nemeroff plans to expand already very strong areas at UM, such as aging and related complications including memory loss and depression; HIV, especially as it impacts women patients and caregivers; and drug abuse. He also will seek to enhance the research portfolio by recruiting experts in mood disorders, schizophrenia, and the interface of physical illness and psychiatry.
"As academic psychiatrists, we have an obligation to take evidence-based medicine and pass that knowledge on to physicians in the community to help elevate the level of care everywhere," Nemeroff says.
Nemeroff also plans to use brain imaging, along with genetic markers, to tackle one of the most critical issues in psychiatry today—the failure of patients to respond to treatment. "It is very important to match a patient with a treatment that will work," Nemeroff explains.
Another area of research is what Nemeroff calls the "curious" relationship between depression and heart disease. "I am very excited about moving this area forward at UM because of the very strong cardiology program already in place," he says. "Surprisingly, depression is as great a risk factor for developing heart disease as is smoking."
Nemeroff received his M.D. and Ph.D. in neurobiology from the University of North Carolina at Chapel Hill. His residency training in psychiatry took place at both the University of North Carolina and Duke University. Following his residency, he joined the faculty at Duke. In 1991, he became chairman of psychiatry at Emory, where he led a department previously considered average to a place among the best in the nation.