1970s
Jamie S. Barkin, M.D. '70, a Miller School professor and chief of Mt. Sinai Medical Center's Division of Gastroenterology, has received a Mastership title from the American College of Physicians (ACP). The title was conferred at the ACP's convocation ceremony during its annual meeting in May. Mastership is bestowed upon select Fellows in recognition of stellar career accomplishments and service.
Marin A. Cohn, M.D. '70, is president and medical director of the Naples-based Sleep Disorders Center of Southwest Florida, and Omnitrials, a clinical drug trial research center. Cohn has completed more than 50 clinical drug studies, with a focus on new hypnotics, and remains active in clinical practice and research.
1980s
Ronald A. Eason, M.D. '82, has been the assistant director for medical education, OB-GYN, for Winnie Palmer Hospital for Women & Babies, Orlando, Florida, for the past three years. He is in limited private practice, and his current responsibilities for resident education will soon expand to include medical student education through the new University of Central Florida College of Medicine. Eason is also a faculty member at the Florida State University College of Medicine's Orlando campus. He joined Winnie Palmer Hospital following four years of Air Force service and 16 years of private practice.
Ben Greenberg, M.D., Ph.D., '87, an associate professor with Brown University's Department of Psychiatry and Human Behavior, is a member of the Obsessive-Compulsive Disorders (OCD) research team at Butler Hospital, Providence, Rhode Island. Greenberg is exploring psychosurgery as a treatment option for OCD symptoms. Greenberg did his psychiatry residency at Johns Hopkins Hospital, Baltimore.
Jorge E. Rodriguez, M.D. '83, frequently appears on national television to discuss a wide variety of medical and health topics. A primary care physician who is board certified in internal medicine, Rodriguez is affiliated with Hoag Memorial Hospital Presbyterian, Newport Beach, California. He is a co-founder of the American Academy of HIV Medicine and a former president of the California Chapter of the American Academy of HIV Medicine.
Charles Sand, M.D. '85, is medical codirector of St. Joseph's Hospital's emergency department, Tampa, Florida. Sand is also medical director of Bayflite Air-Medical Trauma and critical care helicopter service as well as medical director of the Hillsborough Community College Paramedic-EMT Program.
1990s
Suzanne Graham-Hooker, M.D. '90, is a staff physician at the Auburn University Medical Clinic in Auburn, Alabama. Graham-Hooker is also a faculty member of the Auburn University School of Pharmacy, where she teaches and mentors fourth-year pharmacy students. Graham-Hooker is married and has two daughters, ages 21 and 15.
Mario Sequeira, M.D. '93, in November was named Surgeon of the Year for 2009 by his peers during the 28th annual meeting of the Florida Society of Dermatologic Surgeons (FSDS), which took place in Orlando. The FSDS is one of the largest state dermatologic surgical societies in the country, with more than 275 members. Sequeira specializes in micrographic skin cancer surgery and practices at Brevard Skin & Cancer Center, which has offices in Rockledge, Titusville, and Viera, Florida.
2000s
Farzanna Haffizulla, M.D. '00, has started a private practice in Tamarac, Florida, that offers patients house calls as well as office-based clinical health care. Haffizulla takes advantage of mobile diagnostics and electronic records in her practice. She is a science faculty member at the American Heritage School in Plantation, Florida, where she teaches honors organic chemistry. She and husband Jason Haffizulla have three daughters.
In Memoriam
Terry Elliott Merkin, M.D. '71, died February 28, 2010, at his California home after a prolonged illness. He was 66. Merkin had a fulfilling career that spanned family practice, emergency medicine, and hospice and palliative care. He was an enthusiastic hiker, cross-country skier, and world traveler. Through the U.S. State Department, he also practiced medicine in Alaska, Africa, and Mexico. He is survived by wife Elizabeth; children Matt, Jake, Maggie, and Max; brother Dick, M.D. '72, and other family members.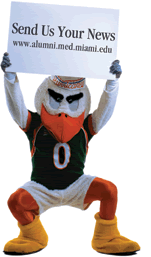 Send Us Your News and Letters
Send letters to to the editor to magazineletters@med.miami.edu. Enjoy reading about your classmates in Class Notes? Take a moment to share some news about yourself in a future issue of Medicine magazine. Submit your news online to: www.alumni.med.miami.edu. We will print your news in the first available issue.