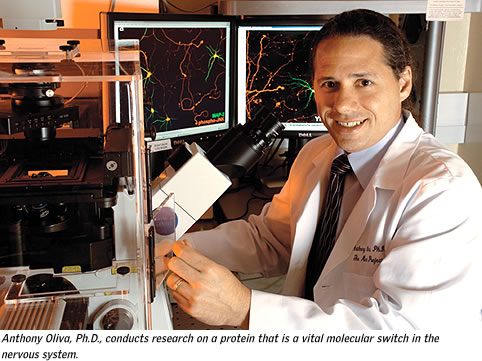 Anthony Oliva, Ph.D., an assistant scientist in the laboratory of Vance Lemmon, Ph.D., at The Miami Project to Cure Paralysis, has discovered a new role for what he refers to as "junk." In the world of biochemistry, when he says "junk," he is talking about c-Jun N-terminal kinase (JNK), a protein in the nervous system that controls complex processes in cells.
Researchers are learning that JNK plays many different roles in the chemistry of the nervous system. In some instances, JNK is responsible for switching on cell death, while at other times it may signal regeneration. Oliva and his colleagues, including his wife, Coleen Atkins, Ph.D., were the first to show that when a neurite makes the commitment to become an axon, JNK plays a critical role in its formation.
For decades researchers have known the sequence in which these structures develop. "If you do live cell imaging," explains Oliva, "the neurites grow and retract, grow and retract. The neurites all have similar lengths until all of a sudden one undergoes a prolonged growth spurt. That's the one that becomes the axon, and the others become the dendrites." While this physical growth process has been easily observed under the microscope, the biochemical events that take place to control the formation of axons are only beginning to be known.
To clarify JNK's role in axon development, Oliva carried out research that led him to conclude that JNK is definitely an important molecular switch for axon growth. In cell culture studies, when he blocked the activation of JNK, the developing neuron did not form an axon—yet dendrites still appeared to form normally. When he released the block to allow JNK to be activated, an axon formed. This new discovery opens up the possibility of developing new treatment strategies for neurological disorders—ones that might flip an intrinsic switch in injured adult nerve cells and restart axon development.