Opportunities to fight urologic diseases, pay homage to a master physician, and simultaneously enjoy the adult equivalent of a Disney E-ticket ride don't materialize often. Which explains why some 300 people recently converged on Aeroservice Aviation Center, about a block from Miami International Airport, for a fundraising gala feting Mark Soloway, M.D., professor and chair of the Department of Urology at the Miller School.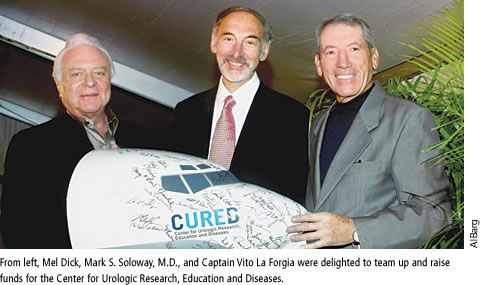 Following a champagne tasting made possible by event emcee Mel Dick, an executive with Southern Wine & Spirits of America, donors had a chance to "fly" in flight simulators used to certify commercial jetliner pilots. Proceeds from "A High Flying Celebration in Honor of Mark S. Soloway, M.D.," which took place in January, benefitted the Miller School's Center for Urologic Research, Education and Diseases (CURED).
Before any throttles were advanced or switches flipped, CURED benefactors tasted some of the world's finest champagnes, participated in a silent auction, and listened to remarks under three white tents erected in Aeroservice Aviation Center's parking lot. Up next was a rendezvous with several multimillion-dollar, two-story flight simulators awaiting just behind Aeroservice Aviation's walls.
The celebration was hosted by Captain Vito La Forgia, the owner and CEO of Aeroservice Aviation Center and a longtime Miller School supporter.
"When Mel Dick initially asked me to be the honoree for this event, I agreed reluctantly," Soloway informed an audience that included UM President Donna E. Shalala and Congressman Lincoln Diaz-Balart.
"I'm a private person, but I agreed because it's critical for the Department of Urology to build upon our incredible research successes and patient-care achievements by raising money for CURED," Soloway said.
Unbeknownst to him, a surprise was in store: His son, Scott Soloway, M.D., a psychiatrist practicing in New York City, had flown in for the event. "As a child, my pets were laboratory mice," he said. "But unlike most pets, the mice would one day mysteriously disappear. They had to go back to the laboratory to meet their fate."
That brought knowing nods from Soloway's other child, Deanna Soloway-Simon, M.D., a pediatrician working in Broward County.
In the evening's final segment, donors contributing $500 and up were transformed into jetliner first officers and captains, under the watchful gaze of real pilots who serve as flight instructors.
The airspace over Miami was soon full of jumbo jets executing maneuvers that would have prompted a Miami International Airport shutdown in real life. But in this instance, they only led to enchanted smiles, raised hundreds of thousands of dollars for CURED, and further burnished the reputation of a doctor with a distinguished career more than three decades long.
"Vito La Forgia is CURED's guardian angel," Soloway said. "His commitment to our cause is a reflection of how he has lived his life."