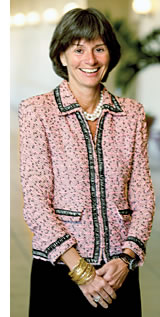 Achievement. With the opening of University of Miami Hospital, the Miller School of Medicine became a member of an elite group of medical schools that own their own acute-care hospital. This incredible achievement, though, brings with it immense responsibility to our staff, to our physicians, to our patients, and to our community.
The goal of the Miller School of Medicine, for UM Hospital, is to be the first choice for health care for the residents of South Florida, if not the world. We are developing world-class programs in cardiology, orthopaedics, minimally invasive surgery, and genetic research that will allow us to achieve that goal. We have recruited renowned clinician-scientists to lead these programs at UM Hospital. Along with these leaders, we are enhancing technology and equipment to provide the most advanced capabilities in medicine today. (Some of the procedures offered within our health system are detailed in the story on our Cardiovascular Division, on this page).
At UM Hospital we are also designing state-of-the-art catheterization and electrophysiology labs that will be the first of their kind in the United States. Combined with innovative technology, leading research, and clinical trials, the Cardiovascular Division at the Miller School of Medicine will be second to none.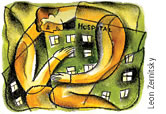 UM Hospital also will be the home of a new sports medicine program. Under the leadership of Lee Kaplan, M.D., the program will focus on the most advanced wellness for athletes, with a view to quickly mending their injuries and returning them to the sporting activities they love. To facilitate immediate access and evaluation of patients, a new clinic will be built and existing ambulatory operating rooms will be redesigned to include leading diagnostic technology.
New surgical techniques, including advancements in minimally invasive surgery, will be possible with our da Vinci Surgical Systems robot. Recruitment of a world leader in robotic cardiac surgery will strengthen the surgical team in laparoendoscopic and bariatric surgery.
But developing a world-class health care destination is more than new technology and outstanding clinicians. To help boost University of Miami Health System's already exemplary service, we have engaged the Studer Group to coach us on techniques and methodologies that will enhance our ability to provide the most effective communication and the finest care possible to our patients. We are focusing on our leadership to create the environment that will sustain service and operational excellence.
At UM Hospital we strive to provide the safest patient-centric care—care that will achieve the highest quality patient satisfaction and care that is accessible and efficient. We are working throughout the UM Health System to create a culture of caring and accountability for our patients.
With the introduction of UM Hospital into our family of health care facilities, we have begun the blending of cultures with community physicians working alongside Miller School faculty. With this blending comes the challenge of creating a seamless environment of quality service. Our focus on effective leadership across the continuum of our facilities will enhance the development of one culture dedicated to providing our patients with immediate access to safe, effective, patient-centric care.
I am honored to be a part of the team building this world-class health care environment that is providing the safest and best therapies to all patients who seek medical attention at University of Miami Health System.
Michele Chulick is associate vice president and director of hospital operations for University of Miami Health System.