From the Ground Up
By Dwayne Campbell
Ronald A. Bogue is not a healer. But when the Miller School doctors, nurses, and other volunteers began their race against time to save survivors of the massive earthquake in Haiti, there was little question that the logistical and construction skills he perfected in the military would be invaluable.
With leadership from a seasoned veteran of challenging logistics, the Miller School team built an entire hospital to care for wounded Haitians in less than a week. Click here to view a larger version.
Arriving soon after the January 12 quake via private plane at the Portau- Prince airport—where medical volunteers were performing miracles by the minute in a pair of United Nations tents—Bogue managed his own amazing feat. Working with a small team, the Miller School's assistant vice president for facilities and services built a tented 25,000-square-foot, 240-bed University of Miami Hospital in Haiti in just days.
Bogue, his son Chris, a West Point graduate, and other volunteers worked night and day to clear six acres, lay 12,500 square feet of plywood floors, install 240 tons of air conditioning units and four powerful generators, and track down myriad crucial supplies. In a country without a trauma hospital or network before the earthquake, the finished product was a medical marvel.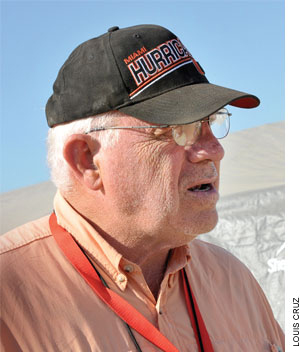 Ronald A. Bogue
"Nothing is impossible," says Bogue, a tower of a man whose calm voice and precise words motivate people to respond with urgency. "Once they tell me they want a hospital, the first thing that kicks in is, 'Where?' Give me the geographic constraints, the resources, and the prioritization, and I'll do everything to get it done as quickly as possible. This was a matter of life and death."
The hospital was needed as quickly as possible because the U.N. cargo tents, where UM's first responders began treating and triaging nearly 250 severely injured patients a day after the quake, were inadequate. The stench of urine and rotting flesh permeated the air. Doctors were amputating limbs outside, on kitchen tables. IVs were crudely strung. Cots were haphazardly squeezed together, with children and adults lying side by side.
More volunteers and supplies kept pouring in, but so did more patients and families. Soon conditions had, in the words of Enrique Ginzburg, M.D., chief medical officer for UM operations at the time, "grown untenable.
"Everyone was living and sleeping together inside or outside in unbearable and unhygienic conditions," says Ginzburg, a professor of surgery in the Division of Trauma and Surgical Critical Care. "Ron showed up and made things better. And he did it in record time."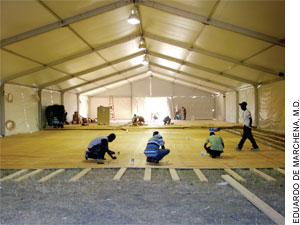 Volunteers lay the plywood floor for one of the tents of the hospital UM erected at the Port-au-Prince airport in the wake of the earthquake.
Amid chaos, Bogue possesses the ability to zero in on exactly what needs to be done. During two decades in the Army Medical Service Corps, he ascended to lieutenant colonel and oversaw the construction and operation of military hospitals in Europe, the Middle East, Central America, and other parts of the world. That experience makes Bogue an asset to the University of Miami Health System–UHealth on a daily basis and a key player on any team the medical school sends to help when major disasters strike.
Still, when Bogue arrived in Haiti, he was surprised to find even more putrid and paralyzing sights than he had witnessed as a captain in Vietnam.
"You can visualize to a point, but until you get on the ground and see crushed limbs, until you smell the death, you cannot fully understand what you have to deal with and what the people in Haiti have to live with," says Bogue.
While scenes of such horror were difficult to stomach, they inspired Bogue to stay focused on his work. He completed three tours at the hospital. Another son, Jeff, a flight paramedic, joined his father and brother in Haiti, pitching in with the same mix of skill and compassion.
"To be successful, you have to have the compassion but, at the same time, you have to be thinking ahead," Bogue explains. "After a disaster there will be a lot of activities you can't support in the beginning, but you make do for now and find a more intuitive way tomorrow."
Bogue's intuition, negotiation, and persuasion enabled him to wrangle all the equipment and supplies he needed to clear the land for the hospital and make the tents functional and operating rooms as close to sterile as possible. Event Star, the South Florida events company that donated the tents with the help of basketball star Alonzo Mourning, also sent eight workers to Haiti to help Bogue with the construction.
Soon after, Bogue and his team improved the temporary facility to make it more secure and the operating rooms more sterile. He also made security part of his duties, initiating a program to ensure the safety of volunteers. "Without Ron, countless lives, as well as the security and health of our own volunteers, would have been compromised," says Ginzburg.
Today the hospital, which UM transferred to Project Medishare in February, has moved to a temporary building and remains a beacon of hope for patients and a model for the national trauma, critical care, and rehabilitation network that Haiti desperately needs.
"We didn't hesitate to rush in at a time when we were needed, and that's the way we have always operated," says Bogue. "The most rewarding part is that, in a tragedy of this magnitude, we were able to make a difference."