Team Effort
By Blair S. Walker | Photos Courtesy Jenna Green
The success of the Miller School's medical relief mission in Port-au-Prince was aided enormously by community leaders, expert financial oversight, and a crackerjack trio of fundraisers.
The day Port-au-Prince changed forever started as just another busy workday for Marianne Finizio, vice chair for administration in the Miller School's Department of Neurological Surgery, and Lazara Pagan, chief operating and nursing officer for the Sylvester Comprehensive Cancer Center and University of Miami Hospitals and Clinics.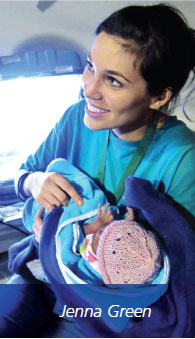 But within 24 hours, Barth Green, M.D., chair of neurological surgery and co-founder of Project Medishare, had given Finizio and Pagan financial and operational oversight of the massive medical relief effort launched for the Haitian earthquake by Project Medishare and the UM Global Institute for Community Health and Development.
Fortunately, the disaster unleashed an outpouring of charitable giving for the sister organizations. Businesses, nonprofits, and individuals all wanted to help.
"At a time like that, you don't want money to be wasted," says Harve Mogul, president and CEO of United Way of Miami-Dade, which gave $150,000. "You want your money to get directly to the people who need it. Project Medishare met that criterion."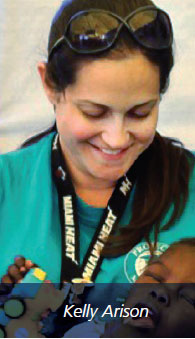 Within weeks, an energetic fundraising trio with ties to UM and the South Florida community had amassed millions of dollars in donations and in-kind gifts, including airplanes, air crews, medical equipment, and pharmaceuticals. Jenna Green, who is Barth Green's daughter, and Kelly Arison, a close friend, were tied to their cell phones and laptops day and night as they reached out to potential donors to sustain UM's field hospital in Port-au-Prince.
"I've grown up watching my father do whatever he could to improve health care delivery throughout Haiti," says Jenna Green. "Kelly is a kindred spirit as well as a tireless worker who would not take no for an answer when knocking on doors of major corporations. So things really worked out well."
The pair was soon joined by Catherine Murphy, a former Washington, D.C., event planner, who had worked for Ocean Drive magazine founder Jerry Powers. Murphy "immediately grasped our mission and kicked into gear to secure flights for our medical volunteers," Finizio says.
Indeed, Murphy, who volunteered for six weeks before becoming a full-time fundraiser for the Global Institute, was in sync with the medical relief operation's ethos. "I saw an incredible grassroots effort to help the people of Haiti," she recalls. "It restored my faith in humanity."
Working under intense pressure with life-and-death ramifications, the trio used their extensive network of contacts to facilitate the movement of supplies, volunteers, and medical equipment to Haiti and flights back to Miami for severely injured survivors.
By late January, Brian Tewes, who has accounting and auditing expertise, joined the fundraising team and kept track of donations. By March, Tewes says, the Global Institute and Project Medishare had enough cash to sustain the field hospital for four additional months.
Still, as Finizio notes, tremendous philanthropy will be required to establish the critical care and rehabilitation network Haiti needs: "As caring as donors were following the earthquake, we definitely could use a comparable level of generosity and largesse moving forward."