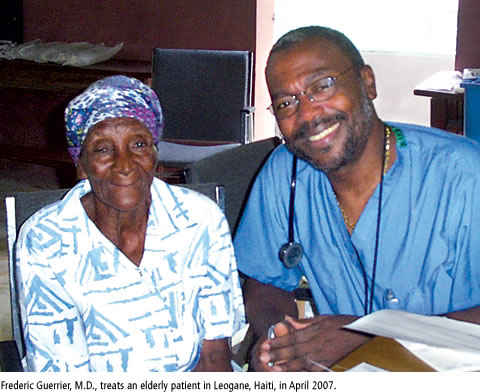 Imagine parachuting into a strange world where everyone—teachers, classmates, neighbors—babbles in an exotic new tongue, making you utterly dependent on a dog-eared French/English dictionary, the kindness of strangers, and mother wit.
So it was for Frederic Guerrier, M.D. '81, immediately after arriving in Miami from Port de Paix, Haiti, when he was 16. His initial sense of feeling overwhelmed and vulnerable has given Guerrier a unique window on what many patients experience. The big-hearted family medicine doctor always goes the extra yard for them, dispensing smiles and disarming jokes along the way.
In private practice in St. Petersburg, Florida, Guerrier began doing pro bono work the second Tuesday of each month for the St. Petersburg Free Clinic in 1982. During the intervening 26 years, he's never missed a Tuesday. Guerrier also gives $2,000 every year to a St. Petersburg college scholarship fund for underprivileged children.
"I've got a very good life," explains the 53-year-old father of two adult daughters. "All I have to do every day is get up, be nice to people, give them a few words of encouragement, write a few prescriptions, and then they take care of me! They pay my mortgage, my car note, put food on my table, and they give me a good life," laughs Guerrier. "So the least I can do is give some of it back."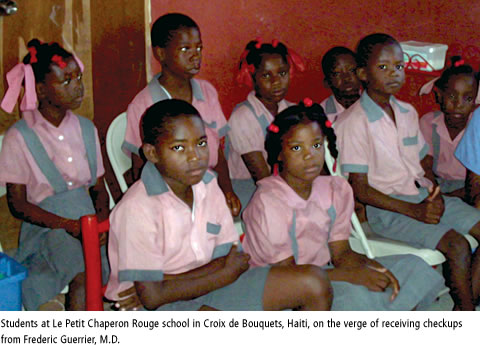 Since getting out of medical school, Guerrier has been faithfully chipping away at debts of gratitude he says are due UM, his patients, and his mom, Denise Pierre Louis.
"My mother is a beautiful story," Guerrier says of the woman he and his five siblings have dubbed "Gracie." "My mom was a maid in Haiti, and she worked in Miami Beach as one.
"Somehow, Gracie saved enough to bring me and five brothers and sisters with her from Haiti to the United States."
Her faith, sacrifice, and vision were rewarded when Guerrier and his siblings went to college—the University of Miami, University of Florida, Florida International University, and the University of South Florida—and all earned degrees.
But first Guerrier had to graduate from Miami Jackson Senior High School, which he entered speaking Creole only. "I had to have a dictionary in front of me at all times," he says of an educational journey that allowed him to enroll in the University of Florida as a chemistry major.
"Which was amazing, because I didn't speak any English," Guerrier chuckles. "In math and science, if the equation comes out OK you don't need to speak English!"
Unable to afford a car, Guerrier rode his bicycle throughout UF's campus and Gainesville. Sterling academic achievement paved the way for admittance into UM's medical school.
After returning to Miami, Guerrier moved back in with his mother. Rain or shine, he bicycled to med classes from his home near NW 36th Street and NW 9th Avenue, a 2.3-mile trek each way. Weary of relying on pedal power, during his third year Guerrier approached the late John K. Robinson, M.D., who was associate dean for student affairs.
"He was a great guy, with his white shirt, blue pants, and bow tie," Guerrier reminisces. "I remember him well. Dr. Robinson called up Palm Bank, they gave me an $800 loan, and I got a car. A used Toyota Corolla.
"That's why I always give to the John K. Robinson Fund," Guerrier continues. "No matter how bad you were feeling, whenever you saw Dr. Robinson, you had to smile. He's a legend."
Guerrier found surgery, delivering babies, and interacting with patients gratifying. Family medicine offered the best of all worlds, so he gravitated in that direction.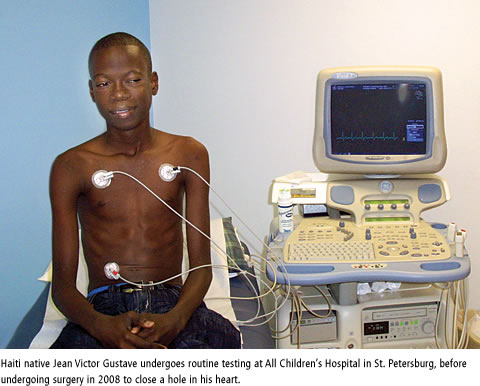 While on a medical mission in Haiti in 2007, Guerrier examined Jean Victor Gustave, 16, who tired easily and had a rapid heartbeat. The physician had a hunch the child had a hole in his heart, which proved correct. Guerrier arranged for the boy and his mother to get medical visas for a trip to St. Petersburg.
He also took care of their travel and accommodations for two journeys to St. Petersburg, where the boy has twice undergone heart surgery. Characteristically, Guerrier downplays his involvement.
"You're put on this earth for a reason—occupying space is not an option," he says. "You've got to do something, and you've always got to do it from the bottom of your heart, expecting nothing."
Frederic Guerrier has adhered to that credo admirably.