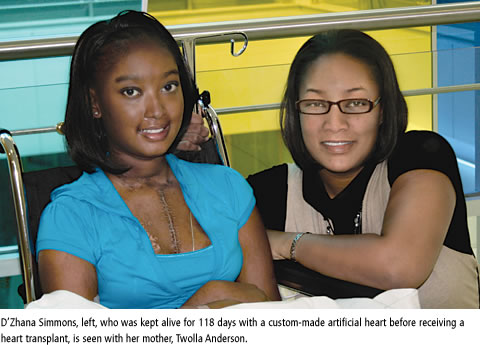 As D'Zhana Simmons goes about her daily life and tries to conform to teenage norms, she remembers the extra blessings bestowed upon her and the miracles of modern health care at Holtz Children's Hospital at the University of Miami/Jackson Memorial Medical Center.
Last November D'Zhana celebrated her 15th birthday a few days after being released from the hospital, where she was kept alive for 118 days with a custom-made artificial heart, a medical feat that made news around the world. D'Zhana, believed to be the first pediatric patient to survive without a heart while her circulation was supported with the unique device, was featured on national network TV news, Reuters, the Associated Press, The Washington Post, Forbes, The Miami Herald, The New York Times, and media outlets as far as the United Kingdom, Greece, Spain, and China.
"It was really scary being hooked to a machine for four months," the teenager said at a news conference on November 19.
Last year D'Zhana began having pain on the left side of her abdomen. After being transferred to several hospitals in her home state of South Carolina, she was diagnosed with dilated cardiomyopathy, in which the heart becomes weak and enlarged and can no longer pump blood efficiently. She was flown to Holtz for specialized care.
D'Zhana received her first heart transplant on July 2. But just days after the transplant, the new heart was not functioning and the donated organ had to be removed. On July 4 the pediatric cardiac surgery team at Holtz removed the first donor organ and implanted a custom-made artificial heart to keep D'Zhana alive until a new heart could be found.
"I just told my daughter, 'God has a special heart for you and he will deliver it to you when he is ready,'" said Twolla Anderson, D'Zhana's mother. "It was scary not knowing from day to day if it might be fatal. I give my thanks to my buddies—I love the transplant team."
While the artificial heart was keeping D'Zhana alive, her body still struggled. For more than three months, she fought off infections and was extremely weak.
She received a second heart transplant on October 29—118 days after the artificial heart was implanted. D'Zhana also suffered renal failure after her first transplant, and on October 30, the day after she received her new heart, she received a new kidney as well.
"This was an extreme example of teamwork, with physicians from virtually every specialty coming together to care for this remarkable young lady," said Marco Ricci, M.D., director of pediatric cardiac surgery and associate professor of clinical surgery at the Miller School of Medicine. "She will now get the opportunity to do all the things other girls her age do."