Altruism Spanning the Globe
Faculty physician runs to fight pediatric cancer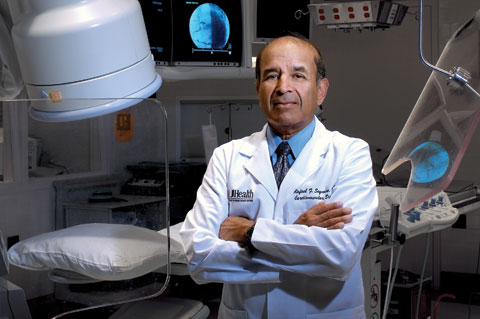 Rafael Sequeira, M.D., has run in 16 New York Marathons to raise funds for pediatric oncology patients.
For Miller School cardiologist Rafael Sequeira, M.D., 1990 and 1991 were pretty much a blur. During that stretch, Sequeira appeared to be a high-functioning physician, father, and husband. But inside, an all-consuming rage was grinding down his soul.
His anger stemmed from the 1989 death of one of his three sons, Raphael, following a long and courageous battle with leukemia. In time, Sequeira's turmoil would lead to one of the Miller School's more remarkable, long-running philanthropic associations.
But first Sequeira had some internal housecleaning to do.
"Raphael and I were very, very, very close," Sequeira says of his firstborn, who fought acute lymphatic leukemia for 11 years before finally succumbing to the disease at 13. "I do miss him. After he passed away, I asked myself: 'Why should I have been deprived of the joy of seeing this individual grow up?'"
"I was an angry person," Sequeira says. "Everybody deals with the grief in different ways. It was a terrible time in my life."
Eventually, time and the joy of raising his two remaining children, brought succor to Sequeira, whose lifelong quest to stay in shape meshed spectacularly with his desire to commemorate the life of his deceased son in 1993.
An avid runner who turned 53 that year, he began increasing his mileage toward the latter part of 1993. A physician on a mission, Sequeira was sprinting inexorably toward the bright lights of the Big Apple.
"I decided, 'Let me see if I can do the New York Marathon?'" Sequeira recalls of his burgeoning running schedule. "So I trained a little bit, but not as much as they say you should!"
That was Part One of Sequeira's grand plan. Part Two entailed mailing out "'begging letters,' to all my friends and colleagues," says Sequeira, whose infectious laugh and upbeat demeanor belie the profound heartbreak of his past. Part Three compelled Sequeira to create the Raphael Sequeira Bone Marrow Fund.
Sequeira wanted to enter the 1993 New York Marathon and solicit pledges to raise money for impoverished pediatric oncology patients being treated by Miller School physicians. Undertrained—and therefore exhausted long before he'd finished running through New York City's five boroughs—Sequeira willed himself forward and finished the entire 26.2 miles.
"The first year I raised about $11,000," he says. Last November I finished my 16th New York Marathon. So far, I've raised $150,000."
There will be no break in that tradition come November, because Sequeira—who turned 70 on April 10—is entering this year's New York Marathon. "You've got to train your muscles to bear a little pain," says Sequeira of his annual preparation routine. He ordinarily logs 20 miles a week, a distance that increases appreciably as November draws nearer.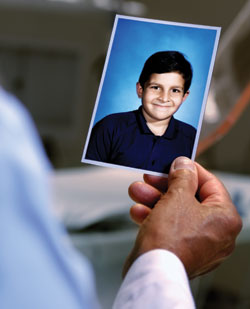 Rafael Sequeira, M.D., has commemorated the life of his deceased son, Raphael (pictured in photo), through his philanthropic work.
Sequeira has always been a man on the move. Of Goan extraction, Sequeira was born in Kisumu, Kenya, a port city that was a familiar stomping ground for Barack Obama Sr.
"My father worked as a civil servant for the British government," Sequeira remembers. "He was a clerical officer, and we were moved around all over the place to wherever the jobs were.
"Even though I was born in Kisumu, we lived in various other towns and we ended up in Nairobi, which is the capital of Kenya," Sequeira says of a childhood that facilitated fluency in Swahili, Portuguese, and English. "I finished my schooling there."
Sequeira's father was a self-taught violinist who composed songs for Sequeira and his five siblings in Portuguese. "My song was, 'I Am Doctor Rafael Sequeira,' so I was brainwashed from the time I was an infant," Sequeira chuckles.
"I went to medical school at the National University of Ireland, in Dublin," he says. "At that time, there was no medical school in Nairobi."
After six years of training that included a year of premed courses, Sequeira received his medical degree, followed by an internship in Dublin. He returned to Kenya and trained in hospitals in Mombasa and Nairobi to become an internist specializing in cardiology.
In 1968 Sequeira moved to England for advanced training in cardiology and was working at a hospital in Bristol when he had an opportunity to conduct a University of Miami Miller School of Medicine seminar on cardiac ultrasound. That preceded an offer in 1979 to teach cardiology for a year at UM, which Sequeira accepted.
The arrangement went well and was extended for a second year. That's when Raphael was diagnosed with leukemia, and Sequeira scuttled his plan to permanently return to Kenya.
Not returning was something of a loose end until 2004, when Sequeira got permission to spend several months a year in Nairobi, teaching and mentoring junior attendings, residents, and medical students at the University of Nairobi School of Medicine at Kenyatta Hospital. He does this pro bono, and also pays anywhere from $12,000 to $15,000 annually for travel and accommodations.
While most people slow down upon reaching septuagenarian status, Sequeira is going full bore to extend a helping hand.
"As long as I can put one foot forward and not crumple to the ground, I will keep on doing it," he says of an altruistic mindset spanning from New York all the way to Kenya.