Storehouse of Possibilities
By Dwayne Campbell | Photos by Richard Patterson and Donna Victor
The Miller School's Genomic Medicine Registry, a biorepository of blood samples and a database of clinical information, will help researchers explore genetic links behind diseases as well as treatments that could best serve patients.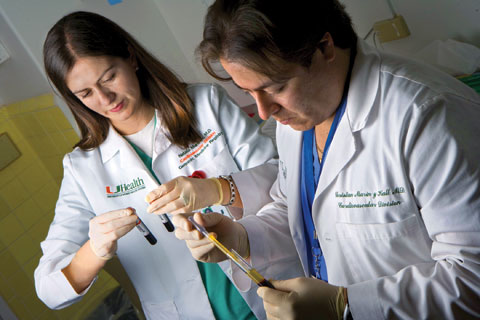 Natalia Martinez, M.D., research coordinator, and Christian Marin y Kall, M.D., lead research coordinator, process samples.
Given the history of heart ailments in her family, Ruth Perchick considered carefully but did not take long to decide she would contribute a blood sample to the Miller School's Genomic Medicine Registry.
Perchick, who was scheduled for cardiac catheterization after doctors expressed concern over the results of her stress test, knew she would not benefit directly but took the opportunity to become part of a large database of genomic information scientists will use to help uncloak the genetic mysteries behind various diseases.
"How terrible that people have to live with these diseases," said Perchick on the day of her procedure at Jackson Memorial Hospital. "I have faith that, with the help of God, science and humanity will succeed, and I am willing to help in any way I can."
By giving about three tablespoons of blood—taken as part of the already scheduled catheterization procedure—Perchick, a normally active grandmother, is among more than 1,500 people who have contributed to the Genomic Medicine Registry. The registry's biorepository of biological samples and database of clinical information will help researchers explore genetic links behind heart conditions, stroke, and cancer, and whether there are particular types of treatments that could best serve particular patients.
"We're basically developing a library that has no preconceived ideas, no preset research questions coming in," says David Seo, M.D., associate professor of medicine and director of the registry. "It's for any potential question you may have—and for which you need samples and data to help you find the answer." He anticipates that South Florida's ethnic makeup will enable it to grow into one of the most diverse genomic repositories in the world.
In addition to the cardiac cath lab at Jackson, patients participate through Jackson's heart failure clinic and the cardiac cath lab at University of Miami Hospital. Christian Marin y Kall, M.D., lead research coordinator for the registry, trains fellows and research staff in the art of quickly placing the blood sample in separate tubes—two each for DNA and RNA, and one each for plasma and serum. Any delay risks coagulation.
The Genomic Medicine Registry has also assisted the Department of Neurology, the Department of Obstetrics and Gynecology, and other departments in the development of their sample collection system and creation of their research database. Regardless of where they are collected, the samples are stored in the biorepository at the Miami Institute for Human Genomics at the Miller School, home to the renowned research team of Margaret A. Pericak-Vance, Ph.D., and Jeffery Vance, M.D., Ph.D.
Like the Vances, Seo came to the Miller School from Duke University, drawn by the Miller School's commitment to becoming a leader in genomics. "This requires a significant amount of resources and a lot of effort from many people," says Seo. "It shows how serious the University is about being a front-runner in the next wave of genomics."
In the Department of Neurology, that next wave could result in better therapies for stroke patients. The department had an existing stroke registry of clinical information developed by Sebastian Koch, M.D., associate professor of neurology, but decided to expand by collecting DNA and other proteins.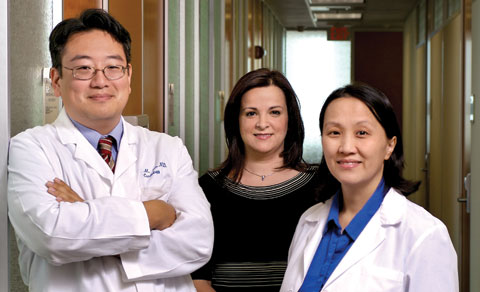 The Genomic Medicine Registry is led by, from left, David Seo, M.D., director, Dina Montero, program manager, and Pearl Seo, M.D., associate director.

"It would take multiple smaller centers years to collect what we collect in a short time due to the volume of people we treat," says Ralph Sacco, M.D., M.S., Olemberg Family Chair in Neurological Disorders, Miller Professor of Neurology, Epidemiology and Human Genetics, and chair of neurology. Sacco, along with other researchers, studies the genomics of stroke and other neurological maladies.
In stroke, Sacco and other department researchers are hoping to find certain genetic markers that can be used to determine prognosis, help guide treatment for acute stroke, and possibly detect one's risk for stroke. They are also looking at RNA to see what proteins and enzymes are upregulated after a stroke and compare them in people who have not suffered one.
"That may give us an opportunity to develop biomarker panels that would allow us to detect a signature for somebody at risk for stroke," says Sacco.
Prevention is also the end goal of researchers on the Ob/Gyn labor and delivery floor at Jackson, where the registry program collects maternal DNA, RNA, cord blood, and urine for the biorepository. JoNell Potter, Ph.D., associate professor of obstetrics and gynecology and director of the department's Division of Research, says the effort "is a great opportunity to collect data on pregnant women and their neonates, as well as specimens and clinical data surrounding pregnancy."
About 6,000 women deliver at the hospital each year; Potter hopes as many as half of these women will consent to donating samples.
"As the field of genomics is rapidly expanding, we are in the unique position to obtain specimens from both mother and baby," says Potter. "We will be able to link them as well as see differences in the maternal and infant genomes that may help explain many diseases peculiar to pregnancy, such as pre-eclampsia."
Another area of interest is Intrauterine Growth Retardation, which is unrelated to a known medical condition of either the mother or the baby.
"Samples collected from the mother and her baby may be used to determine gene environment interactions as a cause of either perinatal outcomes or later disease," says Potter. "There is such wide diversity here that the opportunities are boundless."