A connoisseur of fascinating tales, delivered in his trademark booming voice, David Kimmelman, B.B.A. '49, was a whiz at sales. Regardless of whether he was hawking flatware or insurance, the garrulous World War II veteran had a knack for persuading folks to buy.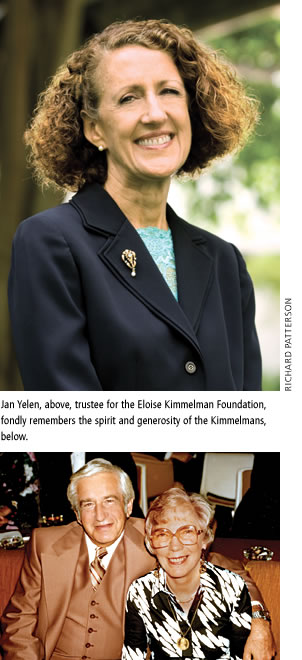 "He was definitely a larger-than-life personality," recalls Miami attorney Jan Yelen, who grew up across SW 17th Street from Kimmelman and his wife, Eloise, and was viewed as a surrogate daughter by the childless couple.
Prior to David Kimmelman's death in 2005, it was clear the master salesman was sold on the University of Miami and the Miller School of Medicine. Kimmelman and his wife, who had passed away eight years earlier, left behind a gift directing more than $10 million to UM over a 12-year period. The donation goes through the Eloise Kimmelman Foundation, which is funded by her husband's estate.
More than half of the gift has been earmarked for research related to vascular and peripheral artery disease, which David Kimmelman was treated for at the Miller School by Darwin Eton, M.D. That brought about the creation of the David Kimmelman Chair in Vascular Surgery within the DeWitt Daughtry Family Department of Surgery.
David Kimmelman also wanted to help establish a chair focusing on amyotrophic lateral sclerosis, or Lou Gehrig's disease, in the Department of Neurology. "One of David's dearest friends died of Lou Gehrig's disease," explains Yelen, the sole trustee for the Eloise Kimmelman Foundation.
At least $1 million from the Kimmelmans' donation will fund a scholarship for School of Business Administration accounting majors. That's because it was a UM accounting class that brought David Kimmelman and the former Eloise Moxley together in the first place.
"Eloise taught accounting in the business school and was his professor," Yelen says. "I have been told that during that period, if you talked to any CPA in town who attended UM, they would have gone through her class."
Born in Philadelphia in 1921, David Kimmelman was first introduced to South Florida during World War II, after being shipped to Miami Beach for Army training. Kimmelman loved to tell how he and other newly arrived Allied soldiers were racing along a North Africa beach one day, when a man yelling in a language they didn't understand tried to bar them from entering the water.
It soon became apparent why, after Kimmelman and other GIs found themselves writhing on the beach, pulling painful sea urchin spines from their feet.
Kimmelman returned to Miami after the war and used the G.I. Bill to get his accounting degree at UM. He launched a successful sales career and also started a mail-order import business he ran from his home.
Kimmelman suffered a major heart attack in his 40s. That made him gravitate to healthier foods, stop smoking, and start running. The experience also spurred both Kimmelmans to become interested in medical research, an objective Yelen continues to pursue on their behalf.
"It is such a tremendous honor to be in a position to carry out their wishes," Yelen says of her responsibility to the Kimmelmans.