Miami dermatologist Manjula Jegasothy, M.D., is proof that the apple, as the saying goes, doesn't fall far from the tree. Her father, the late Brian V. Jegasothy, M.D., chaired the University of Pittsburgh's dermatology department and was widely recognized for his work in the basic science research of dermatology.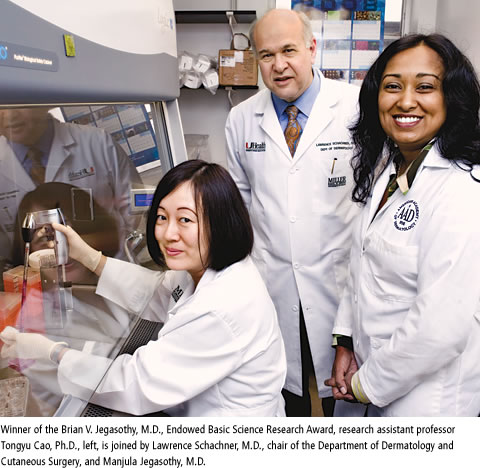 Beginning when she was 5 years old, Jegasothy used to tag along behind her dad as he conducted dermatologic research. "He had to feed cells that were in petri dishes every day," Jegasothy recalls. "At an early age I learned to use a pipette and feed them myself."
In celebration of her father's memory, Jegasothy has established the Brian V. Jegasothy, M.D., Endowed Basic Science Research Award at the Miller School. Jegasothy earned her medical degree at the University of Pittsburgh, but she did her residency at the University of Miami/Jackson Memorial Medical Center.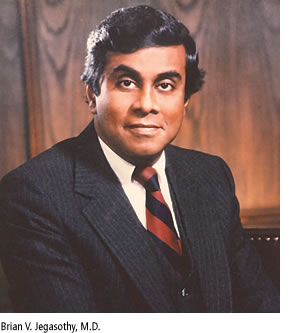 "The dermatology residency program here is top-notch, and I was very pleased to get into it," says Jegasothy, a voluntary assistant professor of dermatology with the Miller School. "One of the requirements of doing a residency at the dermatology department at UM is that you have to do a basic science research program to graduate."
Working with members of her family, Jegasothy raised $140,000 to fund the Brian V. Jegasothy, M.D., Endowed Basic Science Research Award. The first monetary gift from the endowment was presented earlier this year to Tongyu Cao, Ph.D., a research assistant professor who joined the dermatology department in 2007.
A scientist focusing on epidermal differential and hair diseases, Cao had admired Brian Jegasothy's work in dermatology journals and textbooks long before coming to the Miller School from the University of Hawaii.
"I feel really fortunate to be the first recipient of this award," Cao says. "The Jegasothy family is very, very generous."
Cao was chosen because Jegasothy and Lawrence Schachner, M.D., Harvey Blank Professor and chair of the Department of Dermatology and Cutaneous Surgery, deemed her cellular research to be particularly pertinent.
"We have to encourage people to get into this type of research," Jegasothy says. Unlike her father, Jegasothy's dermatologic focus is solely clinical. Her downtown Miami practice predominantly handles cosmetic procedures.
Strengthening ties between basic science research and all medical disciplines is a worthwhile objective that's especially important for dermatology, according to Jegasothy.
"Skin conditions are really mediated at the cellular and molecular level," she says. "The skin is an organ that you can see, touch, feel, and have access to at the molecular level a lot more quickly and easily than the heart or the lungs or any internal organ. So it's a great place to study the mechanisms of disease—and apply that knowledge to other areas."
She hopes the Brian V. Jegasothy, M.D., Endowed Basic Science Research Award can help pave the way to cures for psoriasis, systemic lupus, and skin cancer, among other diseases.
Schachner lauded the Jegasothy family's generosity and their insight on the need to support research that leads to new therapies. "This honors the memory of my venerated colleague Brian V. Jegasothy, M.D., in perpetuity, as these funds will annually help a deserving young scientist in dermatology advance the basic science research that Dr. Jegasothy championed."